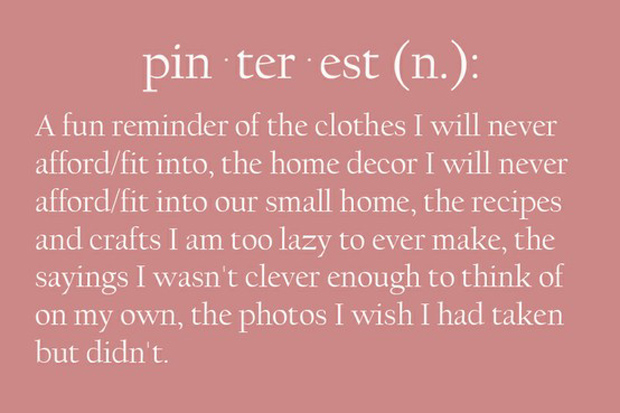 Just a quickie note to let you know I am now on Pinterest. Well I have been for a while actually and it's fair to say I am a little bit obsessed with it. This tongue-in-cheek graphic pretty much sums up why.
If you are looking for a way of keeping track of all your favourite wedding finds and inspiration then I'd recommend you get yourself over to Pinterest. It's like a virtual pinboard, you simply sign-up for a (free) account, then whenever you see something online that you like you use the 'Pin It' bookmark to save it and build up collections of the things you love, the beauty about this is that it also saves the original destination (or URL) that you pinned it from so you can always find your way back.
You can also follow the collections created by other people, so if you think, "I like what this persons bringing here – they got style" you can follow them on Pinterest.
I use mine all the time, particularly when I am working on creating inspiration boards for the blog or for my guest blog on Love My Dress. You can follow my Pinterest finds here.
Are you on Pinterest too? If you are I'd love to know and follow your finds, let me know in the comments below.
Happy pinning,
Michelle x