Good Monday morning to you,
If you stopped by over the weekend to give Pocketful of Dreams a wave you'll know I've been busy behind the scenes making a few small changes. Trying to make the blog easier to navigate, adding a few new widgets (those fancy buttons at the side) and organising my features so they are a little bit more regular and you know when to expect them.
I'm hoping to really jazz up your Monday mornings and get you dancing into the week as much as you dance out of it on a Friday afternoon. After all it's a looooong way to Friday and we all need a little glitter and sparkle to kickstart the week.
So Monday mornings you can expect a new inspiration board and I'm shaking them up a little bit. I'm hoping to offer you inspiration boards like you've not seen before, ones that get you all excited and giddy.
And my first in the new Monday Morning Inspiration series is actually very close to my heart. This is the vibe I'm being inspired by right now, I am actually styling something really special using this very colour palette and I CANNOT WAIT to share the results with you. This special 'thing' is happening tomorrow so fingers and toes crossed for me that it goes well. All will be revealed very soon I promise.
But for now people I give you Violet and Blush Confetti Madness…….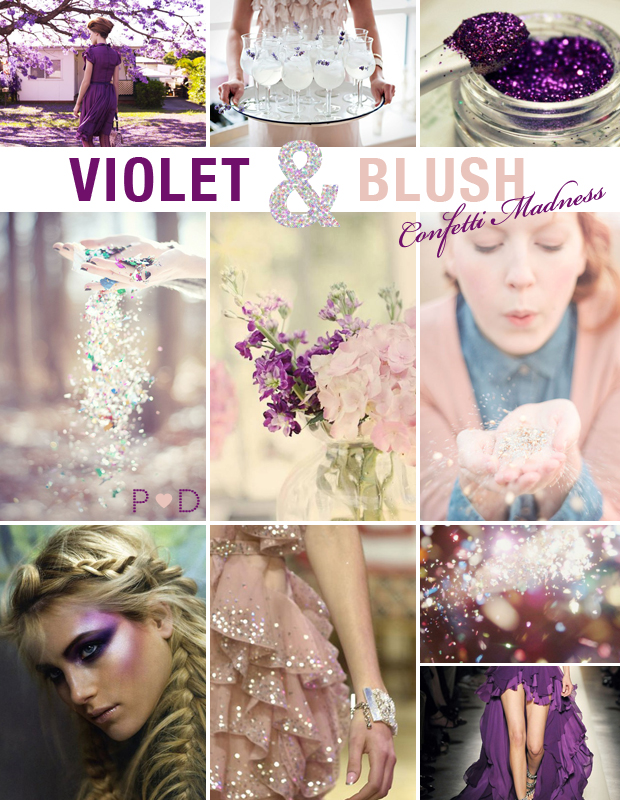 Happy Monday, remember to keep sparkling.
Michelle x
? ? ? ? ?
Image Credits L-R: 1. Violet Dress by Corrie Bond Photographer 2. Lavender Cocktails 3. Purple Glitter 4.Untitled by 14-year-old photograher, Amanda Pham. 5. Flowers 6. Photos by Jefra Linn, Shoot styled by Rosie Jarmin via Oh Hello Friend 7. Make-up 8. Sequin Dress 9. Confetti 10. Purple Dress