Hello all,
Now then, this post comes with a warning:
***Likely to make your mouth water, Pocketful of Dreams cannot be held responsible for making you want to eat your computer screen.***
Because these Tempting Tables by the wonders that are Tempting Cake look DELICIOUS-NESS indeed.
Dessert tables, candy buffets, cake bars, sweetie stations, whatever you want to call them they are incredibly popular at weddings right now, and when styled oh-so-fabulously like these ones, well you can pretty much guarantee to blow your guests socks off and have them talking about it for months, even years to come.
Tempting Cake the brains behind these beauties is a boutique cake design company based in South West London. Emily told me all about their Tempting Tables and shared with us two tempting table designs, the Bright White and the Monochrome ….
"Dessert tables.  Candy buffets.  Cake bars.  Sweetie station.  Tempting Tables.  One thing they do all have in common if not their names, is that they are a veritable feast for the eyes as well as the tummies.
So why have we decided to start offering Tempting Tables by Tempting Cake?
Well usually a client comes to us with a cake on their shopping list.  But often they'll add some hand-iced cookies for the guests to take home, some cupcakes for the children at their celebration and the resulting styled display is a capsule cake bar.  With a view to inspiring our clients further and with dessert tables becoming more popular, adding Tempting Tables to our offering was a natural progression.  Our Tempting Tables are a collection of Tempting Cake's signature cakes, cupcakes and hand-iced cookies, along with the finest hand-made chocolates, delicious dessert canapés, fresh fruit and sweeties all beautifully styled.  They make the perfect choice for weddings but would be equally at home at a birthday, corporate event, christening or barbecue as they allow guests to mingle as well as providing a talking point for your occasion.  The options are limited only by your imagination and our creativity!
The simplest thing to do is to let the delicious images below (all courtesy of the wonderful Liesl Cheney) do the talking.
Bright White
For this Tempting Table the focus was on texture so that the finished creations still came to life, despite all being the same colour.  A Tempting Table along these lines would provide a contemporary yet elegant addition to a wedding or a Christmas party.
Coconut shavings, glitter in the vanilla pannacotta and royal icing piped detail on the cake provide notes of interest for this minimalist look.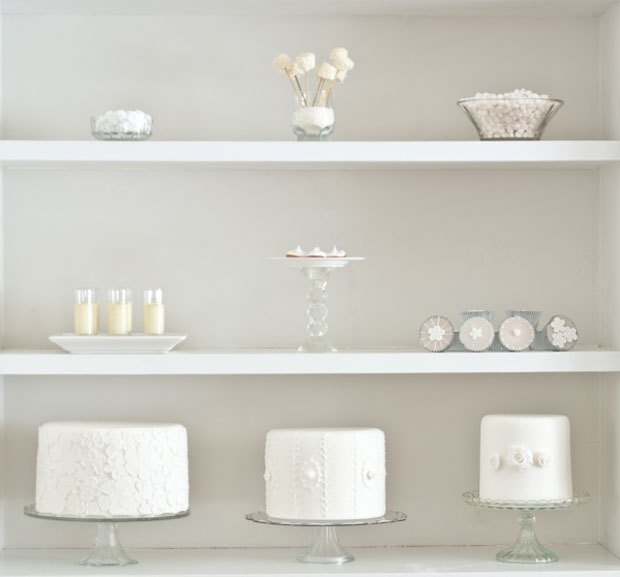 Appliqué cake and Single tier cake with climbing rose detail

White chocolate marshmallows dusted with coconut, luscious mini lemon meringues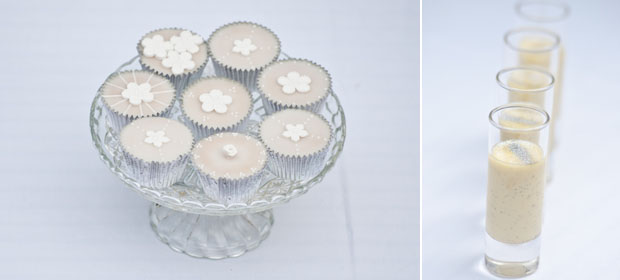 Bright white cupcakes and glitter vanilla pannacotta
The menu items were presented on crystal cut glassware against a pristine backdrop.  Our own props were given a huge boost after Old Fashioned Knees Up opened up their vast collection for us to raid.  Creative Director Angie is a self-confessed magpie of all things pretty and her styling nous was invaluable to ensure our mood boards were brought to life with panache.
Monochrome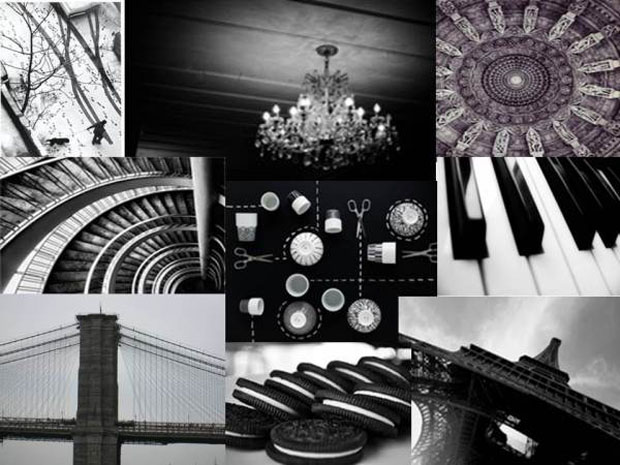 Tempting Tables monochrome mood board. Images: all courtesy of Pinterest except for Brooklyn Bridge which is by Tempting Cake
Because black and white never goes out of fashion.  The mood board for this Tempting Table focused on strong lines and graphic patterns to maximise the contrast between black and white.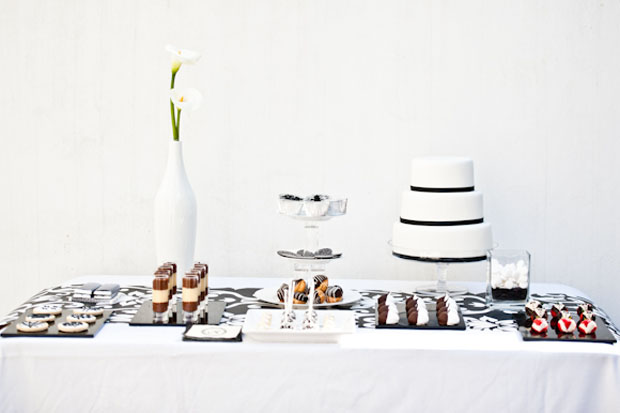 Chocolate dipped meringues. Wrapped chocolate bars with after dinner mints in the background

This Tempting Table is a chocoholic's dream, with these delectable artisan rows of perfectly tempered chocolate lollipops flecked with coconut surrounded by white chocolate shimmer.
Divinely decadent Chilli Bees dessert canapés line up for their moment in front of the camera: white and milk chocolate mousses

With a black tie cake, even the (Chocolate-dipped) strawberries dressed for the occasion. Filigree cookies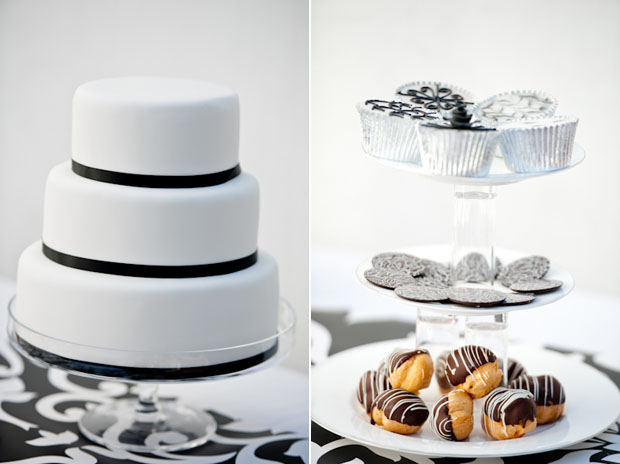 Black tie wedding cake. Cupcakes, chocolate discs and profiteroles
Let's just say there were no shortage of hungry helpers when it came to the post shoot clear-up!  This project was ably supported by the very talented Team Tempting Tables so a huge thank you to Liesl, Angie, Kirsty, Ellie, Olivia, Greg and Danny for your efforts and I hope you're as thrilled as I am with the outcome".
♦ ♦ ♦ ♦ ♦
Aren't they just fabulous? There's more Tempting Tables inspiration coming your way very soon so stay tuned.
For more information on our Tempting Tables, you can get in touch with them via email: info@temptingcake.com or visit there website here. They deliver across London and surrounding counties.
I'm now starving.
Michelle xx
POSTED IN: Inspiration

TAGS: barbecue, birthday, cake bar, candy buffet, chocolate, christening, Christmas, cookie, corporate event, dessert canape, dessert table, Liesl Cheney, Old Fashioned Knees Up, sweet station, sweetie table, sweets, Tempting Cake, Tempting Cake cupcakes, Tempting Table, tempting Tables, Wedding Cake, Weddings