This week I thought I would share with you a little DIY project from a wedding that I designed and planned back in June.
It's a quick, easy and very cost-effective way of keeping the little ones entertained at a wedding, particularly when there's only a few of them and they are surrounded by an otherwise adult and quite serious environment. You know: having to behave, sit still throughout a 3/4 course meal, stay quiet while the speeches are on. Yawn.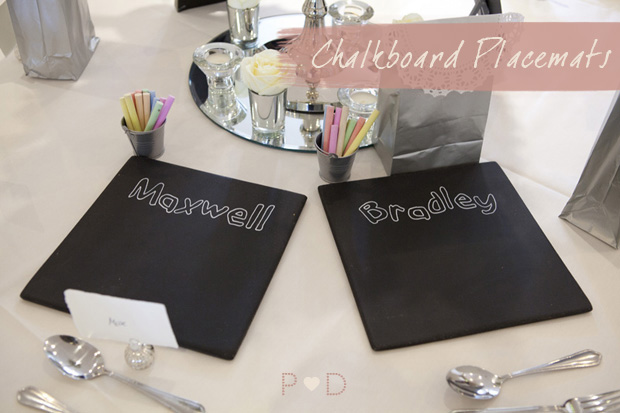 Image: By Mark Tattersall, styling by Pocketful of Dreams
We had two young boys attending the wedding and wanted to give them something fun to do, so we created these chalkboard placemats, provided them with little tins of coloured chalk and off they went. Colouring in their names, drawing pictures and playing games of noughts and crosses, they were a surefire hit and really kept them (and the adults) amused throughout the wedding breakfast.
To create them is really simple, and we were lucky in the fact that the Bride's dad is a dab hand with the old wood saw so he created them based on the sizes we asked for, and even included a bevelled edge to make them look fab. But you dont even need to go to this length to get the look, you could simply scour the charity shops, or even try a discount homewares store (Ikea anyone?) and pick up some cheap placemats, then paint them up with chalkboard paint, alternatively you can pick up slate tiles, but we dismissed these because of their rough edges and uneven surface (they looked fab but not so practical for the purpose of drawing on them).
Here's what we did to create the chalkboard placemats:
Cut wood to size desired (these were approx 10 inch x 10 inch)
Using a sander create a bevelled edge all around each side
Sand the mats to ensure no loose pieces of wood or splinters
Paint with chalkboard paint
(You can of course omit steps 1 – 3 and just paint over existing placemats.)
The boys names on the front of the chalkboards were hand drawn using a wet-wipe chalkboard pen (like the ones the pubs use) which needs a damp cloth to remove it, as this ensures the design stays in place and they can colour away without it coming off
We provided mini tin pots to hold the coloured chalk
And finally all you need to add is a little duster or cloth so they can wipe away and start all over again.
It really is that simple.
So what ideas do you have for keeping the kids entertained on your wedding day? Any crafty creative tips to share with us, I'd love to hear from you.
Michelle xx