Gooooood morning,
Happy Monday. It's a new week and I'm ready to face it with a fire in my belly. After my rather horrid week last week I am back firing on all cylinders after a little R&R over the weekend. Feels good to feel fresh and rejuvenated, you really cannot knock the power of rest.
Anyways, I have a little peachy inspiration today. I fell in love with this image of Lady Gaga and she became my muse for the entire board. The deep inky black, mixed in with the delicate peach and ivory looks so very striking and would make for a very contemporary style. I can see graphic stripes sitting alongside ornate mercury silver, and delicate lace mixed with glittery tassles.
Oh I do love this one. Hope you do too.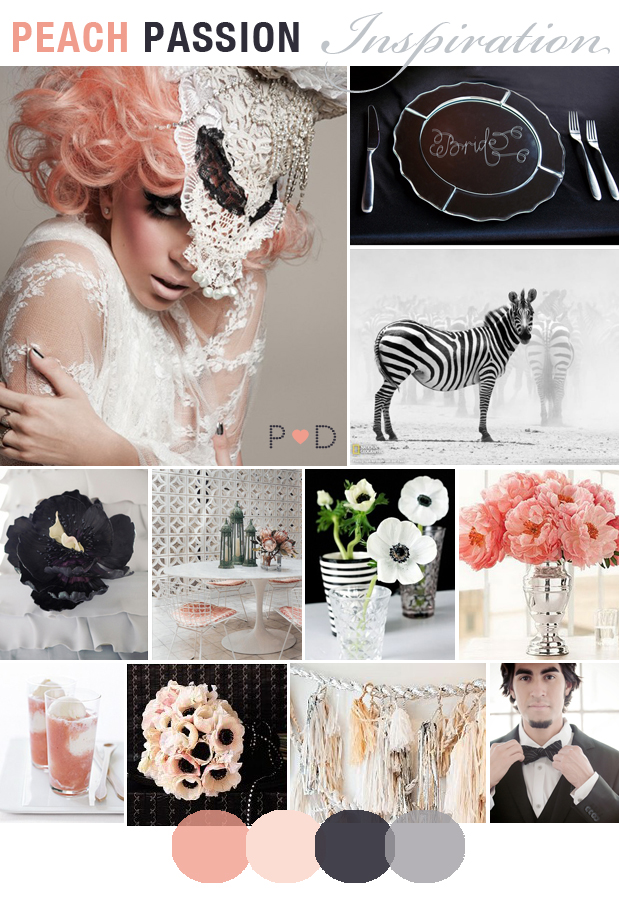 Image credits: 1. Lady Gaga 2. Place Setting 3. Zebra 4. Black Flower 5. Peach Decor 6. White Flowers 7. Peach Flowers 8. Peach Floats 9. Bouquet 10. Tassles 11. Groom
There's plenty more gorgeousness coming your way this week, lots of love shoots as I've had some simply amazing real weddings and engagement shoots submitted to me that I am bursting to share, I'll also be sharing a few words of advice on the old wedding planning conundrums, as well as some more styling ideas for both The Dress and The Decor. As well as all those fab ideas and finds that I am constantly stumbling upon. It's going to be a bumper week, so buckle up and enjoy the ride.
Have a fab Monday peeps.
Michelle xx
POSTED IN: Inspiration, Mood Boards

TAGS: Black, Cake, flowers, Grey, lace, mood board, Peach, Peach Passion, Tassles, Wedding Inspiration, Weddings