Good afternoon lovelies,
I can only apologise for how late my Monday morning inspiration board is today, it's no longer morning but it is still Monday so I hope you can forgive me.
Following quite a tumultuous week just gone I made the decision to spend quality time with my close friends over the weekend and the blog took a little bit of a backseat. The week was tumultuous in that I am facing a few issues in my personal life

whilst at the same time some very exciting things are happening for me and Pocketful of Dreams :). One of the exciting events included a really lovely day out with fellow Northern bloggers and photographers in Manchester, but more on that later this week.
For now it's bridal inspiration time and today's has been influenced by the goings on at New York Bridal Fashion Week, where the 2012 Autumn/Winter bridal collections are being showcased. I've loved following the various twitter updates of our stateside pals, as well as those fortunate enough to be visiting from the UK. The emerging trends will be being reported on very soon, but one look that certainly screamed out to me was this one by the legendary Vera Wang.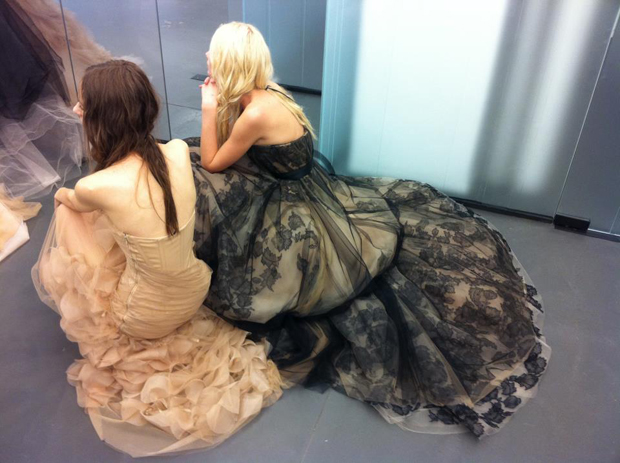 Image credit: Vera Wang
This image of two models was taken backstage at Vera Wang and I adore it, the casual way the girls are relaxing, but also the detail and decadence of the gowns they are wearing is just truly magnificent, and did you know Vera Wang didn't send one white wedding dress down her catwalk ~ a sign of things to come perhaps?.
There has been some talk about black wedding dresses being too gothic, or more funeral-fashion than wedding, but honestly I love them and have expressed this many times before, just take a look at my guest post over on Love My Dress where I show you how to style The Night Garden wedding complete with black wedding dress.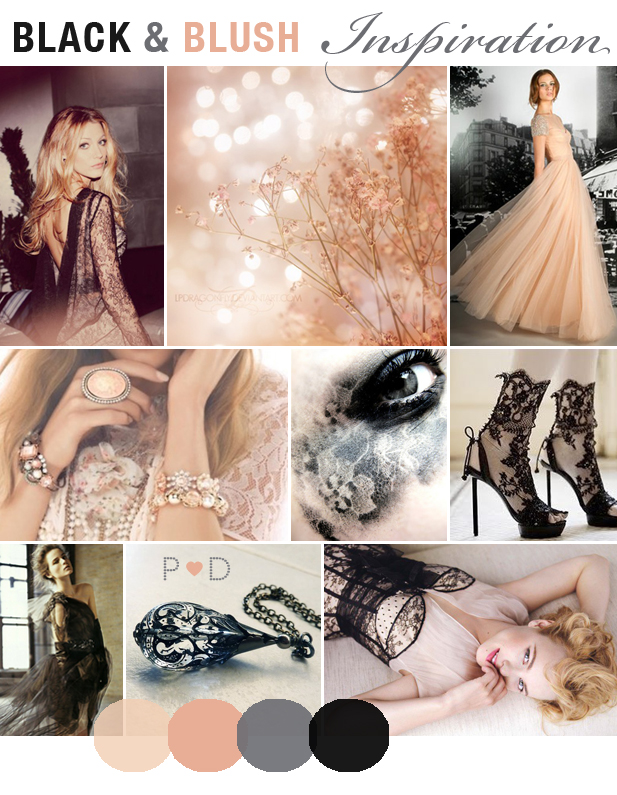 Image Credits: 1. Black Lace Dress 2. Light Up Artwork 3. Blush dress via Green Wedding Shoes 4. Blush Styling 5. Black lace make-up 6. Black Lace Shoes 7. Vera Wang Campaign 8. Black Lace Pendant on Etsy 9. Rachel McAdams for Vogue
INSPIRATION
The black and blush look is all about balance, with striking black tulle and lace mixed in with delicate blush tones from the softest and prettiest flowers, to pearls and chiffon.
By combining these contrasting yet complimentary styles you can create an ethereal and almost bewitching yet decadent style. Very glamorous whilst still pretty.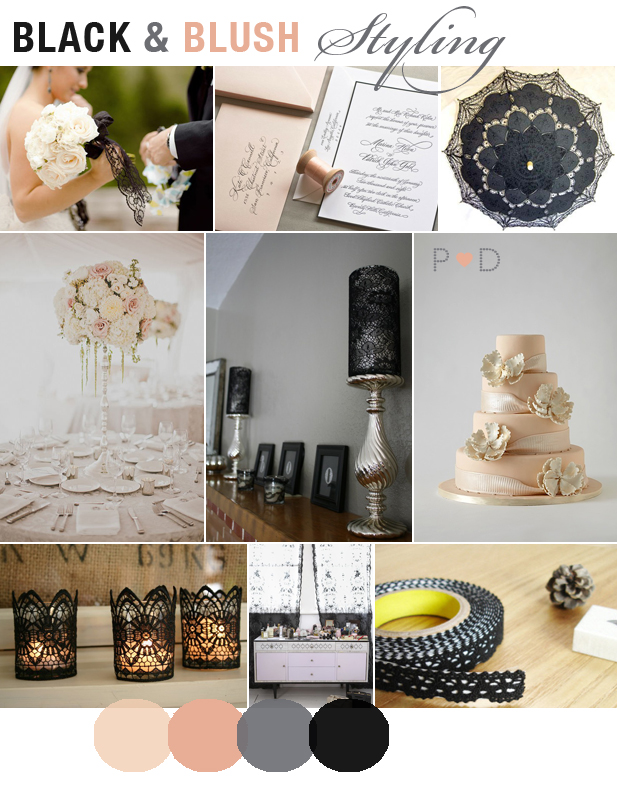 Image Credits: 1.Bouquet 2. Blush and black stationery from Sugar Paper 3. Black lace parasol 4. Blush wedding centrepiece Style Me Pretty 5. Black lace hurricane candles 6. Blush Wedding Cake 7. Black Lace Votive Candles 8. Black lace backed dresser 9. Black Lace Fabric Tape Etsy
I have included a few ideas for styling your wedding or event using the black and blush toned palette and suggest the blush tones as your base for the majority of the styling, keeping things pretty and delicate. Then having subtle black lace or tulle elements creating a striking focal point and perfect contrast.
You could go for:
A little bit of black lace ribbon adorning your all cream and blush bouquet
A black italian lace parasol
Black lace adorned hurricane candles
I love this blush coloured cake on the right, with it's delicate gold sugar flowers. I would swop out the gold ribbon and replace with a beautifully delicate black lace one for amazing impact
Why not have a go at making these black lace candle votives yourself, these would look incredible scattered across an all blush table like the one on the left of the middle row above. Clear ghost chairs would look fabulous in this scheme and keep the look clean and contemporary
If you have a sweets or dessert bar, consider bringing in your own customised dresser painted up in just the right tone of blush and use black lace curtains as the backdrop, if you can place this near a window as well, this will maximise the light and create a really stunning effect as the light shines through the delicate material
Black lace fabric or washi tape can be used on your invitations, favours and place settings for another subtle yet striking use of the black lace effect.
So what do you think, will we be seeing more coloured and even black wedding dresses in future? Would you wear black on your wedding day? Would love to know what you think.
Michelle xx
POSTED IN: Inspiration, Mood Boards

TAGS: Black, Black Wedding Dress, Blush, Bridal, bridal Fashion, Bridal Inspiration Boards, inspiration, lace, Mood boards, Pinks, Vera Wang Bridal, Weddings