How is your week going so far?
I do hope you're enjoying this winter-inspired week on Pocketful of Dreams, it's certainly getting me into the festive spirit. I'm really looking forward to planning this year's Christmas decorations and want to do something really funky and unique. BUT I also don't want to be spending a fortune on new decorations, over the years I've already collected quite a number of them, mainly in a very neutral silver colour. This year I would like to add a pop of colour to the silver base, but I also want to create some more unique items to decorate my home.
So in the interestes of sharing my finds, here's a few of the craft ideas I've been loving. Some of these are also perfect for those wintertime weddings or parties, I hope you enjoy my finds…..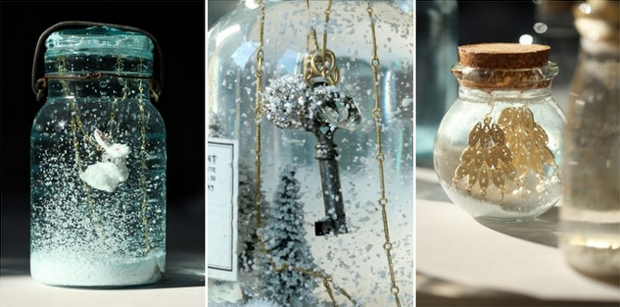 Make your own snowglobes like the fancy ones from Anthropoligie. Tutorial on Well Worn. These make perfect quirky little gifts for friends over Christmas, or a totally unique favour for a winter wedding.
A winter knit ring pillow, I have a thing for cosy chunky knits, so I adore these. See Martha Stewart.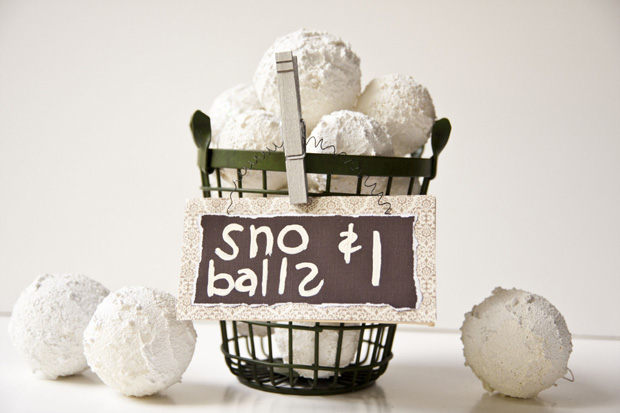 Faux snowballs for display by Lella Boutique. Ideal decorations to hang from the tree and around your home, they would also make a really great centrepiece idea, I can see them hanging from silver or gold glittery sprayed twigs.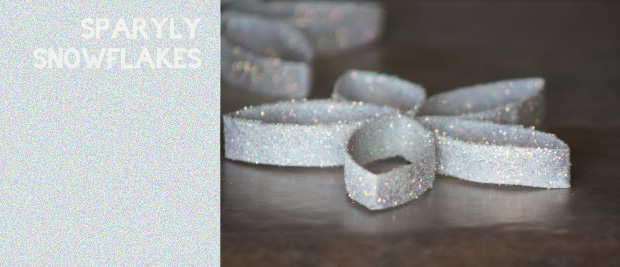 Sparkly cardboard stars, made from loo roll holders, both genius and economical what could be better? See Michelles Journal Corner for the how-to.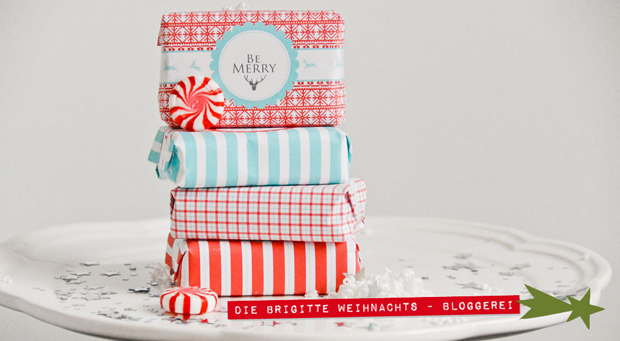 These downloadable soap wrappers by Funkytime are a great last-minute gift idea. I suggest you have a few of these ready at home for those much-needed spare gifts.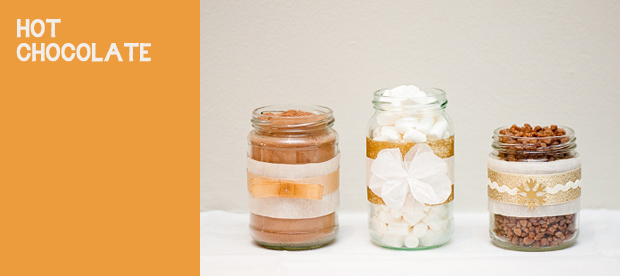 In my Winter Spice mood board over on Love My Dress I suggested having a Hot Chocolate Bar to keep your guests warm and cosy. And my lovely blogging friend Louise over at Bijoux Bride has featured a fantastic tutorial to show you how-to make your very own DIY hot chocolate bar.
For even more winter and Christmas inspired DIY and crafting ideas be sure to check out Ruche Homemade Holiday a free online magazine jam-packed with ideas.
POSTED IN: Inspiration

TAGS: Christmas Crafts, Christmas DIY Ideas, Crafting, Crafting Ideas, Free Printables, Holiday Crafts, Hot Chocolate Bar, Soap Wrapper, Tutorials, Wedding Crafts, Wedding DIY, Winter Craft, Winter Wedding Favour