I'm bringing a slight change to this week's Tipples and Treats as I do like to mix things up every now and then. Normally I would seduce you with the most luscious food imagery, providing ideas and recipes for food and drink to spoil and delight your guests with, be it for an intimate dinner party or a lavish event.
Well today I'm not doing that, instead I'm focusing on the good stuff. CAKE! Who doesn't love a bit of cake?
And the wedding cake nowadays can be so creative, by incorporating design influences from your styling and colour scheme or the type of event you're having being it rustic romance or modern glamour .
Here I have provided a round-up of cakes and dessert tables that would be perfect for my Fade to Grey wedding style which has featured all this week on Pocketful of Dreams.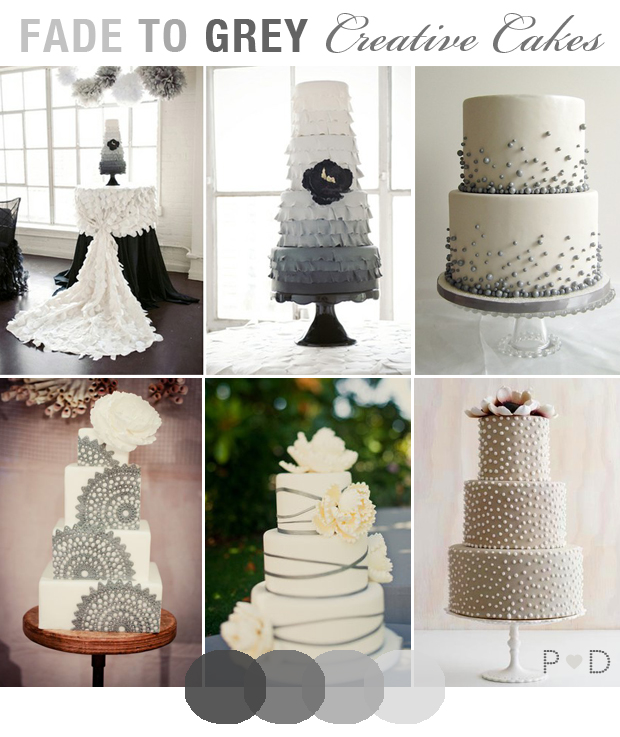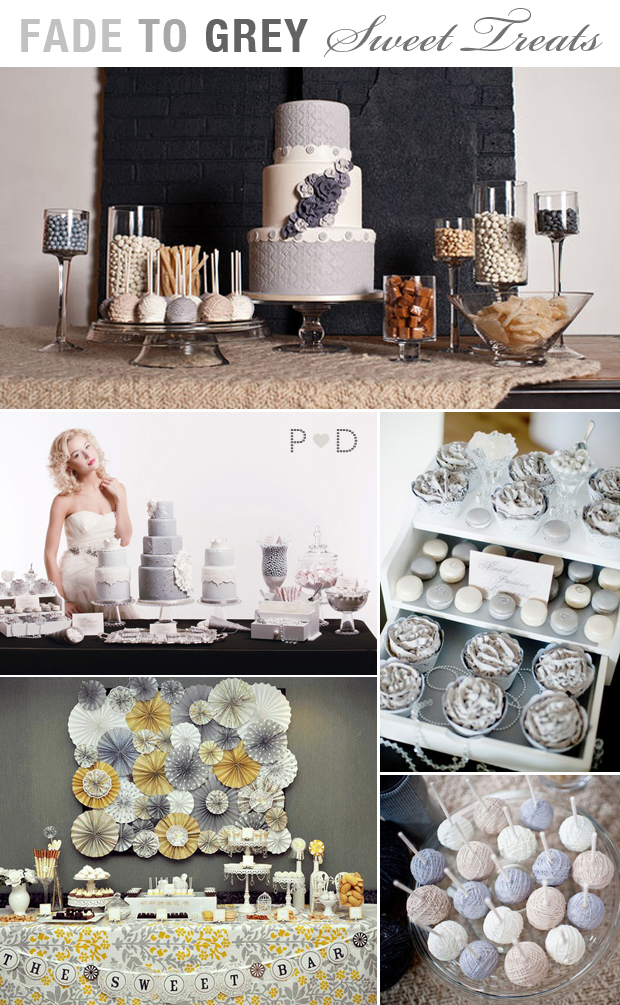 1 & 5: This dessert table is just gorgeous and was created for a wintery styled photoshoot. The cakes have been created to look really tactile, textured and fabric-like. Featuring pattern and detailing such as the sugar flowers which look like they are actually made from silk and buttons. The yarn style cake balls are another touch of genius and I love how the accompanying sweets sit well within the colour scheme by having only those in a neutral colouring. Of course being sat atop the most gorgeously fluffy arran blanket only adds to the warm and cosy feel. Images from Style Me Pretty.
2 & 3: Another visually effective dessert table featuring a range of cake styles as well as little cupcakes, sweets and macarons. I love how these have been styled using delicate vintage glass bowls and jars, the addition of the little wooden chests, which I feel are jewellery boxes, gives this table a real romantic feel. Images from The Trendy Girl.
4: This stunning yellow and grey vintage-inspired dessert table features so many pretty accents. From the visually effective backdrop made from 50 paper rosettes, all of different sizes, to the delicate crystals hanging from the cake stands and the delicate doily patterns. Again all tied together by keeping a simple palette of grey, white and yellows of varying shades. Images from Hostess Blog.
I hope these ideas inspire you to get a little bit creative with your cake design and don't forget if you need more advice on choosing your wedding cake you can see this post I featured a little while back.
Styled dessert tables are just one of the services I offer so please do get in touch if you need a helping hand coming up with a design, or someone to style the whole thing for you.
Michelle xx 
POSTED IN: Living

TAGS: Cake Design, canapes, cocktails, Dessert Bar, Food and Drink, Ideas, nibbles, Recipes, Styling Inspiration, Sweet Table, Tipples and Treats, Wedding Cake, Wedding Inspiration