If you're a regular visitor to the blog you will know I have little penchant for all things pretty, crafted and handmade. I think this stems back to my childhood as I was forever found covered in glue and glitter, and yes I was one of those kids (like on the advert) that was waiting for the washing up bottle to empty so I could turn it into a new pot for my bedroom, and unwinding the toilet roll just so I could access the cardboard loo-roll holder that would later become the structure of something else.
Over the years my crafting skills have improved somewhat, but I do still get excited at the prospect of 'making something' myself. Particularly when it's a season like this, when the shops are filled with things to entice and tease us into parting with hard earned cash. It can be a pretty expensive season anyway, so by using a little creative know-how and utilising those natural things found around us, it doesn't have to be.
Plus what is more delightful than receiving a gift that looks not only beautifully wrapped, but has wrapping that has been so lovingly thought through and crafted?
Last year my gift-wrap of choice was a thick white, matt paper, just plain old paper, not glossy giftwrap. I used a natural raffia cord to wrap around the parcels and added freshly picked holly leaves, berries and twigs as my alternative to a bow. The gift tags I made myself from glittery red card stock I had lying around at home, writing my heartfelt messages in a gold ink pen. The overall look was rustic and handmade but I tell you what, every single present was talked about not only by the receiver but everyone who watched them open the gift. I still had people mentioning to me weeks later how fab they looked. So you see simple is most definitely effective. Each gift cost me only pennies to wrap, I utilised paper I already had lying around at home and of course what was to hand in the woods and fields near my home. Natures beauty.
Sadly I don't have any images to share but I think you get the idea.
So to give you a little inspiration for wrapping those gorgeous gifts this season I've compiled a few guides which I'll be sharing throughout the week….first up we have….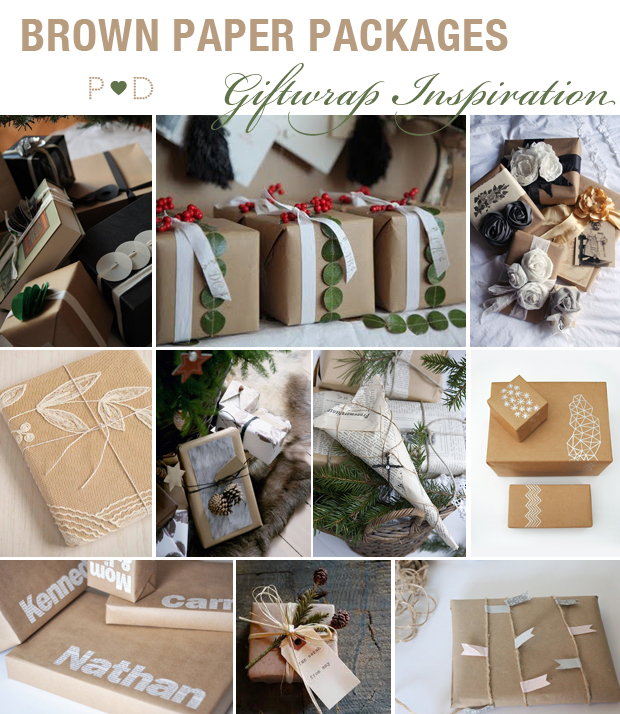 Brown Paper Packages
Yes brown paper is everywhere right now, known as Kraft paper, butchers paper, or general parcel paper, you can pick up huge rolls of the stuff for a few quid.
From the top row left to right:
So what do you think, are you a fan of brown paper packages tied up with string?
Michelle x