Hello everyone,
And just how is your middle of the week looking? It is busy, busy, busy over here at Pocketful of Dreams I have lots of planning to do for forthcoming weddings and photoshoots, all are such interesting projects that I am loving getting stuck into.
Today is usually dedicated to DIY on Pocketful of Dreams, and by DIY I mean those little craft projects or ideas that you can try yourself at home, either something to create for your wedding day, for a party or any other social gathering you may be organising. Because Pocketful of Dreams isn't just about weddings you know, I know I talk about them a lot, but I do plan other social events too, from birthdays to christenings, I've even been known to get involved in the odd corporate function too.
Anywho, today I wanted to share a really easy, yet oh-so-pretty DIY centrepiece idea. These would look fab at a wedding, a birthday celebration or just to make your table at home look super-lovely for dinner. It is rather girly and pink, but it's more about the idea behind the arrangement, as of course you can change up the colour of the florals for ones you're more drawn to, or more in keeping with your style.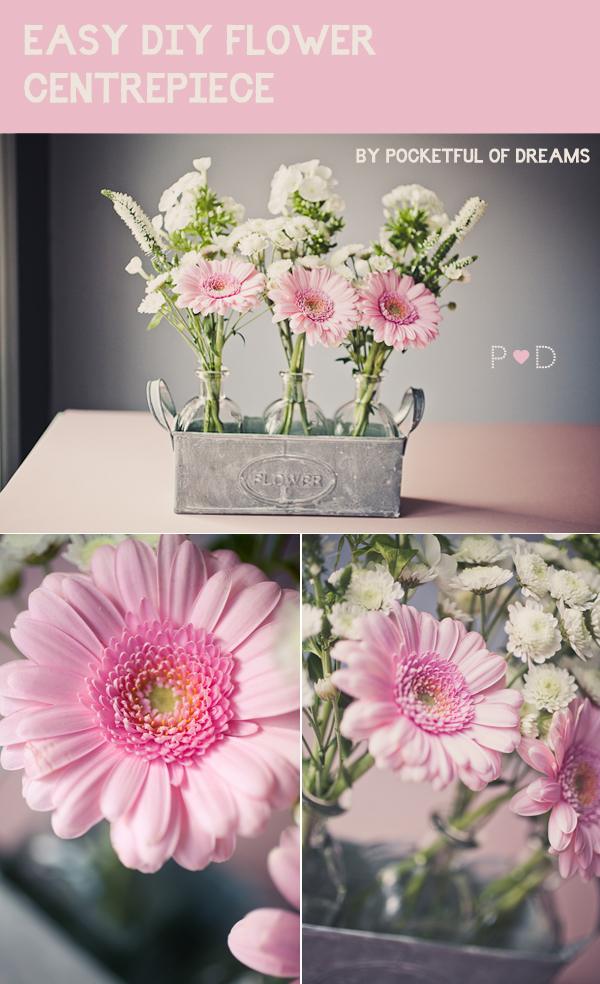 The galvanised metal tray, which I found in a local flower shop was a snip at just £8. It has three glass bottles contained within it, which are removable too so you could almost have two lots of displays from it, one in the metal tray and another just in the glass bottles. In this instance I chose to keep them together, and I love the contrast of the industrial looking metal tray against the perfectly pretty flowers.
The flowers I used include:
Pink Germini's – These are the pretty pink flower you can see in the picture, they are a form of Gerbera, only smaller. To keep these flowers fresh you need warmth and bright light.
Veronica White – These are the white spiky-ish ones which curves out to the sides slightly, these are a good filler flower to use in displays and great for adding a little height to the arrangement.
And finally I used two other types of delicate white flowery bunches but I'm not 100% sure of the names, perhaps anyone reading this with more of a flower knowledge than I have can enlighten us? Again they added a nice contrast and I love how they are like a miniature version of the Germini's.
Needless to say they were all readily available from a local florists, which on this occasion happened to be the lovely Kat Weatherill at
The Florists Barrowford
. I paid about £18.00 for the flowers and had some leftover for another arrangement, so all-in-all a quite economical DIY flower display.
As I have said before I am no flower expert in the slightest, but this is something I am so very keen to learn more about, so I will be practicing lots more arrangements like this and building up my flower knowledge as well as my arrangement skills.
I must say a massive thank-you to 
North West Wedding Photographer Katy Lunsford
 who is responsible for the very pretty photographs. Katy is someone I am so lucky to have met over the last year and I am pleased to say has now become a good friend of mine. She is an amazing photographer, seriously it has even been said she has a little magic in her camera, she doesn't of course that's all down to her amazing talent and brilliant eye. But she's also really lovely too, trust me you need to spend your wedding day with a photographer you adore and I reckon you'd find it pretty hard not to love this lady as much as I do.
Michelle xx