So instead of bridal inspiration today I thought I would show you this party inspiration I put together last week for Rebecca Norris of Florence Finds.
Of course I am a wedding planner but did you know that I also design and plan all sorts of special occasions, from birthdays to Christenings, anniversaries to social functions?.
The party inspiration is actually one for the boys, they don't often get much of a look-in do they? Well they do over here, and as of last Friday night I found myself sipping drinks with a lovely bunch of people as we celebrated a man's 30th birthday with this theme……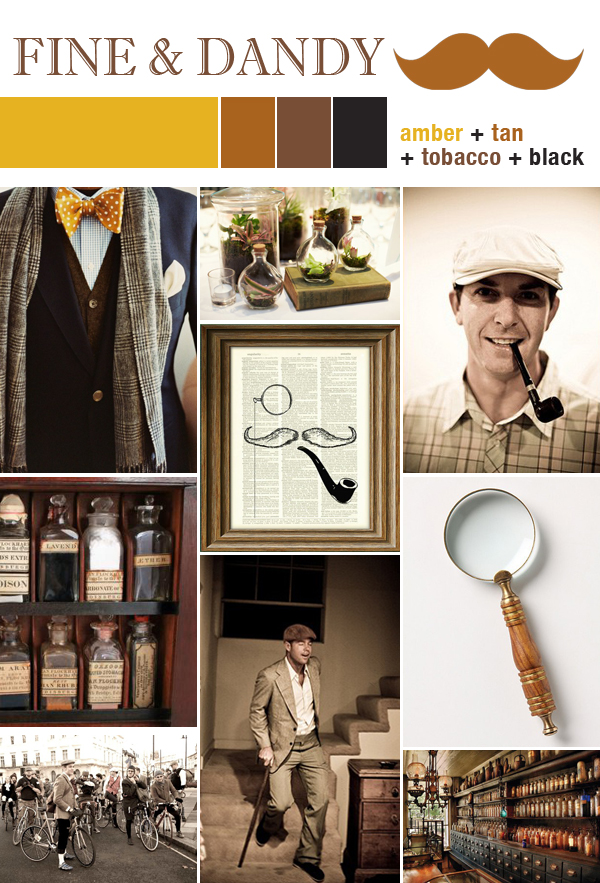 Image Credits 1. via Hire The Stache 2.  Sarah Rhoads Photographers via Style Me Pretty
3. & 7.  Jesi Haack Weddings via Hostess Blog 4. Antique apothecary jars
5. Moustache art print via collageOrama on Etsy 6. magnifying glass at Anthropologie
8. via Tweed Run 9. Pharmacy Print via Fine Art America 
When Rebecca recently asked if I could provide some inspiration for her husband's 30th Birthday Bash I was absolutely delighted to get my teeth stuck into a more masculine party style.
I wanted to come up with something stylish and tasteful, with a gentlemanly vibe, yet still full of fun. The backdrop for this birthday bash is actually a former police station, full of exposed brickwork, copper detailing and sumptuous tan leather recliners, so I began to think about a design concept in fitting with the surroundings. Of course being at a former 'nick' my thoughts immediately turned to a certain detective character to be my party muse.
The character in question is our very own British treasure, Sherlock Holmes, who has bounced back onto our TV screens of late. Sir Arthur Conan Doyle's detective is brilliantly eccentric – a trait which lends itself so very well to an eclectic and refined party design. Holmes is famous for his astute logical reasoning, his ability to take on almost any disguise, and his use of forensic science skills to solve difficult cases. He can often be found donning a dapper tweed suit, surrounded by olde worlde antiquities, habitually smoking a pipe and of course carrying the ubiquitous magnifying glass.
And so the Fine and Dandy inspiration was born, with a manly colour palette of amber and tan, tobacco and black, this style is full on masculine refinement.
For lots of ideas about how you can take the inspiration to celebration, head on over to see the full post here. If you haven't yet discovered Florence Finds please do head on over and take a look as this is fast becoming my favourite women's lifestyle blog, full of inspiring finds and really interesting articles that appeal to the modern woman.
Have a great day folks.
Michelle xx
POSTED IN: Inspiration, Mood Boards

TAGS: 30th party, apothecary jars, bow ties, dandy, Event Planning, Florence Finds, male birthday party, Mens Birthday Party Ideas, monacles, North West Event Planner, Party Inspiration, PArty Mood Board, Party Planning, pipes, Pocketful of Dreams, sherlock holmes