Good afternoon everyone, 
I thought I would bring you a rather different mood board today, as the Golden Globes are all over the news right now, I like so many women cannot help but drool and dream about the incredible gowns gracing the red carpet. SO many stunning creations, and yes it's not exactly something too many of us mere mortals can recreate in everyday life, but there is a little something we can take from the red carpet to influence wedding styling, after all it's the biggest occasion in your life to get glammed up to the max, is it not?.
And this year's Golden Globes which took place last night has given us a whole plethora of inspiration, with many pundits hailing the return of the strapless dress. I know within the bridal world, it has never really gone away with many brides opting for a strapless number. But what struck me most was how utterly chic and simple a lot of the gowns were. Whereas last year many of the red carpets were all about texture and detail, with lots of ruffles and embellishment, this year they are all about the sleek and the chic.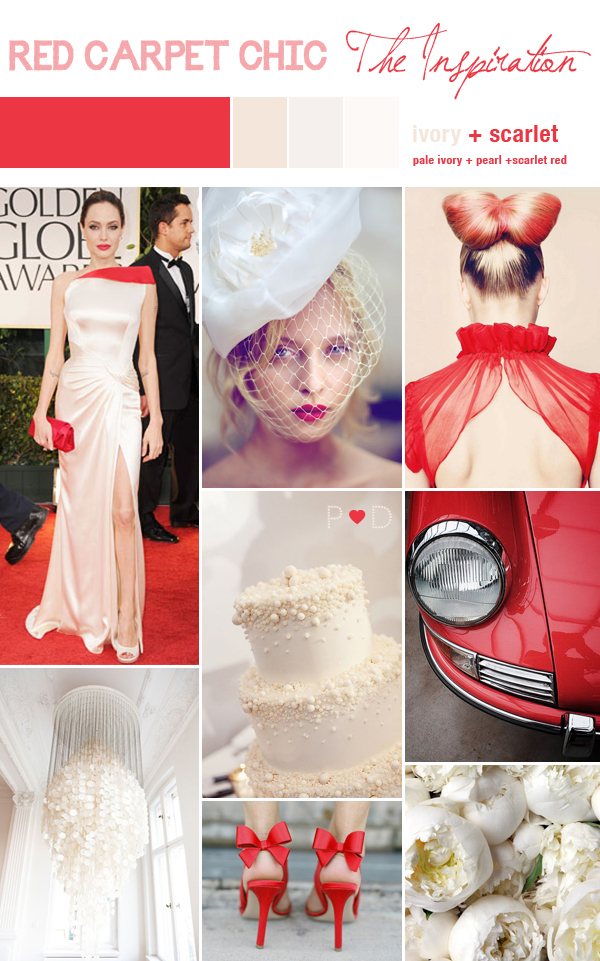 Image credits: 1. Red Carpet-Fashion Awards 2. Zsa Zsa Bellagio
3. Dustjacket Attic 4. This is Glamorous 5. Zsa Zsa Bellagio
6. Me and My Bentley 7. NOte to Self 8. Sues wink 
The winner in the fashion stakes for me was Angelina Jolie, looking resplendent in her Atelier Versace one shoulder gown, with an asymmetric flash of red. The gown was in a most stunning Ivory satin with a gathered detail on the hip, and she teamed it with white Versace shoes and a red Christian Louboutin 'Pharaon' clutch. Completing her look with a really simple and chic bun and a knockout scarlet pout.
Oh this look just makes me want to jump for joy as I too am having something of a love affair with red right now, being dark haired and usually pale skinned I always thought I didn't have a strong enough look for red, and that I ended up looking like something out of fright night, or worse one of those movies you have to subscribe to. But, I could not have been more wrong and a vibrant red lip is now my staple going-out look.
The inspiration is totally sleek and chic, with minimal fuss or embellishment. So think delicate textures like satin and silk for fabrics, smooth metal and ceramics as your floral vessels, and for the florals keep them simple with structural flowers, or just keep it to one or two types, in an overall ivory palette with just flashes of red.
J'adore.
So what's your views, do you take inspiration from the red-carpets, are you liking this look and do you see a return to a sleeker look for bridal and wedding styling for 2012/2013?
Michelle xx
POSTED IN: Inspiration, Mood Boards

TAGS: Chic, Golden Globes Fashion 2012, Ivory, Red, Red Carpet Chic, Red Wedding, Satin, Silk, Sleek, Sophisticated, Wedding Inspiration Board, wedding mood board, Wedding Styling