Welcome to a new week, here's hoping it's a fab one.
Today I wanted to share a much softer and delicate bridal inspiration palette than those I've been featuring so far this year. As Spring 2012 marks the return of a fashion favourite, chalky pastels.
These saccharine shades have become the new sophisticate color palette, thanks to top designers such as Louis Vuitton, Marc Jacobs and Jil Sander. The runways were a feast for the eyes with gowns in pale pinks, yellows, greens and blues wafting down the runway, all in delicate and floaty chiffon layers, with floral applique detailing, lace collare and even a few feathers thrown into the mix to add the the soft and pretty vibe.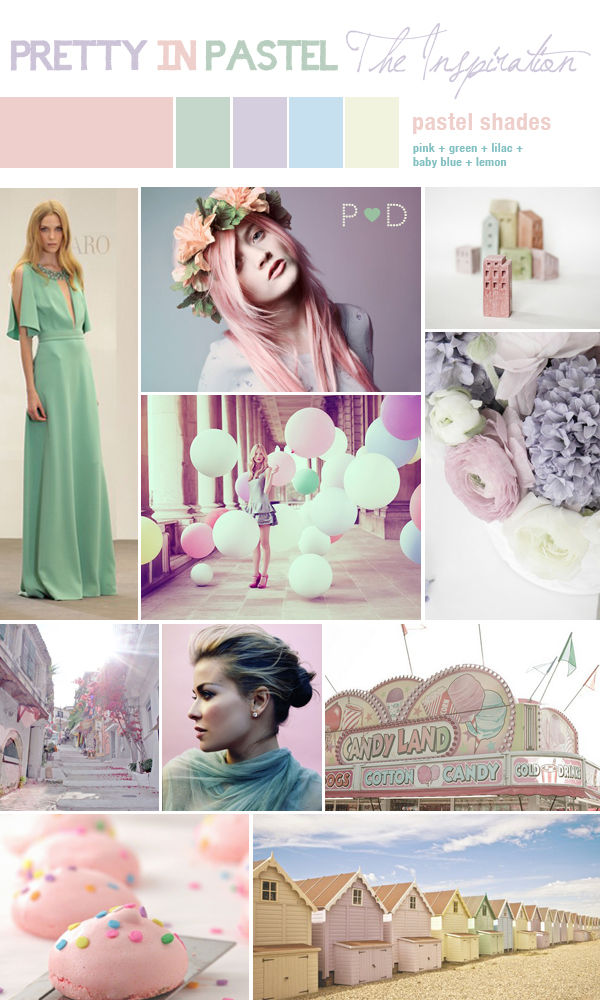 Image Credits: 1. Pastel Dress Azzaro Spring 2012 2. Pastel Flower Crown By delinion
3. Pastel Houses 4. Pastel Balloons 5. Pastel Flowers 6. Pastel Location
7. Pastel Beauty  8. Pastel Fairground 9. Pastel Meringues via Easy Baked
10. Pastel Beach Huts By Clarissa Debenham
I do hope you like the pretty pastel-ness that's gracing the pages of Pocketful of Dreams today as I am going to be bringing you a whole host of features this week where pretty delicate tones are used. With a LookBook coming right up this afternoon as well as a gorgeous wedding tomorrow, you won't want to miss it.
Michelle xx