For this weeks Tipples and Treats, my weekly food and drink inspiration, I thought I would actually give you an overdose of sugary sweetness in the form of these Pastel Rice Krispie Treats, as quite frankly I just could not resist this idea.
Full of childhood nostalgia and oodles of fun, I am so in love with the quirky kitsch-ness, not to mention the pretty pastel-ness of these treats.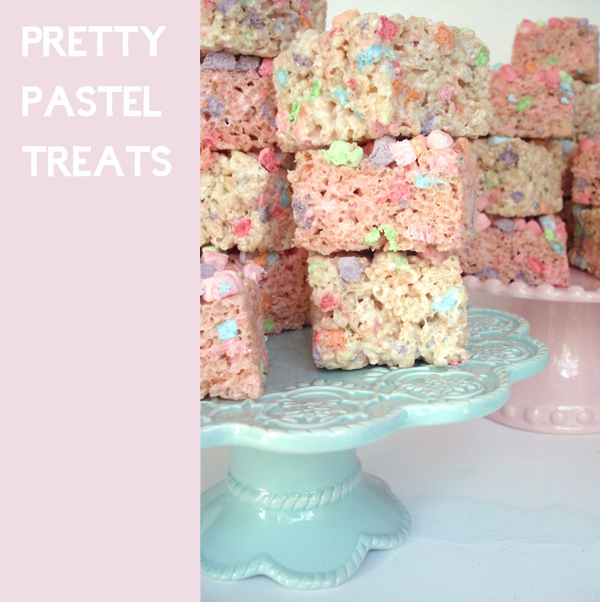 They are not only a great way of adding a little pastel colour to your proceedings, remember Monday's pastel wedding mood board? But also a super-easy DIY idea you can try out at home, not to mention a rather economical way of making your own wedding favours.
Who doesn't love a Rice Krispie Treat? And when they look as pretty as these ones you can be sure none will be left hanging around come your first dance. Using a classic recipe, just incorporate mini pastel marshmallows which you can find here at £6.59 for a 1kg bag.
These treats would look fab stacked atop gorgeous glass cake stands like these: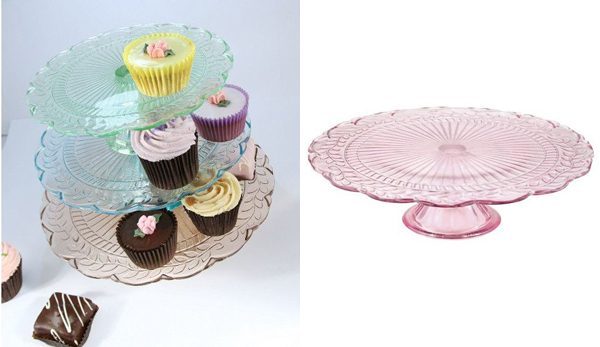 Eddingtons 3-Tier Traditional Glass Cake Stand     or    pink large glass cake stand
Why not wrap them in cellophane bags, (you will find them here 50x cellophane bags for £3.70) attach a cute litte label and tie with ribbon for an easy-peasy and budget-pleasing favour.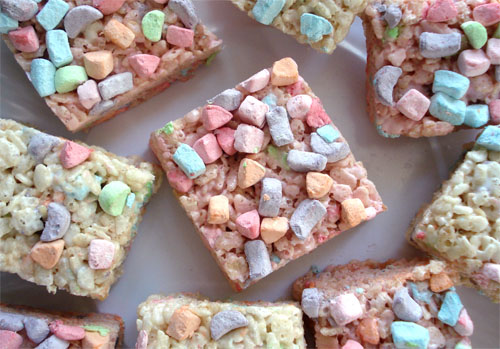 Let's not forget the all important recipe
(Thanks to Kellogs for this one)
3 tablespoons   butter or margarine
4 cups   miniature marshmallows
6 cups   Rice Krispies
In large saucepan melt butter over low heat. Add marshmallows and stir until completely melted. Remove from heat.
Add RICE KRISPIES cereal. Stir until well coated.
Using buttered spatula or wax paper evenly press mixture into 13 x 9 x 2-inch pan coated with cooking spray. Cool. Cut into 2-inch squares. Best if served the same day.
MICROWAVE DIRECTIONS:
In microwave-safe bowl heat butter and marshmallows on HIGH for 3 minutes, stirring after 2 minutes. Stir until smooth. Follow steps 2 and 3 above. Microwave cooking times may vary.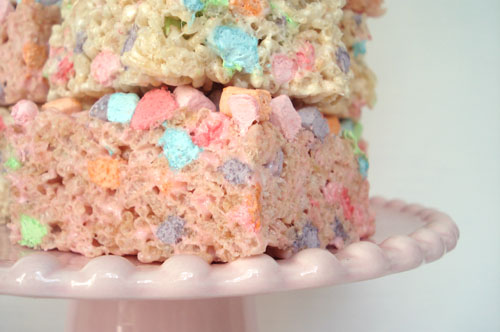 Image credits: suchprettythings
Note 
For best results, use fresh marshmallows.
1 jar (7 oz.) marshmallow crème can be substituted for marshmallows.
Diet, reduced calorie or tub margarine is not recommended.
Store no more than two days at room temperature in airtight container.
To freeze, place in layers separated by wax paper in airtight container. Freeze for up to 6 weeks. Let stand at room temperature for 15 minutes before serving.
So have I tempted you with to don a pinny and get those boxes of cereal out? Go on you'll have so much fun making these. 
Happy Friday
Michelle xx
POSTED IN: Inspiration

TAGS: cake plates, cake stands, Canape Ideas, Dessert Bars, Desserts, Event Food, nibbles, pastel cake plates, Pastel Food Ideas, pretty cake plates, Recipes, Tipples and Treats, Treats, wedding cake stands, Wedding Favours, Wedding Food