Hello folks,
It's nearly the weekend, time to kick back and party. Well for some of us it may be that time, I will actually be here this weekend for the London Blogshop, I may be working and flexing my creative muscle but I will also be learning a hell of a lot about blogging, photoshop and the like as I continually strive to make Pocketful of Dreams better and better. I am so flipping excited about what's to come over the next two days and cannot wait to meet Bri and all the other lovely bloggers who will be attending. Full report on my little adventure will be coming up very soon.
♦ ♦ ♦ ♦ ♦
Today I thought I would bring you another amazing beauty tutorial by my great and gorgeous friend Dani Hawley.
Dani is a talented make-up artist, based in the North West and has previously shared her secrets with us about how to achieve a golden smokey eye, as well as her colour-pop Plum and Berry make-up look.
Now she is showing us how to create the perfect flick. The retro-inspired flick, or winged eyeliner to us non-make-up professionals is such a hot trend for Spring. From the runways to celebrities, everyone is after a little retro glamour so here's Dani to show you how to prefect the look…..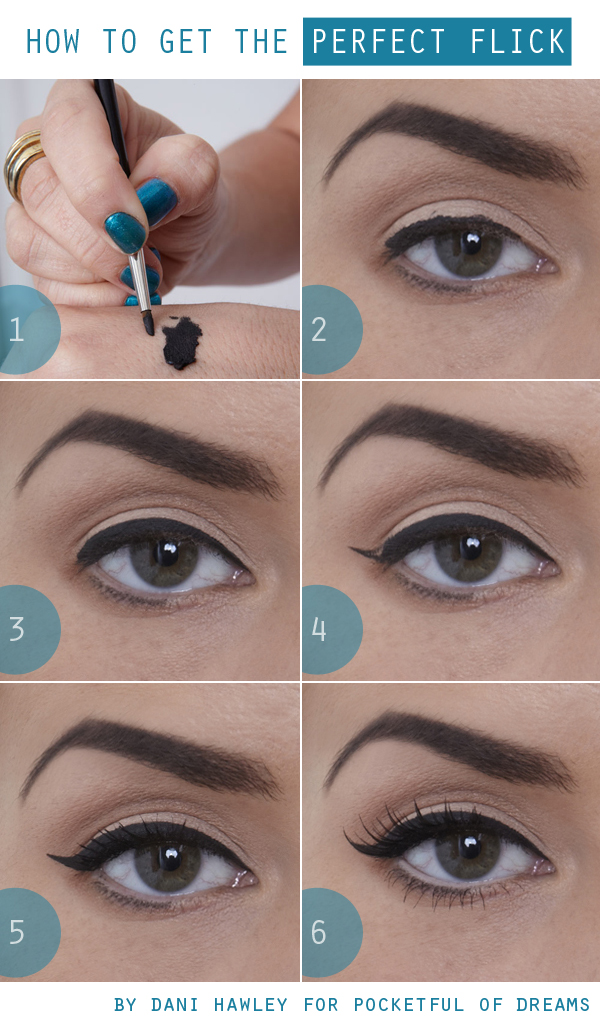 How to get the perfect Flick by Dani Hawley for Pocketful of Dreams
This is something I am asked constantly at the moment, as it is such a huge trend, but it can be quite difficult to master.  So I thought I would do a quick tutorial on how to get the perfect liquid eyeliner.
The key to this is to take your time, and stick with it.  Practice really does make perfect.  I know liquid eyeliner looks like it's been drawn in one swoop, however that is not the case.
I personally get the best result with a gel liner, but you can use a pencil or a liquid, just use whatever works best for you.  The product I am using here is a MAC gel liner (fluidline – blacktracks) I am also using a MAC 109 brush, but again, use which ever brush you prefer.
Start by decanting a small amount of product on the back of your hand.  I find this the best way to work the gel liner into my brush, and manipulate my brush into a pointed shape.
I then push the product well into the lash line.  This does not have to be neat at this stage.  It just makes sure there will be no flesh showing between the lashes and the liner.  There is nothing worse than a  "floating" eyeliner
I then add more product to the brush and reshape it to the point again.  Take the line nice and thin into the inner corner of the eye, right to the tear duct.  Also neaten up the top of the line across the lashes and it's neat and smooth.
Plot in the flick.  Do this lightly to start with, so if you make a mistake you can change it.  I look straight forwards in the mirror and draw the first line form the bottom lashes and upwards.  Then working back from the point flick, gently sketch and join it to the line created on the top of the lashes.
Once you are happy with the position of the flick, add more product to your brush again and fill in the line.  A perfect liner should start thin, then thicken up and it flows over the lashes and finish to a nice slim point.
The finished flick.
♦ ♦ ♦ ♦ ♦ ♦
Oh she is a talented one! So who's with me on giving this one a go, it's definitely a look I've been loving for some time, really adds a certain chic edge to a look, don't you think?
Thanks once again to Dani for another fab tutorial, you can follow Dani on Twitter for regular make-up tips and tricks and please do check out her work here. Dani is based in the North West and available for wedding make-up, creative editorial photoshoots and more.
Michelle xx
POSTED IN: Inspiration

TAGS: Beauty, Bridal make-up, Dani Hawley, Fashion, Gold, How to get the perfect flick, Make-Up Artist North-West, Makeup Trends, Party Looks, Pocketful of Dreams, Sparkle, Spring Makeup, Styling, Wedding Beauty, Winged Eyeliner