Hello folks,
This week I'm having a colour explosion and looking at a playful and fun wedding style.
Pop art is the 1950′s/1960′s art movement where artists used iconic images of famous people, advertising, and movies to create colourful and fun art.  Think Andy Warhol's can of soup or Roy Lichtenstein comic strips.
This art movement is quite simplistic but so playful, so today I thought I'd give you a little Pop Art inspiration and show you how to incorporate a style such as this into your wedding or event.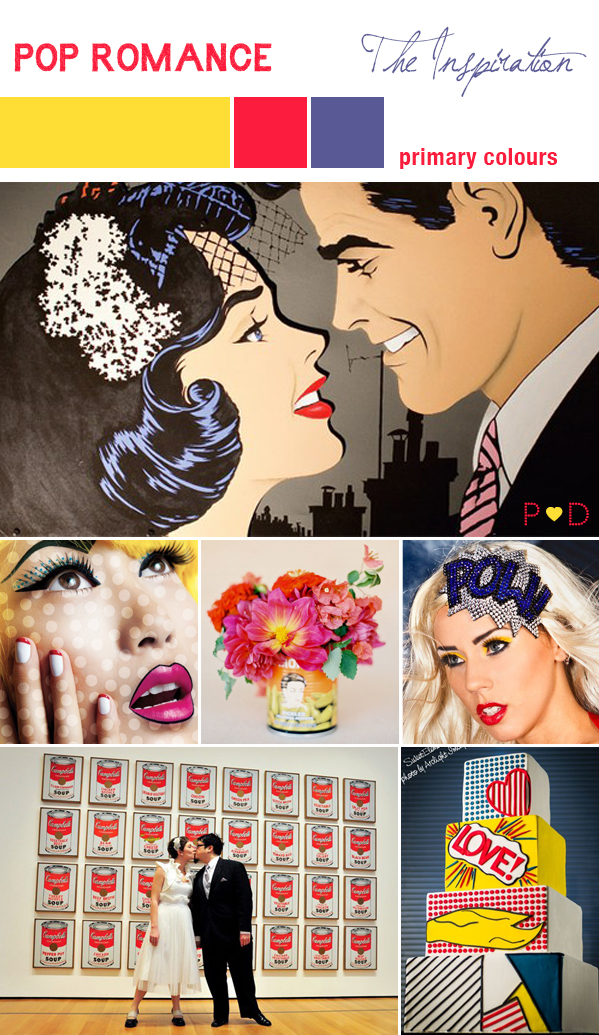 Image credits: 1. queenslandbrides.blogspot.com 2. whitewingdove.tumblr.com
3. blogs.babble.com 4. wanelo.com 5. elizabethdye.blogspot.com 6.  sweetelement.com
I love the idea of having customised Pop Art style portraits of the couple, these could be your wedding monogram and be used across your entire wedding stationery suite, as well as providing you with great artwork to decorate your venue with.
Why not have a special effects make-up artist in hand to give guests a pop-art makeover. It would make a great source of entertainment. If the idea of warpaint is too much for your guests then perhaps you could have the waiting staff made up to look like a pop-art character, they would look fab wandering round your venue serving cocktails. Which of course could only be served in a Campbells soup tin.
Tin cans would also make great flower vestibules, as they are so cost-effective you could fill your venue space with hundreds of them.
Rather than have a traditional veil or headpiece, one of these POW headbands would be such a cool addition to your bridal look.
The pop-art style gives you so much scope to create really interesting installations, particularly if you have a blank canvas space to work with. Play around with the iconic portraits, adding in personalised details. For example change Campbells to your own surname, or feature your own headshots in pop art style. Perfect for an interesting ceremony backdrop.
Does this cake need any words? I think not. Genius. You can play with this style and see it through every element of your day, pop-art inspired cakepops would look so cool, and seek out retro sweets to ramp up the kitsch factor.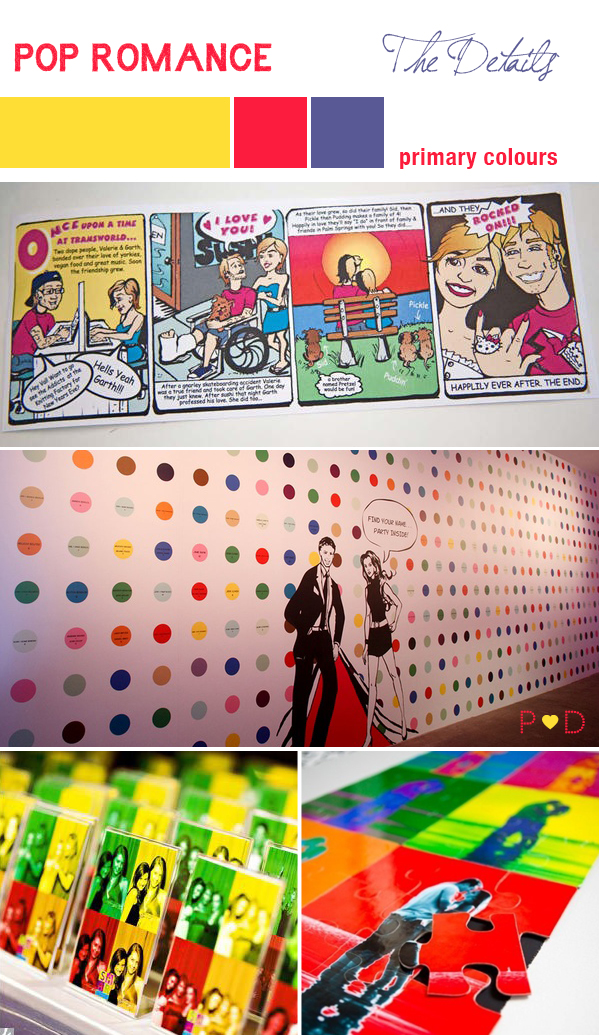 Image credits: 1. oncewed.com 2. feteny.com
3. simplycreativeinsanity.blogspot.com 4. elizabethannedesigns.com  
A customised comic-strip would be a great way to tell all your guests about your own love story, staring with the save-the-dates, through to the invitations, your order-of-service, menus etc. A great little keepsake.
I love, love, love this idea for a really impactful seating chart idea which would be so easy to replicate. All you need is a large blank wall and lots of coloured card ( plus someone with a ladder and a spirit level!), the idea being you write your guests names on one side of the card, invite them to find their name and on the back you tell them which table they are seated at.
Photobooths are always fun, this one plays on Pop-Art by printing the portraits in a Warhol style, you could even add lots of pop-art style props.
Finally a pop-art style jigsaw to keep your guests entertained. This could even double up as a guestbook, inviting guests to sign a piece before adding it to it's rightful place to complete the jigsaw.
I hope you'll agree a fun and quirky styling idea that would wow every wedding guest. So tell me what wedding style have you chosen, is is something fun and retro like this one?
Michelle xx