Hello everyone,
Today's real wedding is that of the ever-so- charming Daniel and Joseph who enjoyed an emotional ceremony followed by a stylish yet relaxed reception at the stunning Holdsworth House Hotel.  They created a truly personal day captured beautifully by the talented Alex Knight.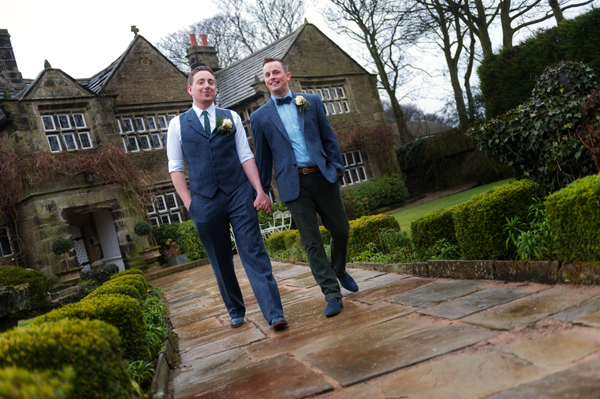 Now let me hand over to Joseph to tell you a little bit about the background to their gorgeous day…
"There's nothing really remarkable about how we met.  Daniel was out in Leeds having a drink one Christmas Eve and I was working behind the bar.  We just got chatting and the rest is history…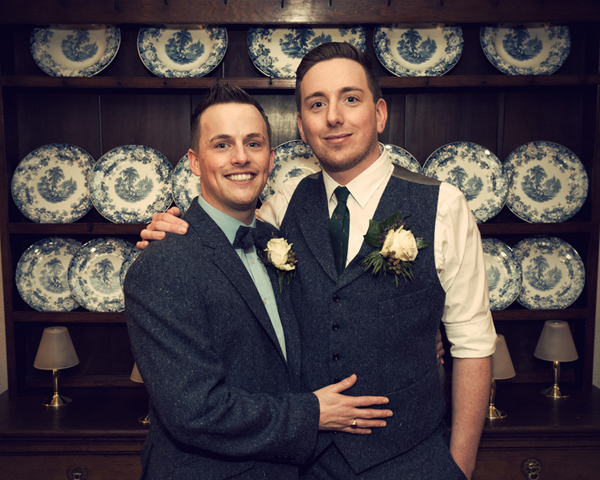 Daniel proposed to me on our one year anniversary at the Mal Maison Brasserie in Leeds, having asked my Mum and Dad for their permission.  Whenever we went for dinner to a nice restaurant, Daniel would always have white roses and lilies waiting for me on the table, complete with soppy message".  Seriously, could these two be any cuter?!
 "On this particular evening, there were the flowers, but no message!  Later in the evening, Daniel got up to leave the table and said "Go on then, give me the card and I'll write it".  So he wrote it and handed the card back to me.  I opened it to see the words "Will you marry me?" "
Styling Their Day
Daniel and Joseph are both planners at heart, Daniel being an events manager and Joseph being a project manager, so they were more than up for the task of tackling the planning, design and decoration themselves.
The couple decided on a Country Gent meets English Tea party theme and this really came to life in their choice of outfits for the day as they opted to share a bespoke Magee tweed suit; a really beautiful and intimate gesture.  Daniel wore the jacket which he matched with some green cords and Joseph wore the tweed trousers and the waistcoat with a white shirt and no jacket.  With a keen eye for finishing touches, they also ordered some extra material to have a bow tie made for Daniel and ties for each of their four groomsmen.  Joseph said "It was amazing to have a suit made exactly to measure and being able to have our own choice of lining, melton and buttons made the outfit really personal".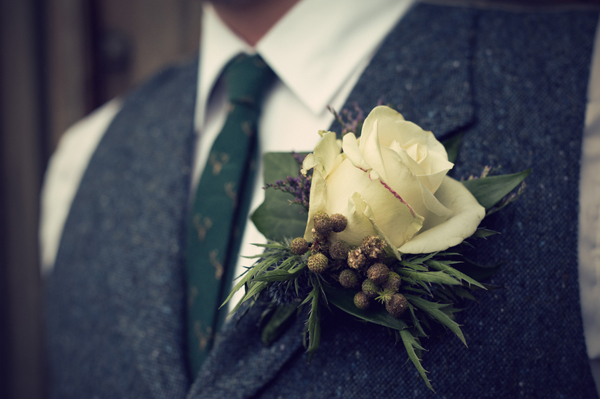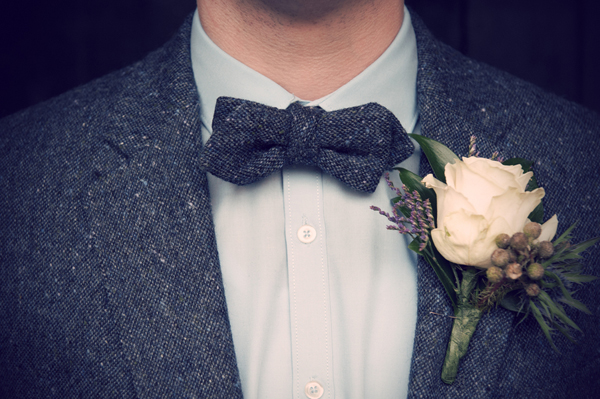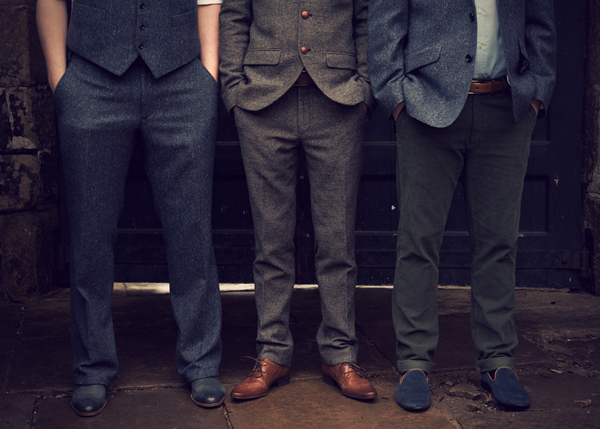 In addition to their groomsmen, the couple had six groomsmaids (three each) and in keeping with their vintage look, they assigned each of them a colour to match with the palette used throughout the day (teal, royal blue, wine, olive, steel and claret) and let them choose their own dresses.  To provide some synergy, each of the girls was given a white rose and ivy corsage with a tea-cup charm.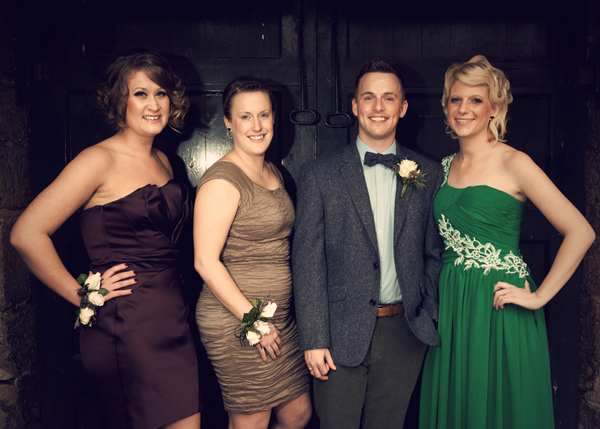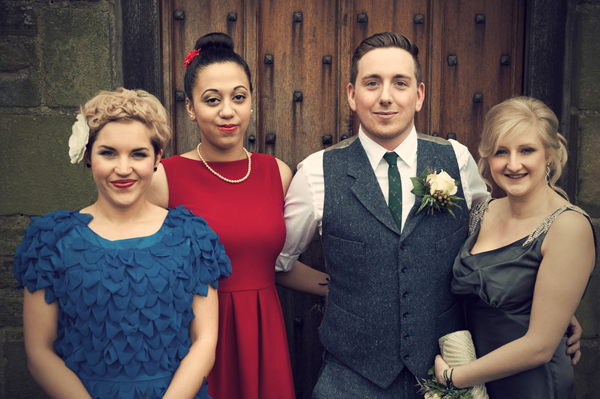 I just love this couple's style; Joseph's waistcoat-and-no-jacket combo is cracking and just look at Daniel's amazing blue suede pumps which they tell me were a true bargain buy!  The personality of these guys really comes through in their outfits, their wedding party looks informal yet elegant and what a handsome pair they make eh?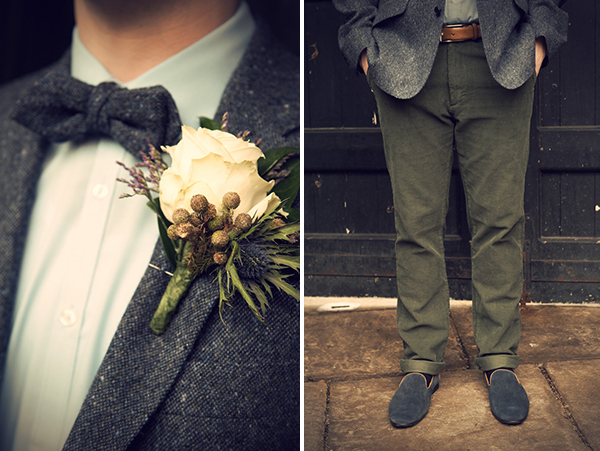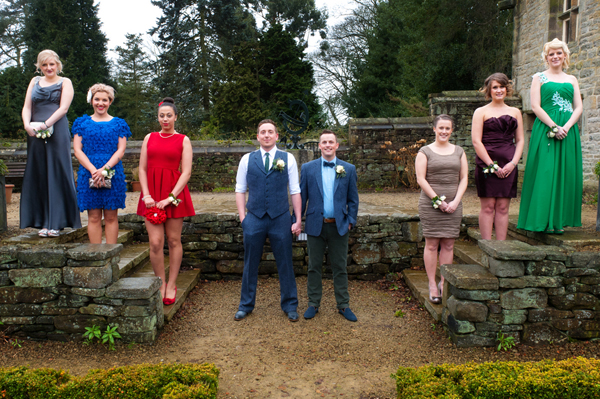 Their ceremony was deeply personal and emotional with the couple saying vows they had written together and with one of the groomsmaids reading a poem called Bewitched, Bothered and Bewildered which Daniel used a few months into their relationship to tell Joseph he loved him.  These words are also engraved on the inside of Joseph's engagement ring.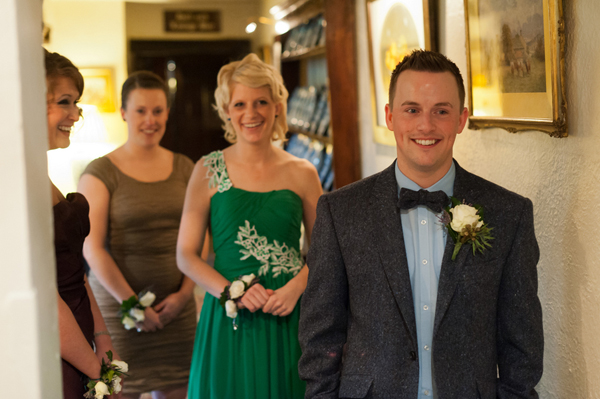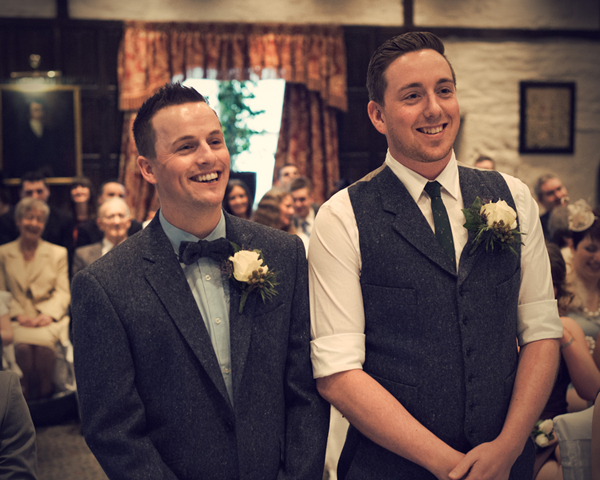 Handmade Details Brimming With Personality
 The couple's wedding breakfast was a real showcase for their creative flair with many of their own styling and handmade details.  "We used some vintage postcards and imagery featuring very dashing gentlemen to design our menu cards and created a calligraphy luggage tag for each guest as a place settting.  We also bought three antique dressing screens which we used to decorate the room."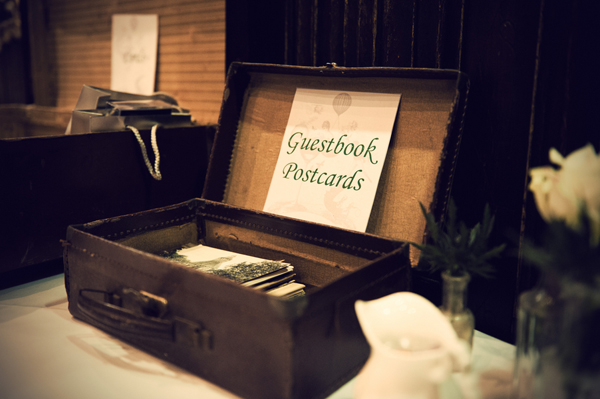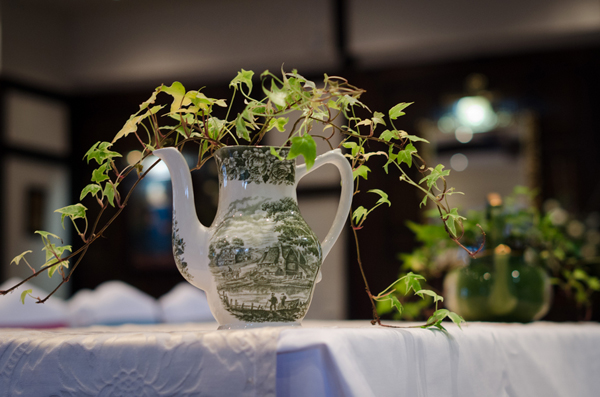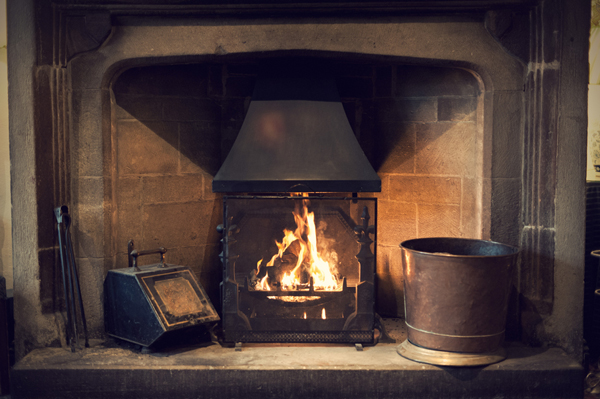 "Each table was named after a gin (our tipple of choice) and for our table plan we printed individual photos of each of the guests and suspended them on ribbon in a large picture frame.  This was a real talking point – plus we got to embarrass a few friends with some great silly photos!"  In addition to the vintage styling on each of the tables, Joseph and Daniel also included a bottle of personalised beer featuring photos of the couple.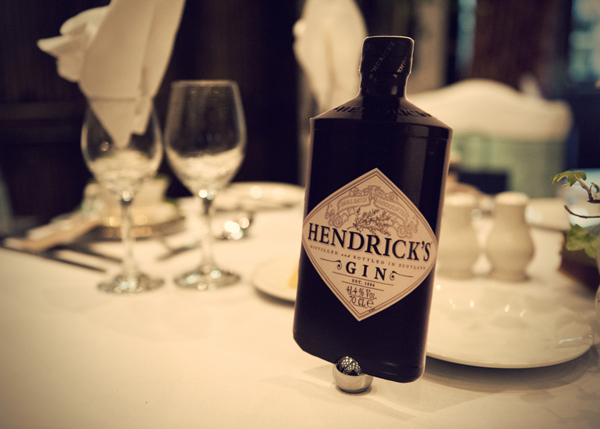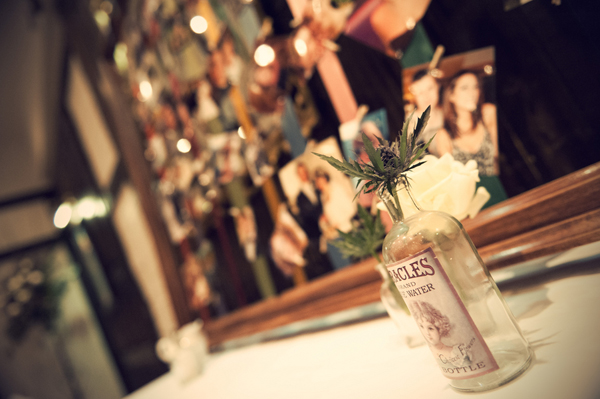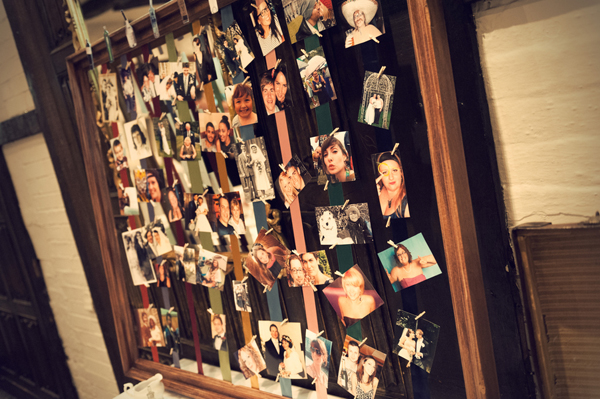 Their relaxed country vibe was continued into the meal, with them choosing a rustic inspired menu including old spot pork rillette, Yorkshire lamb and a sticky toffee pudding followed  by coffee and truffles.  "We were REALLY pleased with our cake. It was a cheese cake, and not the sweet kind! Cheese and Chutney in Saltaire, Bradford put together a tower of cheeses that not only looked fantastic but tasted AMAZING!!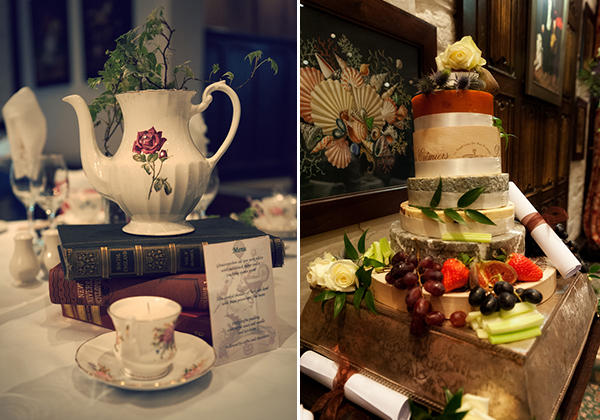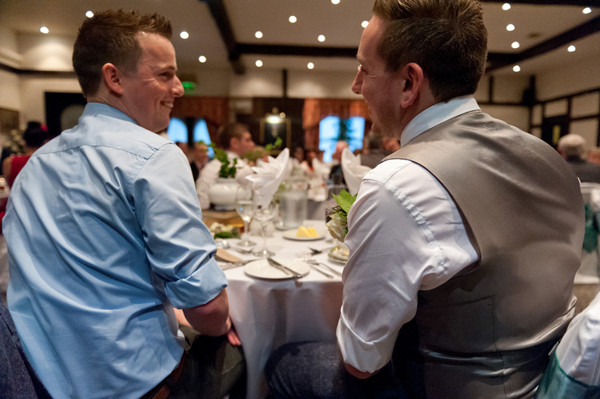 Our toasts were made in vintage cups and saucers which we gave to our guests as favours and as the champagne was being served, two boxes of cigars were handed round for guests to truly indulge after the speeches.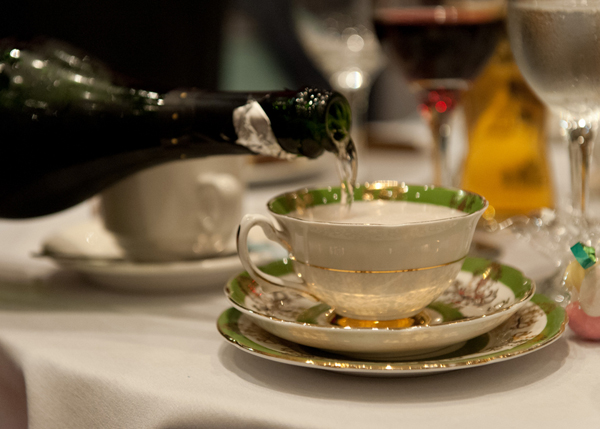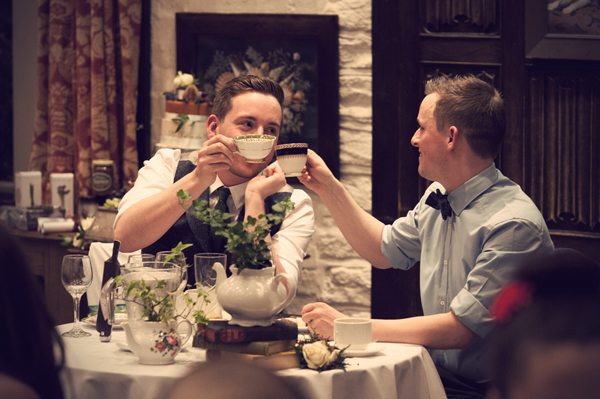 Daniel tells us a little bit more about the evening's entertainment: "We had a wonderful band fronted by the very, very talented KarenLake playing jazz and swing music – really romantic. The whole day was a memorable moment from start to finish, though I will never forget seeing Joe for the first time on our wedding day and thinking…. Phwor!"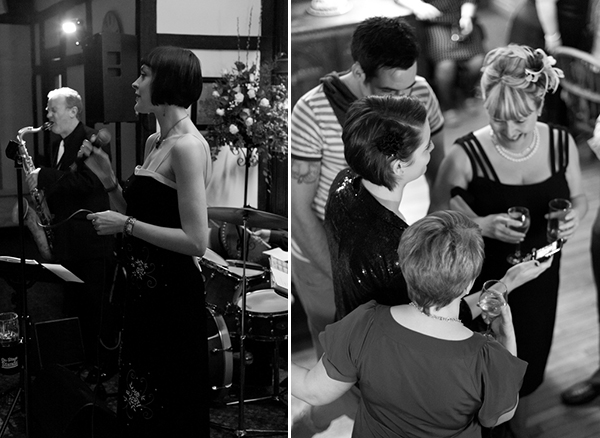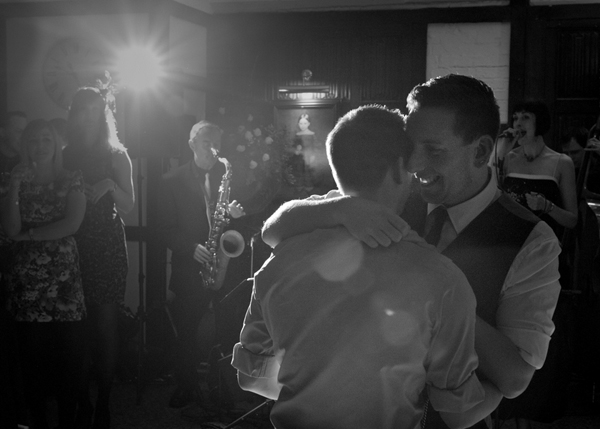 The couple have some great advice for any Brides and Grooms to be:
"For the "Bride" – Plan, plan, plan, plan – don't underestimate the power of a list, spreadsheet, clipboard, diagram, meeting and agenda – the more you plan and detail, the less can go wrong. (A man after my own heart!) * For 'Grooms' – Go with the flow!
* For keeping to a budget – again, plan, shop around and don't be afraid to negotiate.  Also, don't be afraid to roll your sleeves up and do bits yourself – it's amazing what skills you can acquire if you have a clear vision for the day."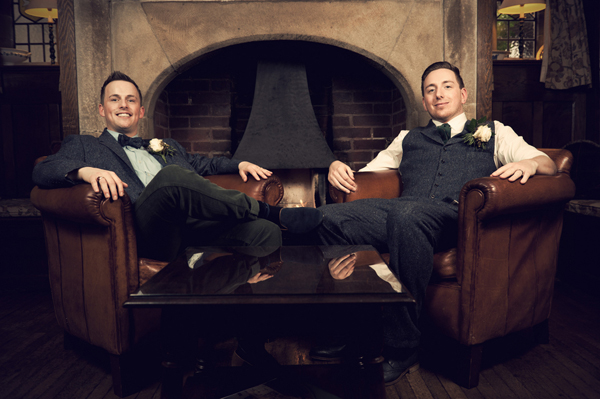 What a fantastic day eh folks?  I love the way Daniel and Joseph created such a stylish and informal day, full of personality and masculine touches.
Vicki x
ALL THE DETAILS