Oh I do love a creative backdrop. When decorating an event space it's important to think about focal points, maybe you need to create an 'altar' for a wedding held in a hotel or function room, maybe you want to cover an unsightly door or something else that jars with your design scheme or perhaps you just want to create something pretty and colourful as a backdrop for your portrait or photobooth pictures.
My advice is to take inspiration from all around you; shop window displays are usually a brilliant source of ideas. And think how you can use general party supplies in a creative way.
Have fun with paper, go mad with fabrics, bring out the ribbon, but most of all have fun with it. Here's a few ideas for using balloons to create an original and eye-catching backdrop.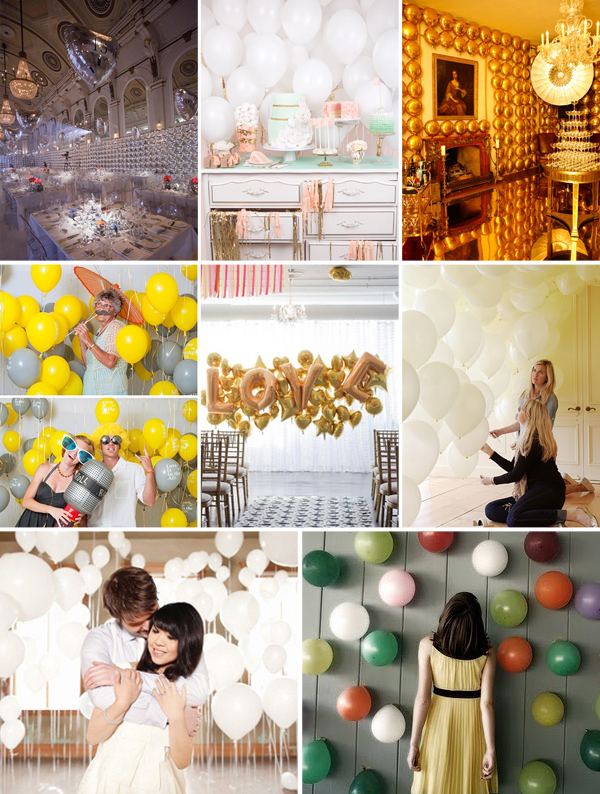 Image credits header. sarahklassen.com 1. fionaleahy.com 2. thecakeblog.com 3. fionaleahy.com
4. mikearick.com 5. 100layercake.com 6.thebridesguide.marthastewartweddings.com
7. greenweddingshoes.com 8. justadollop.blogspot.com
Ideas for creating a balloon backdrop
Filling a wall with decadent gold or sparkly silver balloons gives your space a touch of luxe glamour, as well as making the whole room look shiny and sparkly. 
Jazz up that cake table with a bunch of balloons, just make sure it doesn't take off or your guests will be left without cake and that's never good.
Colourful balloons (co-ordinated to the rest of your decor of course) make for an interesting backdrop to your photobooth. Add weights on the ends of the strings at varying heights to create a 3-D effect.
Spelling out words with letter balloons like these is a cute touch.
Don't you just love a wall of white balloons, there's something so pure and gorgeous about them.
If you have a large space to fill then this is a great idea, use coloured balloons and tack them to the wall in a random order. Really easy and budget-friendly way to fill a space with colour.
Where to buy
There's so many great balloon suppliers out there, from the standard party size to those brilliant giant round ones that come delivered to you inflated and ready to use. Here's a few of my favourites:
Peach Blossom - you can buy big balloons in 17 different colours from this great online store and you can even accessorise your balloons with tissue fringe available in an array of colours!
Balloons.co.uk - a great online supplier of standard latex balloons in a variety of colours, ideal for photodrop backdrops
BonBon Balloons - the ultimate balloon supplier, BonBon balloons come in a rainbow of colours, each one presented with a handcrafted decorative string.  Individually designed balloons are also available upon request.
Michelle xx