You don't hear me talking much about wedding trends here on Pocketful of Dreams and that's because I don't really believe in following them. A trend for me is a passing fad, something that's short-lived, and really who wants to think that way about their wedding day or special event?
I believe in making your own rules and starting your own trends, do things your way and that way you will always have your own little stamp of originality on things.
But, having said that, being a creative event designer IS all about taking influence from everything around me from fashion to interiors. And one of those hot styles that I have always loved is attention-grabbing metallics. Adding in a little iridescent detailing, shiny fabrics or metallic textures to an event space will serve up the perfect blend of luxe glamour.
So how do you take this style one step-further and include these luscious details on your wedding cake design too? Well I have enlisted the help of some of the UK's hottest and most talented cake designers to tell me more….

 "Metallic colours are a timeless choice and a glamourous trend for cakes. Given that precious metals form a small but significant part of the day with wedding bands typically made of gold or platinum, a metallic cake is a fitting choice.  When used sparingly or in pale shades so as not to look gaudy, metallic cakes also add some sparkle which makes them perfect for winter weddings". Says Emily of Tempting Cake 
Whilst Beth of Cakes by Beth adds:
"A lot of engaged couples are choosing to have metallic hints on their wedding cake as it is a colour-neutral way of adding a quirky twist and some added interest to their design. 

Very often, gold, silver or copper tones feature in the wedding colour scheme so introducing this into the cake is a nice way of continuing the wedding theme into the cake. This can be from subtle extra details, such as the metallic brooches in the centre of the Modern Romance ruffles, to completely metallic-covered tiers, either with metallic lustre dusts or edible leaf. For parties, adding metallic details to your cake can create a rich, opulent feel. Hints of gold and copper warm up a design (Gothic Birdcage) whereas hints of silver cool it down".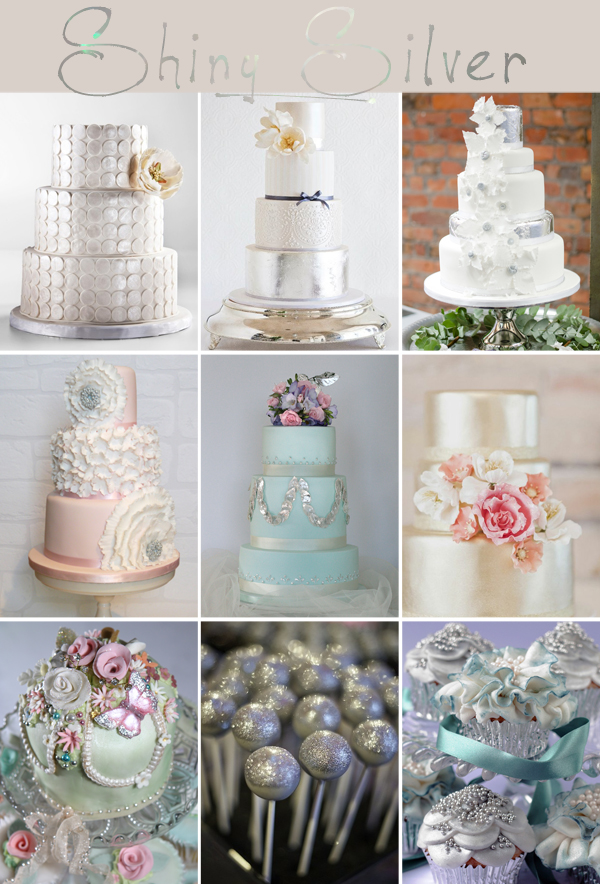 Image credits: 1. luxefinds.com 2. amouramour.com.au 3. Cakes by Beth
4. Cakes by Beth 5. Olofson Design 6. luxefinds.com
7. The Utterly Sexy Cafe 8. flickr.com 9. Olofson Design
Amanda of The Utterly Sexy Cafe offered some practical suggestions as to just how easy it is to incorporate metallics into your design :
"Tiers can be covered with real silver or gold leaf and decorated with piping, which can be painted in this precious dust to give a fabulous opulent glow. Hand made sugar flowers can be painted in edible gold or just edged around the petals for a more delicate look. It is possible to mix gold colouring into the butter cream mixture to cover the cake rather than placing the gold leaf onto white fondant icing. 

The whole effect is rather glitzy and can be embellished with sugar jewels and flowers or cover fruits such as figs in gold or silver leaf there's no stopping you, cover everything and anything for that Midas touch".
Ceri of Olofson Design says:
"I use antique golds and silvers to accentuate classic detailing which gives an instant feeling of old school luxe. For a more contemporary take on this, whole tiers covered in silver or gold leaf and simple bold designs executed in one metallic, will look totally glamorous without being fussy.

Metallics instantly lift and elevate a cake to extra special status which makes them perfect for weddings, and whatever the style of the day it can be applied in a way to enhance the theme- be it vintage and paired in places with a soft colour palette or a glamorous black tie do with a full on head to toe metallic affair"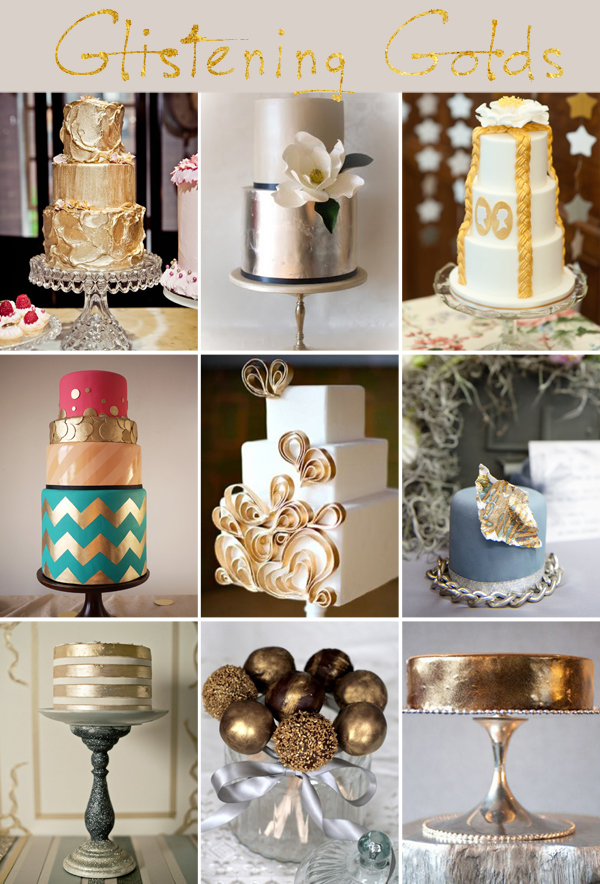 Image credits: 1. bellethemagazine.com 2. postcardsandpretties.blogspot.com 3. Janet Mohapi-Banks
4. capitolromance.com 5. Pinterest 6. Cakes by Beth
7.  100layercake.com 8.Olofson Design 9. postcardsandpretties.blogspot.com
Award winning luxury cake designer Janet Mohapi-Banks recommends using metal leaf, something I use quite often for crafting, or a metallic spray. And anyone who reads Pocketful of Dreams on a regular basis will know just how obsessed I am with spraypaint, sit still long enough in my house and you get sprayed with the stuff.
" Metallic looking cakes can be achieved in a variety of ways depending on the level of the metallic look required and your budget.

Cover your cakes in "metal" by using use real gold and silver in the form of leaf sheets best for a solid covering over your cake, but also the most expensive method. Gold and silver leaf flakes are useful for covering smaller areas or achieving a sprinkled and textured look.

Another way to get a solid block of colour on your cakes is to use a metallic lustre spray, they can be used all over the cake or just on specific adornments that are sprayed before being attached. My Golden Rope Cake uses this technique.  For smaller areas of gold or silver on a cake, edible paint can be used. These are brilliant for creating intricate and detailed patterns. For a subtle effect try gold and silver dust, a very fine real edible gold that can be brushed onto the cake or it's adornments to give it a hint of something special.

Sadly, due to changes in the Food Standards Agency guidelines, professional cake designers are no longer allowed to use non-toxic glitter. It is, in my humble opinion, a very daft rule as the glitter (which is very small cuttings of plastic) passes through your body with no ill effect, but we have to be governed by the rules so alas this is no longer an option.

However you choose to get a metallic look to your cakes, they are going to be something very contemporary and could be the element of "bling" that takes your breath away."
Whether you lust after burnished gold and bronze, have a thing for pared down pewter or desire to look dazzling in chrome and silver, now you can ensure your cake is dressed just as decadently as you.
So tell me are you a fan of metallics, do you plan on trying out one of these fabulous cake designs, and just which one makes it into you hotlist? It's so hard to choose.
Michelle xx