Yes we do love a good backdrop here at Pocketful of Dreams and have previously talked about filling your space with balloons, as well as doing a Blue Peter with paper pretty. Backdrops let you add a pop of colour, a hint of fun or a splash of fabulous texture to your design scheme and always look amazing. There are things you can buy already created for you, but we like to do things our own way over here and get our hands dirty so we're always dreaming up ways to DIY for less.
Here's our rundown on using fabric for backdrop displays….
Ideas for creating a fabric backdrop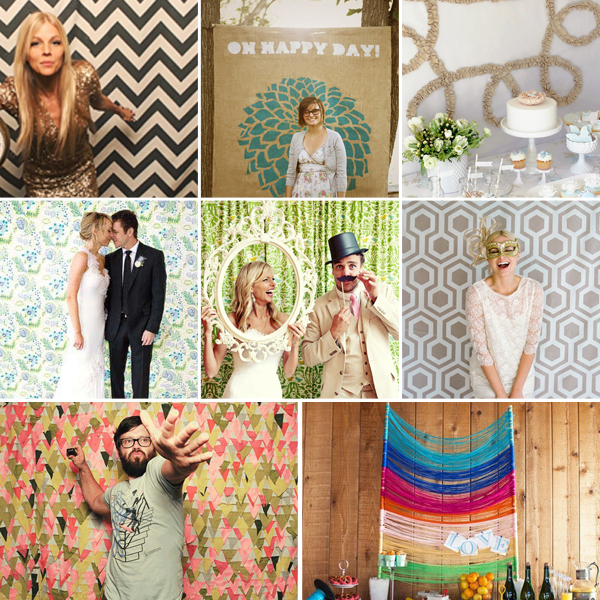 Image credits:  1. 100 Layer Cake 2. Etsy 3. Layla Grace 4. Pinterest 5. Style Me Pretty 6.a2 7. Smilebooth.com 8. Hostess with the Mostest
Textiles are a great way of adding gorgeous glamour to the proceedings, choose luxe, heavy fabrics for a chic effect
Or choose bold stripes or geometrics for something a little cooler
Florals are great for adding depth and colour to a space, especially if you want to pretty it up
Fabric trims come in all types, you can get ruffled, delicate lace, beaded, braided, gilt, fringed. You name it. I love how it's been used in that picture up top, to create a swirly design. Clever!
Coloured yarn, string, twine, wool, whatever takes your fancy. You can create a multitude of effects and add that much needed pop of colour to your blank canvas using coloured strings.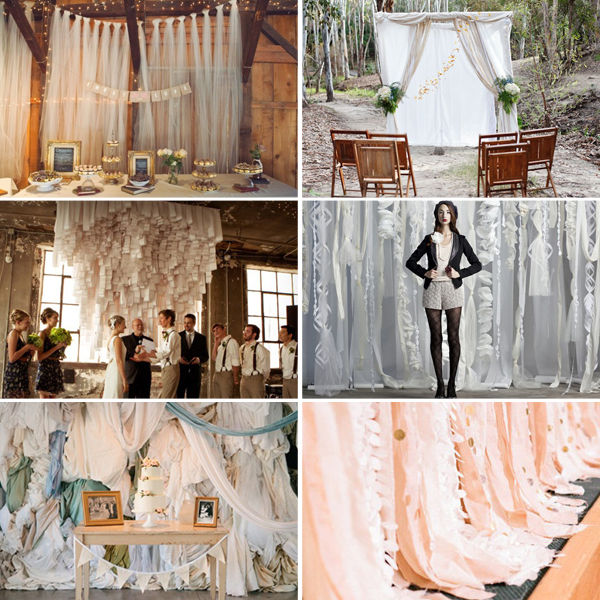 Image credits:  1. Ruffled 2. Green Wedding Shoes 3.You Are My Fave Parties 4. Shopruche 5. FYWI 6. Très Sugar 
If you're after a more delicate and whimsical look then you can't go far wrong with lace, chiffon and tulle. Just look at the clever ways it's been used above from curtains to full on walls of fabric. Such an ethereal effect.
Where to buy
There's literally hundreds of great fabric shops up and down the country, head to your local market as that's usually a great place to find cool fabrics. Or why not try upcycling pieces found in vintage stores and charity shops. My online supplier picks include:
How to DIY
Just because you're using fabric doesn't mean you necessarily need to be a dab hand with a needle and thread. Many of these ideas use pins or just attaching fabric strips in knots. Here are a few suggestions for the DIY-ers amongst us.
Michelle xx
Image tags: Creative Backdrop, Wedding Backdrop, Wedding Decor Ideas, Wedding Trend, Wedding Ideas, Wedding Planner, Wedding Inspiration, Wedding Stylist