Yesterday we launched our new Etsy shop and have been so pleased with all the feedback and words of encouragement.
From the bottom of our hearts…..Thank-You!
Today I wanted to tell you about one of the fabulous party products we have on offer, as this one is extra-special. This one is my baby if you like….and yes my baby is dressed in gold sequins.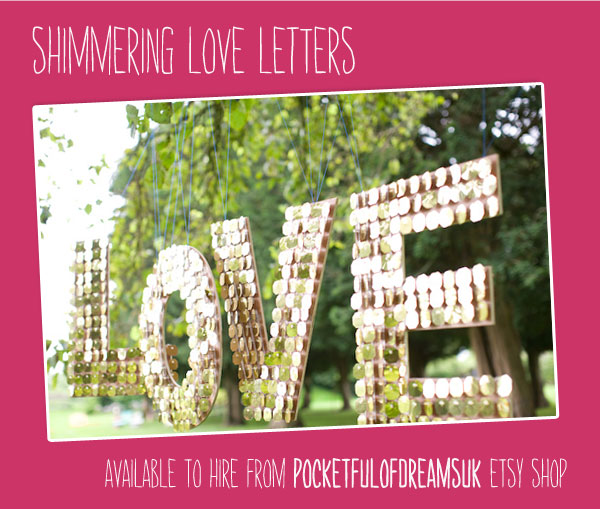 Image credit: Leo Bojesen 
We call them LOVE LETTERS, you can call them little drops of sparkly heaven.
We think they will look mighty fine adorning your wedding venue, in the backdrop of those smoochy photos of you and your beloved, or even, and yes this may be pushing the boat out ever so slightly, adorning the walls of your home!. Who says you can't have a bit of shimmery love in your life EVERY day?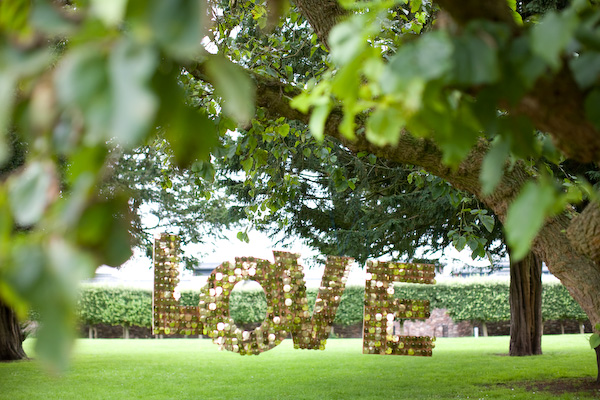 Image credit: Leo Bojesen
The letters are handcrafted from a beautiful soft wood with over a hundred specialist shimmering mirrored discs carefully attached to the wood. These super-sized sequins sit a little away from the wood allowing them to move gently with the wind and as they do so catch and bounce the light around beautifully.
They can be individually hung from trees, or propped up on the floor or a surface to decorate your space. Anywhere there is a gentle breeze or lots of natural or projected light is perfect as this is what gives the sign it's sparkle.
The great news is these babies are now available to hire. Wahoo.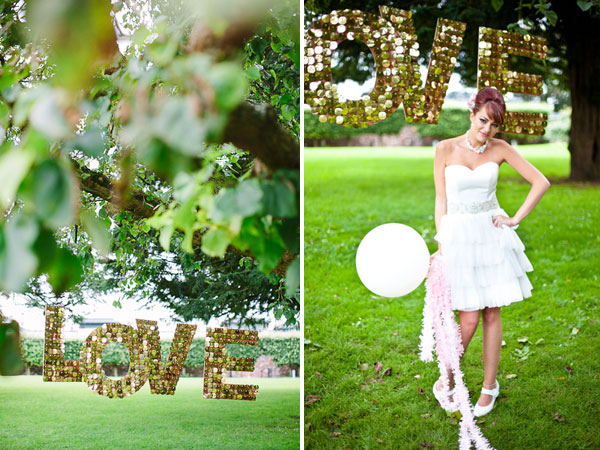 Image credits: Left Leo Bojesen Right Rosie Parsons
HIRE DETAILS
We currently have in stock one gold LOVE sign which is available to hire within the UK, through our online Etsy Shop.
The hire fee is £100 excluding shipping.
Each letter is 2ft high and 1.5ft wide.
We will send the item to you by courier and arrange the collection from you after your event, all you have to do is be in when the package arrives and squeal with delight at its sparkly magnificence.
To hire these just visit our Love Letters hire page on Etsy or drop us an email to check availability of your date.
We're going to be adding more and more to our collection, so if you want something bespoke making, such as a word of your choice, or maybe your initials then get in touch and ask us about the bespoke service.
BESPOKE OPTIONS
We can create a word of your choice, or perhaps you would prefer your initials such as A&D.
The cost for a bespoke option to be created for hire is:
Two letters and an ampersand (eg A & D): £130 plus shipping
Four letter word: £150 plus shipping
Five letter word: £180 plus shipping
Each letter/symbol can be made in a range of colours including: Silver, Gold, Black, White, Pink, Orange, Red, Green, Navy Blue, Turquoise, Hot Pink and Purple.
If you would prefer to buy your letters outright the cost is £100 per letter and they are yours to keep forever. To but visit the Love Letters Buy Page on our Etsy shop.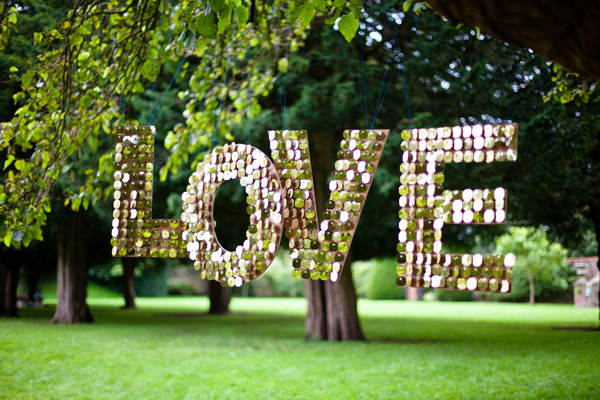 Image credit: Rosie Parsons
HIRE TERMS
Yeah there's always a boring bit…here's ours:
We will obtain an up-to-date courier quote which will include delivery to an address of your choice in time for your event and collection again afterwards. As our item is highly precious the quote will include loss/damage cover in transit.
We will require a non-refundable, 50% deposit to secure your item for your date, the balance is due one month before your event.
The hire period is for four days, giving you chance to receive/collect, install at your desired location and then return back to us.
We also take a £100 damage deposit with the balance, this is fully refundable within 7 days of your event if the item is returned to us undamaged. Should the sign be damaged beyond repair we will retain the full deposit. Should we need to replace any of the discs the following replacement charges apply:

Standard repair fee of £20.00
Plus replacement charge of shimmering discs @ £2.00 per strip of 7 discs. (ie if one disc is damaged we have to replace the entire strip of 7 so this would cost £2.00 plus the repair fee)
Michelle xx
POSTED IN: Inspiration, POD News, Portfolio

TAGS: Decor to hire, Event Prop, Event Sign, Gold Sequinned Sign, Love Sign, Mirrored Love Sign, Party Decor, Pocketful of Dreams, Shimmery Love Sign, Wedding Decor, Wedding Decor HIre, Wedding Prop, Wedding Signs