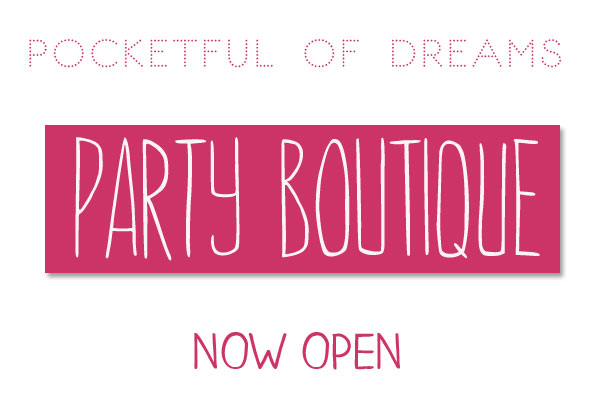 So boys and girls, we have a shop!
The Pocketful of Dreams Party Boutique has arrived.
After so long spent searching and searching for the most original and creative party details and decor products to make our events pop, we finally realised something. The things we wanted, those little visions in our heads, well, they just didn't exist.
So out came the pen and paper, the tools and the glue, the scissors and the glitter. Until we found ourselves with a lovely little collection of handcrafted party details that a lot of other people loved just as much as we did.
From garlands to bunting, drink stirrers to wedding signs, table plans to treat bags we've turned our hands to them all. And now we're sharing them with you. Because we're nice like that.
You'll find a few original party products already for sale in our new Etsy shop, and you can bet your bottom dollar we'll be adding a heck of a lot more over the coming months.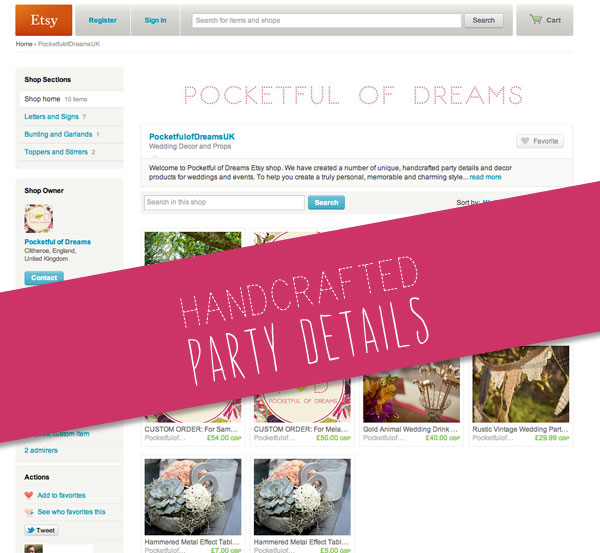 Everything we create is and totally customisable. So if you're after a bespoke item, something to match your own colour scheme or existing decor perhaps then drop us a line to find out how we can adapt our existing items to suit your tastes. Or maybe you want to commission us to come up with something brand spanking new for you? That's okay too just ask us about our bespoke service.
Pocketful of Dreams has always been about giving you plenty of inspiration for a truly personal, memorable and unique wedding or event.
Now we're giving you the handcrafted details for an epic party too.
And yes, we ARE excited about it. We hope you are too.
Michelle xx
POSTED IN: Inspiration, POD News, Portfolio

TAGS: DIY Wedding, Event Design, Handcrafted Wedding, ONline Shop, party Boutique, Party Decor, Party Details, Party Pieces, Pocketful of Dreams, Shop, Wedding Details, wedding planning