Hello Lovely Readers
Over the past few months I have shared all the insights and behind-the-scenes details of my wedding and so it seemed only fair to also give you a guided tour around my amazing honeymoon to Borneo!  There is so much to tell you about this amazing island that we're splitting this into several posts.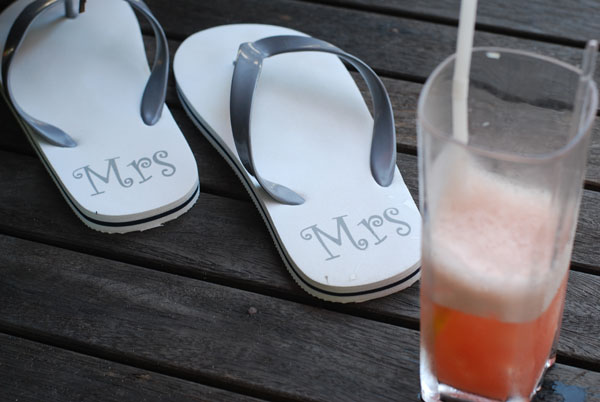 Borneo, located in Southeast Asia, is actually the third biggest island in the world, and is divided amongst three countries: Indonesia, Brunei and Malaysia.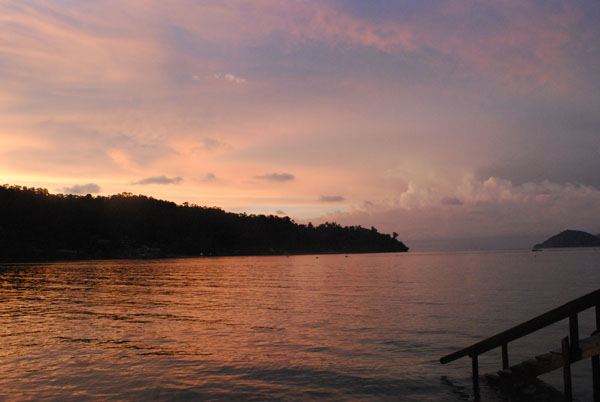 We spent our two weeks travelling around the Malaysian state of Sabah, full of breathtaking sunsets, mind blowing wildlife and virgin rainforest, incredibly friendly people and a whole lot of humidity (there is a reason my hair is scraped back in every photo of me on honeymoon!)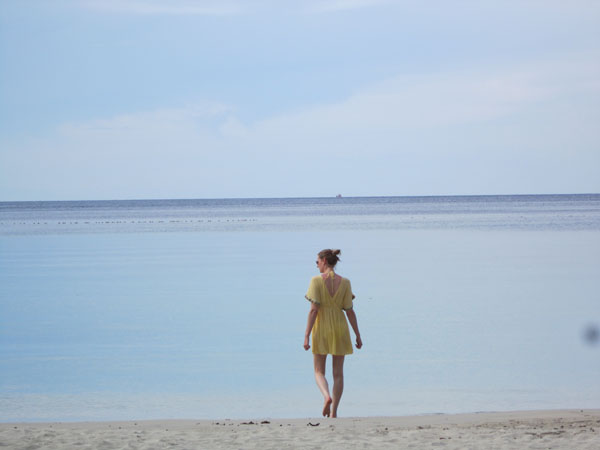 So without further ado, here is an overview of the our first week  in Borneo and the exquisite resorts we were lucky enough to stay in…
Bunga Raya Island Resort & Spa
After a long flight via Kuala Lumpur, we eventually landed in Kota Kinabalu and started our Borneo adventure by being whizzed off by speedboat to the beautiful Gaya Island, the largest of five coral reef islands which make up the Tunku Abdul Rahman Park.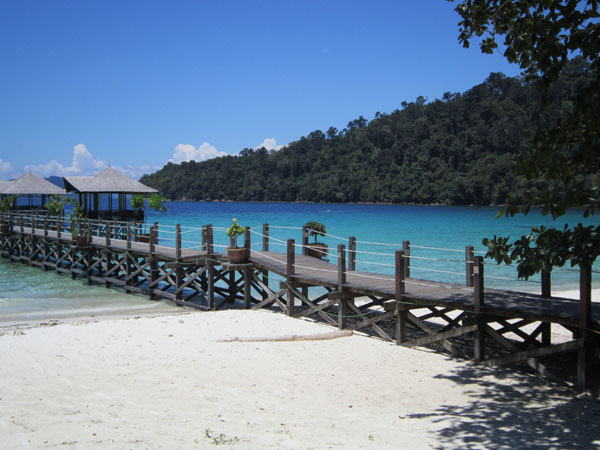 Gaya is home to two stunning resorts and we spent the first 4 nights of our holiday at the Bunga Raya Island Resort & Spa, just 10 minutes by boat from bustling Kota Kinabalu but a whole world away.  This beautiful yet rugged jungle hideaway nestles into a tranquil and secluded bay, boasting a sugar white sand beach and only 48 villas all built in a traditional Borneo architectural style from a variety of natural materials.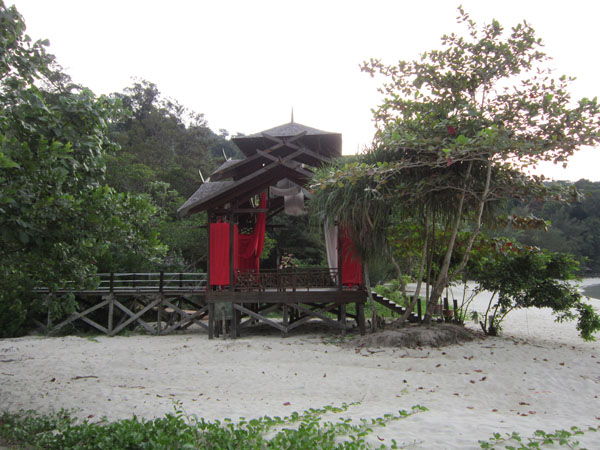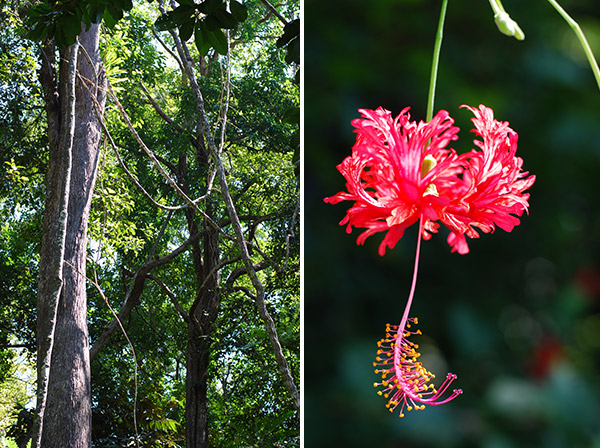 We were lucky enough to be upgraded to a Treehouse villa, set back into the jungle with a private plunge pool, outdoor lounge area and wraparound balcony from which we could gaze through the lush vegetation and stunning hibiscus plantation down to the beach and the sparkling South China sea.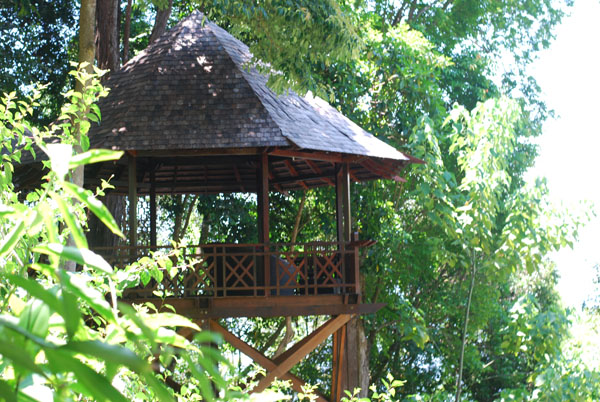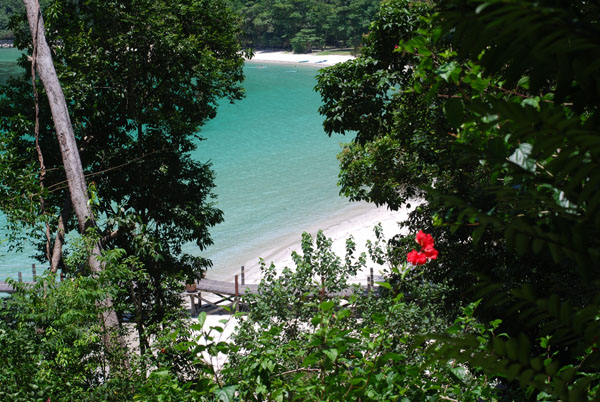 From our choice of luxurious daybeds we could watch the sun rise, hornbills fly through the trees, butterflies as large as your hand flutter past and geckos hurriedly scurry around…a perfect way to unwind after a long journey and a whirlwind wedding weekend.  We had total privacy at our villa and even the distance from our villa to the pool and restaurant was quickly mitigated by a call to room service who promptly sent up a golf buggy to pick us up!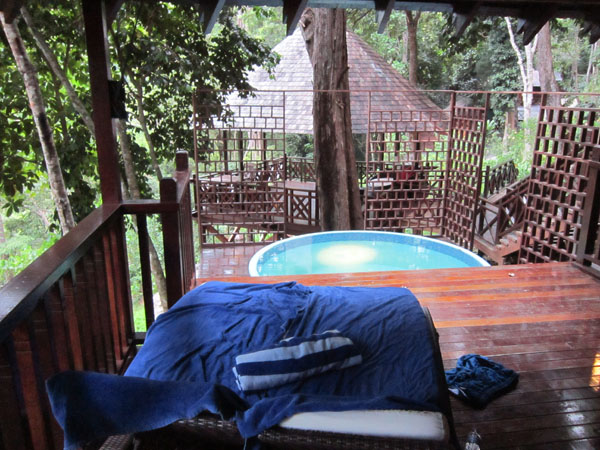 The villa itself was constructed from local wood in a beautiful rich golden tone and tastefully decorated with luxe fabrics and a huge bed complete with muslin drapes.  But the centrepiece was undoubtedly a fantastic ceiling carving which caught your eye as soon as you entered the room.  The décor was pure understated luxury; evoking the traditions of Borneo but executed with a contemporary style and panache which delivered everything you would expect from a luxury resort including little touches like Bose sound systems, free soft drinks and Beer in the mini bar replenished daily and state-of-the-art espresso machines.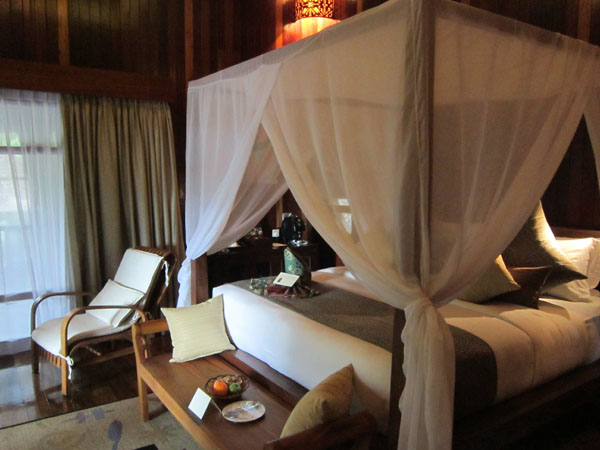 By the restaurant and bar is a fantastic infinity pool with cherry red sun beds and umbrellas which popped against the green backdrop of the jungle.  We enjoyed many a lazy hour here with cocktail in one hand and camera in the other, just watching the perfectly still pool with the sparkling sea beyond.  This is one of the few places I've been to where everyday I felt compelled to take more and more photos of the same view because it was just so damned gorgeous!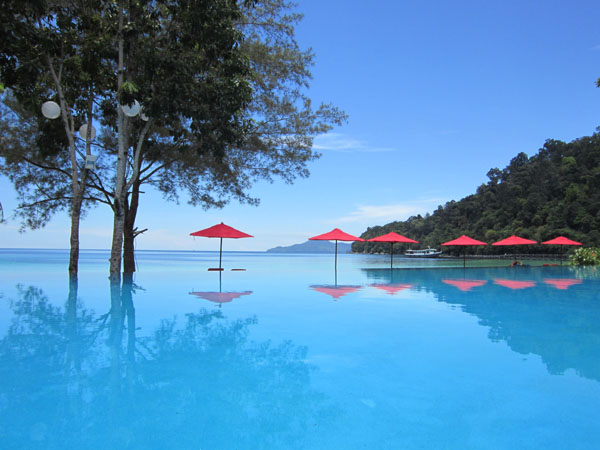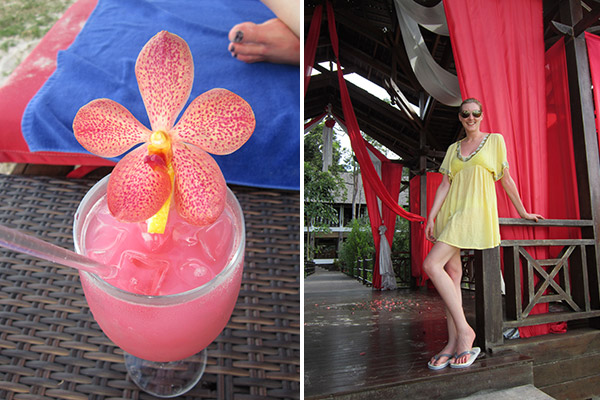 The staff here couldn't have been friendlier, happily arranging snorkelling, kayaking and even jungle canopy walking if you were feeling adventurous (we weren't!), leaving us little presents in our room every night and finding that difficult to reach balance between being immediately available and helpful but not over-fussing or intrusive.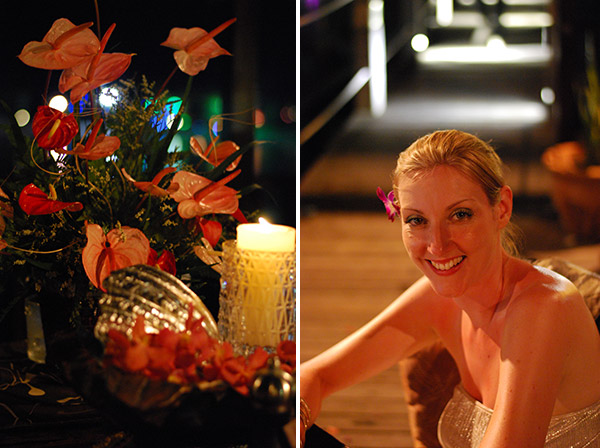 On our last night, we arranged to have a candlelit private dinner in one of the pavilions over the sea, with a personalised 4 course menu, full of fabulous fresh fish and vegetables bursting with local flavours served with – of course -  champagne and a private waiter for the evening.  It really was the sort of scene you only see in travel brochures and undoubtedly a standout memory from our honeymoon (despite – or perhaps because – Mr. DB managing to kick over one of the strategically placed votives, knocking wax all up his trousers and the votive into the sea.  Oops!)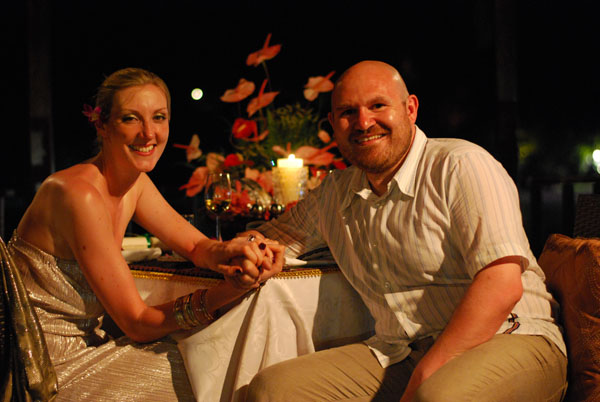 Bunga Raya is a truly beautiful resort, combining first class service, stunning natural beauty and effortless chic luxe which we were sad to leave.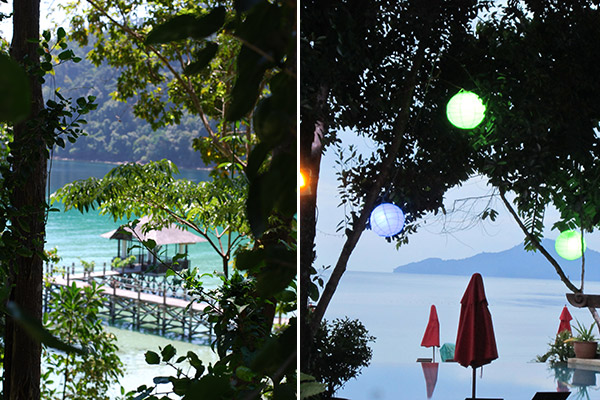 Gayana Eco Resort
For the next stage of our adventure, we were transported by speedboat once again round to the other side of Gaya Island, to spend two nights at Bunga Raya's sister resort, Gayana Eco Resort.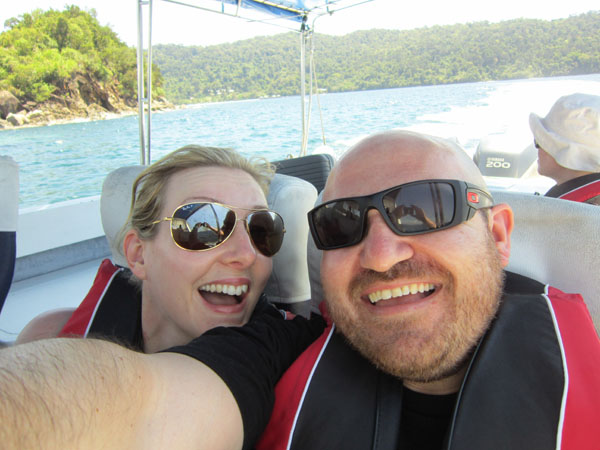 Gayana boasts 52 over-water, tropical villas with views of Mount Kinabalu (the tallest mountain in Borneo) on the far horizon.  It has a slightly bustlier vibe to it than Bunga Raya which was just perfect after our first days of relaxing.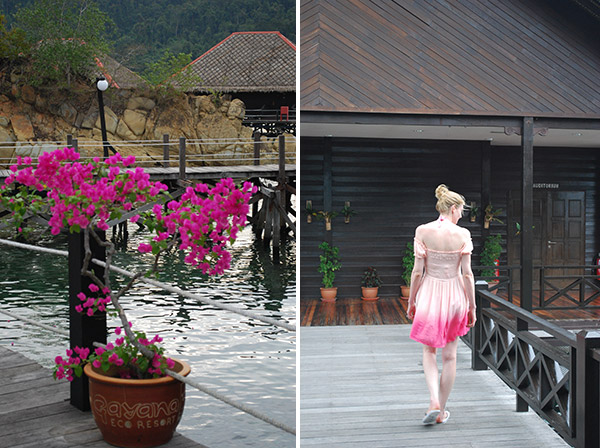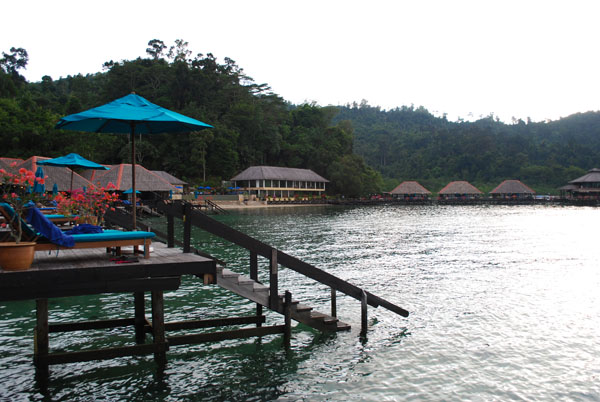 Mr. DB had chosen us a fabulous ocean villa: a spacious and airy room with huge extended deck, bright teal sun beds (with umbrella – essential for my shadebathing routine!) and direct access down into the ocean.  We took full advantage of this by swimming and snorkelling straight from our deck, seeing a huge array of tropical fish of all sizes and iridescent, bright and beautiful colours.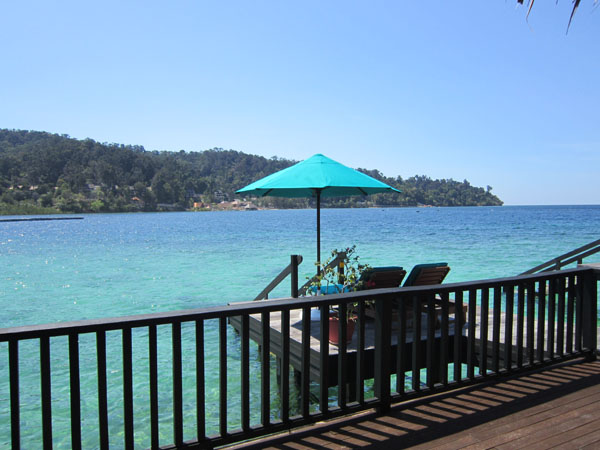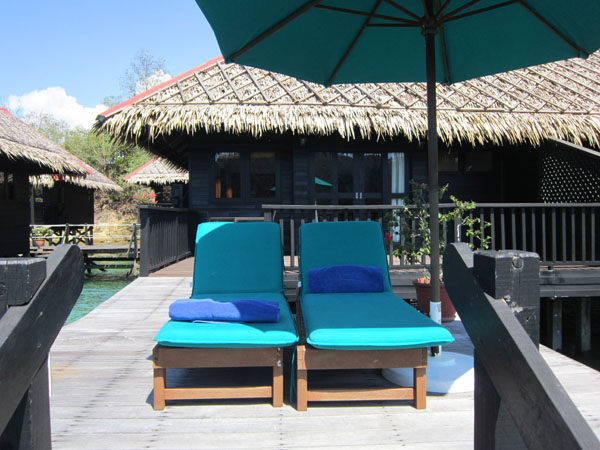 When we tired of lazing on our private deck (well – they do say variety is the spice of life!), we would venture down to the stunning infinity pool which was nearly always deserted apart from one afternoon when our tranquillity was interrupted by a pack of about 30 Macac monkeys tearing through the restaurant!  The staff seemed pretty unphased…that is until a wild boar started wondering past as well…!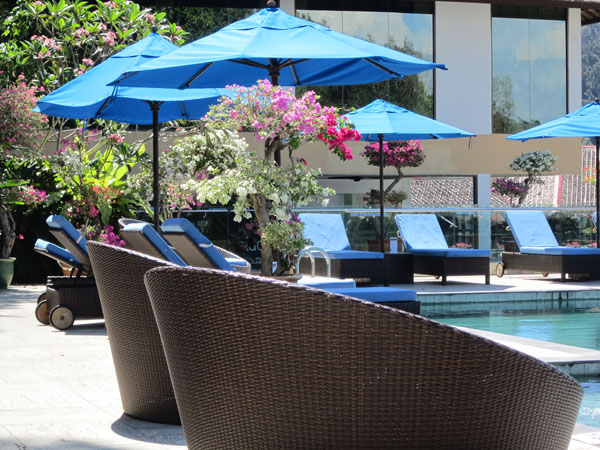 The food was also mouth-watering here with two restaurants offering some fantastic fresh seafood (so fresh we saw it being taken from the ocean), a combination of Western and Asian influences and chefs who would happily create bespoke meals for you if, like me, you are a fussy eater.  One of the best foodie treats however had to be sitting on your deck each morning and watching your breakfast being brought to you by the breakfast boat!!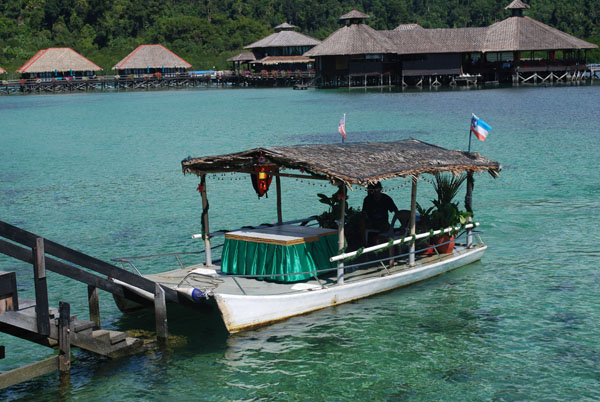 At the heart of Gayana is a commitment to protecting Marine Ecology and they have onsite a Marine Ecology Research Centre where they propagate endangered Giant Clams and have a coral reef restoration project.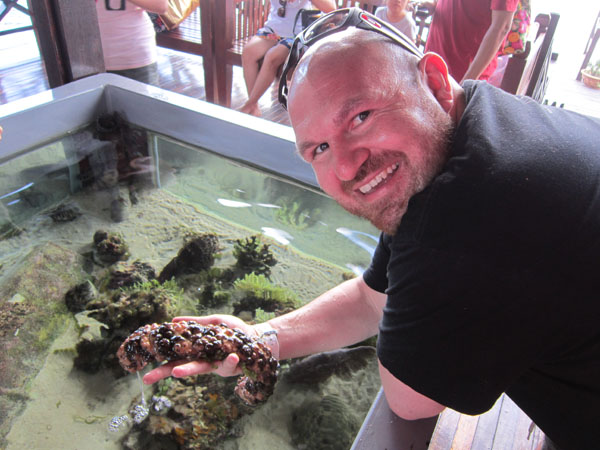 We spent a fascinating few hours visiting the centre, learning about the work they did and even getting some hands on time with some starfish, crustaceans and sea cucumbers (despite looking like mini Jubba the Huts, they are surprisingly velvety to the touch).  It was great to learn about the work they are doing and added an interesting edge to another stunning location.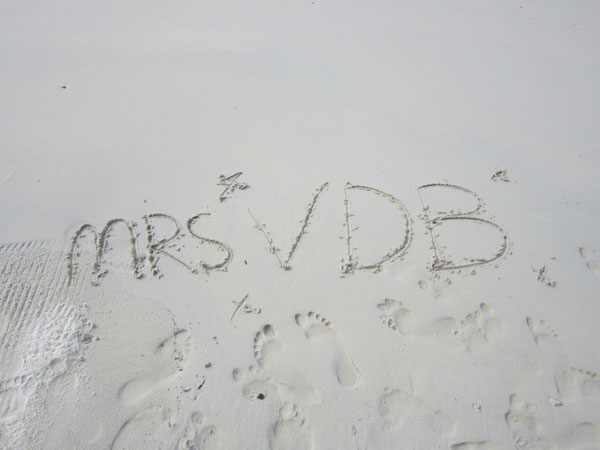 The first week of our honeymoon was really about utter relaxation and uninhibited luxury in the most breaktaking of locations.  Keep your eyes peeled for my write up of week two, where we flew to the East coast of Sabah to try something a little more adventurous…
Vicki xx