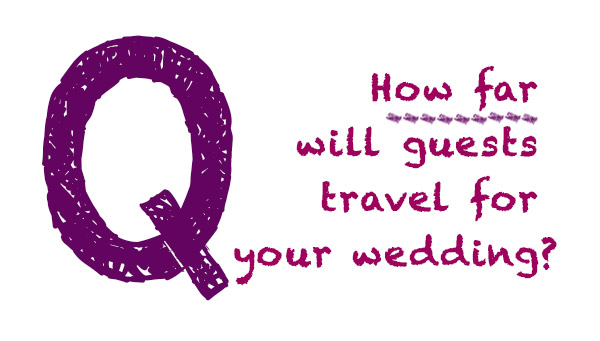 MICHELLE SAYS: So many people nowadays have moved away from their childhood homes and towns so naurally they may have friends and family spread out across the country and in other countries too. It's only natural to expect some guests may have further to travel than others to your wedding day, and if you choose a destination wedding, either in the UK or abroad then this puts added pressure on your guestlist.
I think the key point here is that little word 'expect'. Really there should be no expectations placed on your guests when it comes to your wedding day. It may be the most important day in the world for you but remember that not everyone shares your sense of importance. For any guest, attending a wedding is a wonderful thing, they get to share in your joy and help you celebrate a momentous occasion. But every guest will need to consider what it costs them in attending your day, these could be physical costs from the new outfit, to a gift for you, to travel and accommodation costs and not forgetting drinks. As well as their own personal work pressures; they may need to take time off, and we all know how precious those leave days are.
In an ideal world it would be great if you could cover some of these costs for your guests from your own budget, however this is not always practical. There are a few things you can do though to make it as easy as possible for your guests to attend:
Consider the timings: Once you have an overview of your ideal guestlist you should have a fair idea of how far the majority of people have to travel. If it's a couple of hours for most then make sure you time the wedding so people are not setting off when it's still dark. You could even split your day out into mini events, from the ceremony, to post-ceremony cocktails, dinner, then an evening party. Let people know you're happy for them to join you at any point in the day.
Make a weekend of it: If you are asking people to travel far then make it into a holiday for them so it's more of a mini-break. Offer a range of activities and give them ideas for things to do in the local area that allows them some time to themselves too.
Give plenty of notice: You need to think well ahead for a wedding that involves significant expense and commitment from your guests, time for them to save and plan things like time off work, childcare, petcare etc.
Don't ask for gifts: This only places added pressure on finances, let people know you'd rather have them there than a gift
Help out with travel: Can you help your guests out by planning their transport for them? For example if you have a large group all traveling from the same area, can you arrange a bus/coach to collect them and take them home again?
Help out with accommodation: When it comes to accommodation it's up to you to do the homework here. Find out about all the hotels and B&B's nearest your chosen venue and contact them to ascertain prices, ask for bulk booking discounts and provide your guests with this information within your invites. Make sure you're providing a good range to suit all budgets too.
Can you think of a creative way of involving those who really cannot attend? Either set a little time aside in your day to have a quick Skype call with them, set-up a webcam so they still get to enjoy the ceremony or speeches or send them pictures / wedding films after the event.
Just remember not to take it personally, those who can travel will do, but don't ever expect anything of your guests. Each and every one will have a valid reason for not attending.
VICKI SAYS:  There really isn't a set answer to this – your nearest and dearest will be thrilled to share your wedding day with you and will happily travel from far and wide to be part of your celebrations wherever possible.  The trick however is not to take the efforts your guests are making for granted; if people are really going above and beyond to attend your wedding then it is important to recognise and appreciate that effort.
Having our wedding in Cornwall meant that all of our guests had at least a four hour drive to celebrate with us.  We knew that we were asking a lot of people and so we went out of our way to ensure that the journey and time they'd dedicated to us and our wedding was worth it: we paid for their accommodation for two nights to ensure that we could all stay in the same hotel and people could really enjoy their stay in Cornwall for the weekend, we arranged for them all to have welcome bags full of fun treats and nibbles when they arrived and we packed them off the day after the wedding with a car picnic to ease the journey home.
That's not to say that you should pay for accommodation for all of your guests or that asking people to travel to attend your wedding has to mean additional expense for you but I do think it is important to make things as easy and as comfortable for your guests as possible.  For example, research into local accommodation options, see if you can secure reduced rates for your guests and maybe consider offering a minibus or coach service from your venue to the main hotels in the vicinity.  Little touches like a welcome bag or even something as simple as an early check in at their hotel or a pot of hot tea and a homemade cake upon arrival after a long journey will make your guests feel valued and well taken care of.
The other thing to consider if you are asking your guests to travel is to give them more notice than you would for a local wedding; people may need longer to arrange childcare, someone to walk the dog for a few days or just to research and consider their options.  There also has to be the realisation that some people simply won't be able to attend; elderly relatives may not be able to undertake long journeys and asking people to travel typically means greater cost to your guests.  A destination wedding for example, would always typically have fewer guests in attendance than a local event so it is important to consider this when choosing your venue and the type of wedding you want.
Is this something that you have considered when planning your wedding?  We'd love to hear your thoughts and whether there are any other topics you would like us to cover in our Wedding Planning Advice feature.
Vicki xx