Good Afternoon Lovelies
I hope you enjoyed the beautiful love shoot we featured on the blog this morning; make sure you pop by and had have a read if you've not seen it yet.  Now this afternoon we want to share with you details of a fabulous wedding show returning to London next month.
At this time of year, national, regional and local wedding fairs and shows pop up all over the place and it is hard to know as a planning bride, which ones are worth attending and from my own experience I can certainly confirm that not all wedding fairs are equal!  One fair which you should definitely be adding to your diary is Zoe Lem's Vintage Wedding Fair: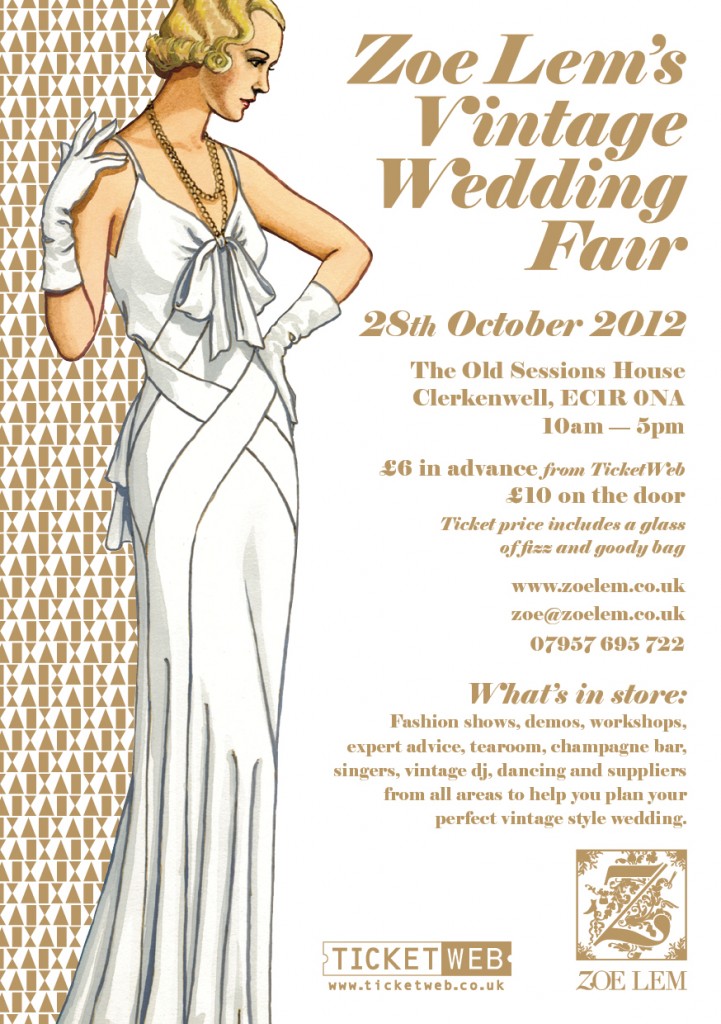 Zoe Lem is a hugely successful stylist with a genuine passion for vintage clothing; she has recently launched her own collection of vintage inspired bridal dresses and after the success of her inaugural wedding fair in April, she is back for a second wedding fair which promises to be even bigger and more glamorous!
What Can You Expect?
Zoe Lem tells us that her Vintage Wedding Fair is different for two main reasons:
"The first is that it showcases the glamorous edge to vintage which is, I believe, the side worth revisiting; less aprons and teacakes and more Hollywood glamour.  The second is that though the fair is about inspiring brides and giving them beautiful food for thought it is also about education so that brides can understand those elements indicative to each era and how to revitalise them whether teaching on which era suits which body shape or how to hold themselves on the day as, for example, the 1930's ladies would have done, how to create the perfect victory roll, how to dance as they did in the 1940's and lots more."
The fair boasts some of the very best wedding suppliers from photographers to videographers, florists to caterers, stationers to entertainers as well as suppliers of dresses, accessories, shoes, crockery and props.  Brides attending will also be treated to a fun day out, with live dancing, singing, vintage DJ's, hair and make-up demos, a champagne and martini bar, tearoom, charm school and lots more.
The highlight of the fair though has to be the fashion; as well as fashion shows throughout the day and an array of beautiful original vintage and vintage inspired dresses for you to ooh and aah over, Zoe will also be on hand providing personal consultations on various eras and helping brides to find the era which best suits their body shape.
All The Details 
This promises to be a fantastic event, full of first class suppliers and a healthy dose of glamorous inspiration.  Are any of you planning on attending?
Vicki xx