Well it has been a little while since I've featured one of my own DIY projects on the blog. That's not to say I haven't been busy crafting away because I have, it's just been such a busy few months that finding the time to photograph them all has alluded me. Coupled with the fact I'm not the best photographer in the world and hate publishing anything that's less than perfect.
But since my blogging workshop collaboration with Rebecca at Dream. Find. Do she has taught me all manner of new photography tricks (something we also cover on Day two of the workshop) and I feel my photography has now improved so much. Hope you agree?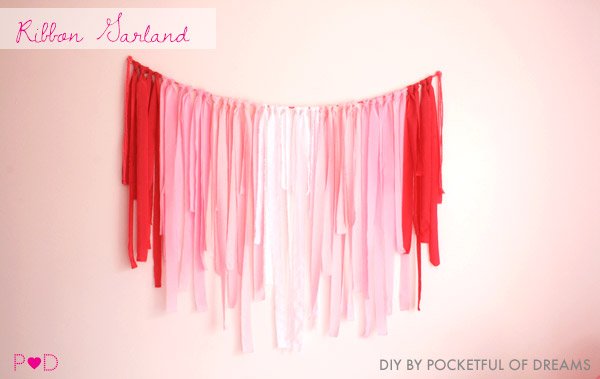 This ribbon wall garland is actually something I created for my guest bedroom which was part of a recent redecoration project. Previously the room had yellow walls and a big ugly pine wardrobe taking up way too much space. As I now have a regular little visitor coming to stay, a six-year old girl with a love of all things pink and princess-like, I wanted to decorate the space so she felt comfortable and like it was hers, whilst being mindful I still need it to serve as a guestroom when friends come to stay.
The walls are now a very soft and subtle pink called Whisper of Pashmina, the wardrobe and all the wood architraving has been given a lick of white and the room looks so much more inviting as a result. Hopefully I'll share more images of the room very soon.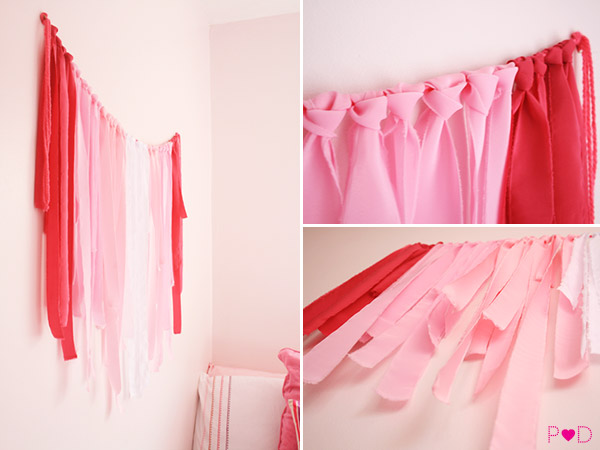 As I'm on a tight budget I wanted to add some impactful and colourful wall decor that didn't cost the earth and could easily be updated in the future. So after seeing many of these wonderful ribbon garlands on my go-to inspiration site Pinterest I set about creating my own.
It's really easy to recreate and allowed me to use up pieces of leftover fabrics I had lying around. Here's what I did: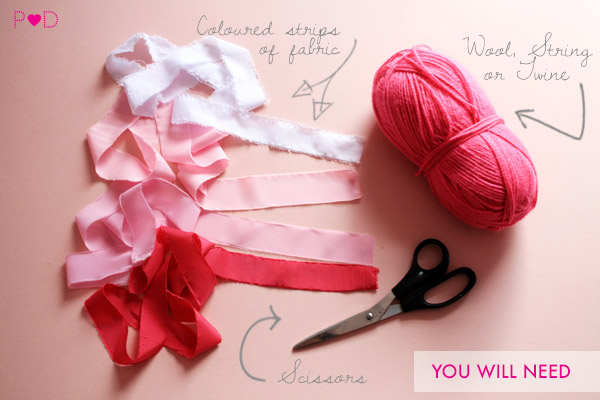 YOU WILL NEED
Coloured strips of fabric, I used some leftover fabric that I'd used for another project. It's actually lining fabric so it's quite sheer and I used 3 different shades of pink and a white.
Wool, string or twine
Scissors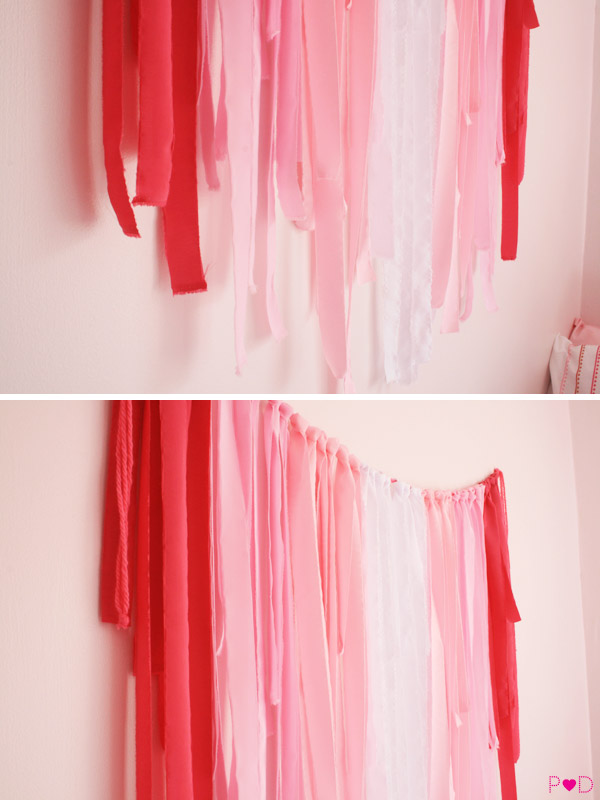 HOW-TO MAKE A RIBBON WALL GARLAND 
First of all you need to cut the fabric into strips, I found the best way to do this was to cut a little into the fabric at the width I wanted each strip then just rip it. I did each one the same length (about 1 metre). You could also use ribbon which would give a much neater finish
I measured out how wide I wanted the garland to be (Again it was 1 metre wide), and then cut three pieces of wool to twice the length I needed (So I had plenty to tie it up with). I then plaited the three pieces of wool to give a nice effect (Although this is hardly seen so isn't necessary)
I tied each end of the wool to the handles on my kitchen cupboards to make it easy to work with
Then I began adding the strips of fabric to the wool, first I just hooked them over so I could see what kind of pattern I wanted to create, in the end I went with an ombre design with the darker strips sitting at the outside of the garland, graduating to the lightest ones in the middle. It looked just as good with a completely random mix of shades too.
To attach them to the wool I simply looped a knot at the top (Grab the strip in the middle to create a loop and hang it over the wool, then pull the ends of the strip through the loop). I did each one at varying heights as I don't like things looking too neat and perfect.
To hang I hammered two picture hooks into the wall and simply knotted the ends of the wool around the picture hooks so they were hidden.
So there you have it, a unique textural wall art. This one is perfect for the little ones with the soft pink shades although I feel would look just as good in an adult bedroom too. Just choose more sophisticated colours, grey and silver tones would look wonderful, especially if you added in a few pieces of metallic and lace ribbons.
They do make great party decor too and I recently created two of these for a client's wedding in France. The vineyard venue had a beautiful courtyard outside where we held the cocktail reception, but with such limited scope for adding in colour and decor. To inject a little personality into the space we created two of these, in our client's wedding colours of soft pink, sage and cream, to hang over the doorways, creating a really beautiful frame to the building.
As always let me know if you've found this DIY tutorial useful or will be having a go yourself.
Michelle xx