This morning we shared with you our take on Autumn, featuring warm oranges and mustards with a hint of dusky blue.  The joy of looking to a season for inspiration for your wedding or event is that you can interpret the palette according to your own preferences – whether that be a high end, sophisticated event or a more rustic celebration.  For us, the tones and colours of Autumn work best when you use them in a laid-back and more organic design – imagine a barn venue or somewhere with an open fireplace and big windows to let in all that low, golden sunshine.  So this afternoon we thought we'd show you how to take that Autumnal inspiration and turn it into a natural and rustic celebration…
DECOR & DETAILS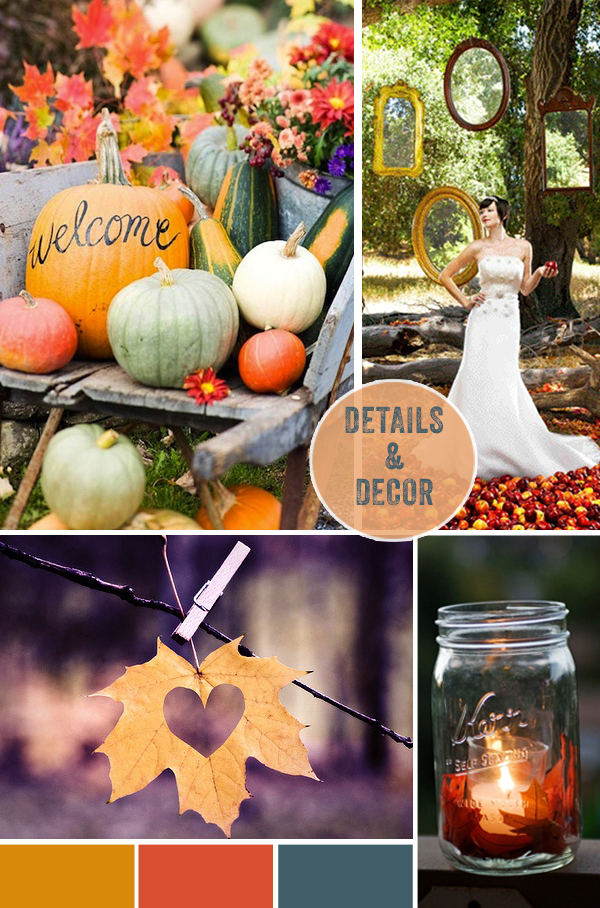 Image credits: 1.intimateweddings2. brides 3. inspiring-pictures 4. all-things-bright-and-beyootiful
There is huge scope to create fabulous displays and installations either outside or in the entrance of your venue.  Consider collecting pumpkins, gourds and apples to create an organic set up, celebrating the season's harvest.  Your produce can be displayed in wheelbarrows, wooden carts or even a vintage style pick up truck if you can find one!  These reclaimed wood apple crates from Not On The High Street would be perfect.  With your display using seasonal goods, the items will be easy and inexpensive to source.
The light at this time of year can be just beautiful; if you have a venue with large trees then play to this by hanging mirrors or our sparkly Love Letters sign to catch and reflect the light.
Don't forget if you are going to have areas set up outside then people may venture out to take a closer look.  In that instance, think about the comfort of your guests and serve up pumpkin lattes or hot toddies with thick plaid blankets.
In the lead up to your event, put your wellies on and head out into the countryside to collect up an array of beautifully coloured leaves.  These can be wrapped around glass jars to create tea lights with a twist or why not cut out shapes in large leaves using a heart shaped hole punch available from any craft shop.  You could even spell out words such as LOVE and display on a cake or dessert table.
Leaves can also be stitched or glued together to create a stunning natural backdrop to your civil ceremony or as decor for your wedding breakfast.  If you don't have time to gather up that many leaves then a few smaller mobiles, hung on fishing wire or thick and rugged twine would look beautiful hanging in key windows.
TABLES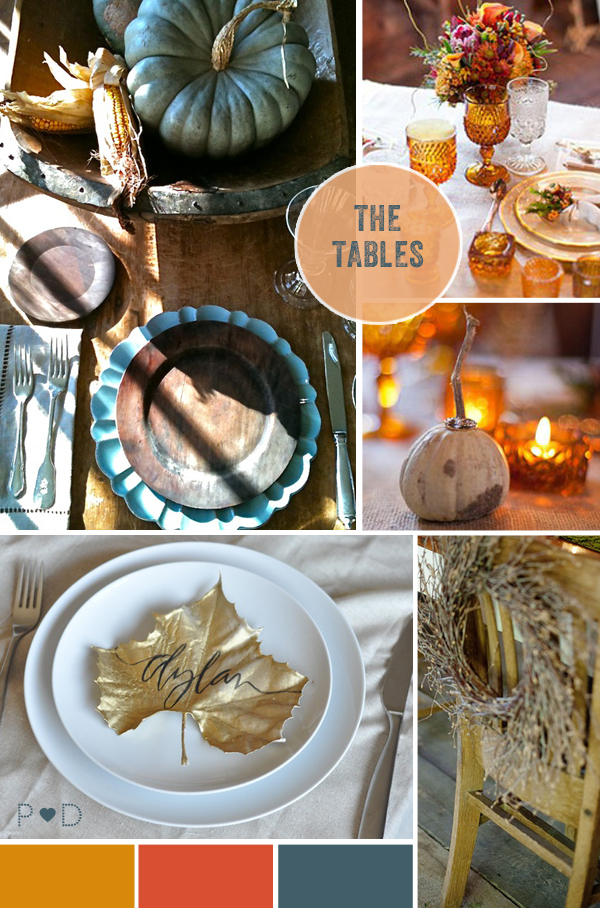 Image credits: 1. Elegant Chaos 2 & 3. greylikesweddings 4. Pinterest 5. afloral 
Whether you are hosting a family meal or a wedding, the food available at this time of year is delicious and full of flavour so you want to build a tablescape that looks as rich and appealing as the food you are about to serve.
Consider using coloured glassware; amber toned glasses such as those available from Couvert Hire or Jones Hire will fit perfectly with your colour palette and add a warmth to your table settings; you could also use these pieces to display tea lights or floral displays.  Remember at this time of year the sun sets early so adding candlelight to your tables will add a warm and welcoming glow and avoid the need for harsh overlight.  You can also introduce colour and texture into your table settings; look for dusky blue charger plates or these gorgeously weathered wooden platters from Rowen & Wren would add tone and interest.
For place settings, again look to nature; consider writing names in calligraphy on fallen leaves (see Michelle's crafting post on how to create some perfect Autumnal place settings) or attaching name labels to seasonal produce like apples or pears.  Using leather strands to tie up rolled napkins will finish the look off perfectly.
Again, don't just look to florals for your centrepieces; pumpkins and gourds can look fabulous displayed in various sizes or shapes and don't forget that you can also get pumpkins in blue and white tones, for a slightly chicer look.
PAPER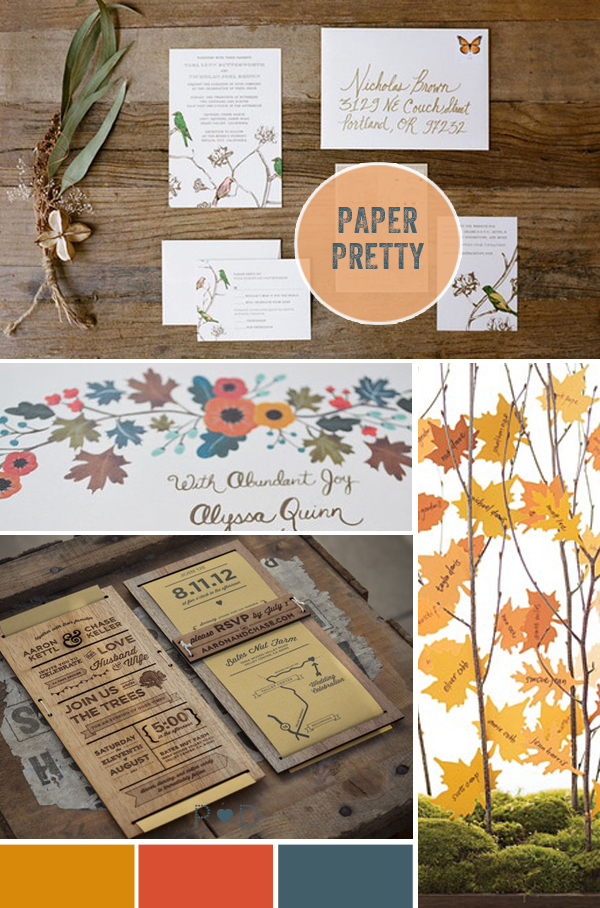 Image credits: 1. greenweddingshoes.com 2. etsy 3. marthastewartweddings 4.lucyjolive
For your paper products, opt for thick textured stock and solid yet muted tones, utilising natural motifs such as leaves, acorns or trees.  A light and flowing calligraphy and hand drawn illustrations will add a whimsical, organic feel.  In fact, why not take this one step further and have your invitations made by Woodchick Studios who specialise in real wood invitations and cards.
The artwork style of Rifle Paper Co. is perfect for a rustic Autumnal wedding, full of whimsical style and hand drawn floral designs.  They have a fabulous Fall collection which would suit our colour palette perfectly as well as offering bespoke options enabling you to incorporate your own illustration or style to use across all your paper suite.
So are you loving the war and inviting colours and tones of Autumn as much as we are?  Stay tuned throughout the week as we share our ideas for Autumnal wedding looks as well as some inspirations for seasonal blooms and produce.
Vicki xx
POSTED IN: Inspiration, Mood Boards

TAGS: Autumn, autumnal, Blue, Bridal Mood Board, Decor, decor and styling, Fall, Falling for Autumn, Mood boards, Orange, Organic, paper, party design, PArty Mood Board, Place Settings, Rust, Rustic, seasonal, Shop the Style, Stationery, tablescapes, wedding design, wedding ideas, Wedding Inspiration, wedding mood board