I do hope that you've been enjoying the Autumnal event styling inspiration we've been bringing you so far this week; we're certainly getting into the swing of things here at Pocketful of Dreams.  As creative event designers we are literally brimming with excitement about the styling possibilities this season offers.
For our latest Autumnal instalment therefore, today we bring you some styling options for an Autumn bride and groom…
BEAUTIFUL AUTUMN BRIDES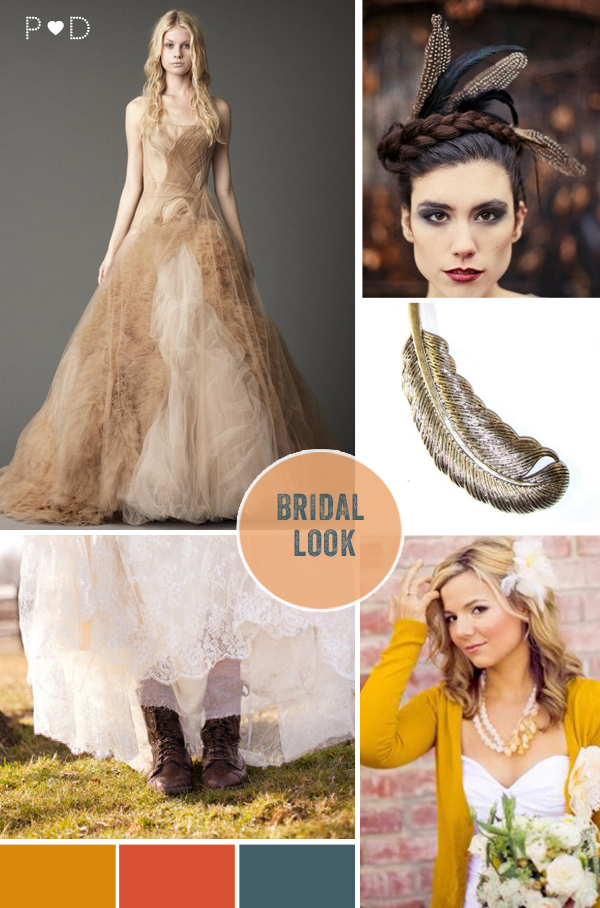 Image credits: 1.Vera Wang 2. Etsy 3. Hannah Makes Things 4.Glitter Weddings 5.sidebysideblog 
Our Autumn bride is ethereal and at one with nature but still wants to make an impact!  The Jade dress from Vera Wang is just perfect; a strapless full A-line gown with pleated tulle and swirled ruffles it certainly commands attention but the endless layers of sheared organza give it a textural and billowing look.  And the cascading shades of blushes, creams, golds and fawn are just perfect for this colour palette.
Feathers make for a great accessory to link you back to an more nature-inspired style; this Alex Monroe double feather necklace would not only look stunning on the day but is something you could wear again and again.  Whilst this cute necklace from Not On The High Street would make the perfect present for your bridesmaids.
And you don't just have to limit the feathers to your jewellery; the bold pheasant feather Crown of Love featured above is available from Etsy and would make quite the impact.  If you want something a little more muted, opt for a feather fascinator which you can wear on its own or pinned to your veil.
The Autumn sunshine may look beautiful and inviting but in reality, a sunny day at this time of year is going to be a chilly one so try teaming your dress with a chunky knit in mustard for a cute yet quirky look.  This cable knit by Malene Birger would be perfect or if you have a slimmer line dress, then this maxi cardigan from Jo No Fui would be a great choice.  And if you are planning on having some photographs outside, then don't forget to bring some chunky leather boots to get changed into; you don't want to ruin your shoes and the contrast of heavy boot with ethereal dress will make for some brilliant shots!
DAPPER GROOMS WITH AN AUTUMNAL FEEL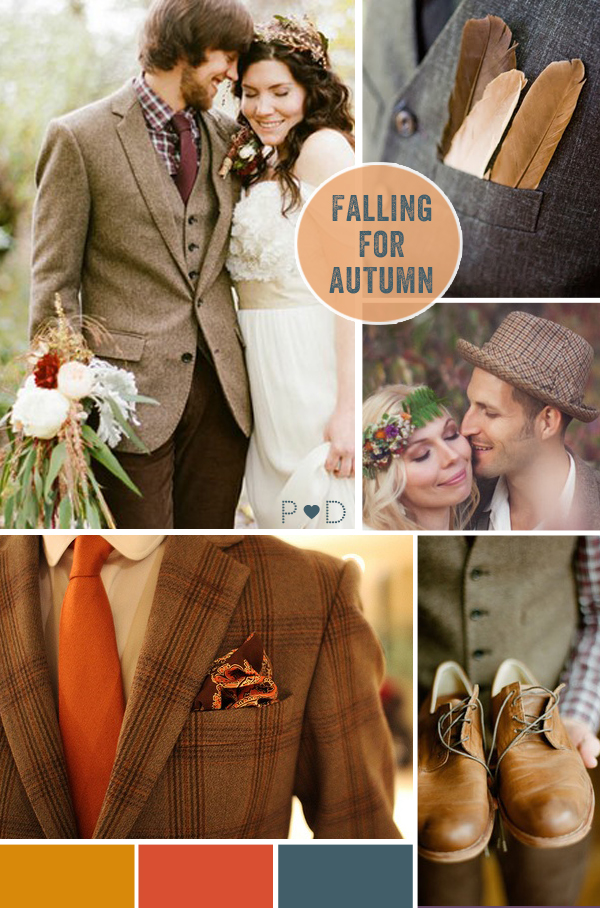 Image credits: 1 & 5. Green Wedding Shoes 2. offbeat bride 3. Green Wedding Shoes 4. Style Salvage 
The perfect look for a groom getting married at this time of year is one with lots of rich browns and rusts with a healthy dose of texture.  I adore the groom above wearing a lumberjack shirt with his suit and tie; it's personal, laid back and perfect for our rustic, outdoor inspired look.  And whether you're going for a full three piece suit, jacket and plain trousers are just a waistcoat, our groom should embrace the heritage trend and opt for tweed.  Available in a variety of shades from warm brown to almost grey, the richness of this fabric will perfectly suit this wedding style and you can even bring in a hint of that blue through the fabric pattern.  This waistcoat and jacket with elbow patches from Not On The High Street would be perfect or if you fancy splashing out, how about this wool-blend tweed suit from Italian brand Etro?
Brown shoes are the obvious footwear here and to fit with your rustic styling, opt for a chunkier style brogue like these Grenson Archie brogues, you don't want anything too polished for this look.  Even better, for added character and history, wear a pair of older shoes which have been worn in and are showing signs of love.
You are spoilt for choice when it comes to buttonholes; you can go with a seasonal bloom or something a bit more rustic and rugged featuring berries, twigs or even pinecones.  I love the idea of the groom sporting a few feathers casually sticking out of his top pocket or alternatively, a pocket handkerchief can be a great look to complement the tweed and brogues; a mustard or bright orange shade like this one from Swagger & Swoon would pop brilliantly against the brown of the suit.
Would you wear a non-white wedding dress or team your dress with a chunky knit?  We'd love to hear your views on our Autumnal styling.
Vicki xx
FALLING INTO AUTUMN BY POCKETFUL OF DREAMS
Read more in this series….
POSTED IN: Inspiration

TAGS: Autumn, autumnal, bridal look, bridal look book, bride, bride with cardigan, Fall, Falling for Autumnal, groom, groom look, groom styling, tweed suit