This morning we shared a dramatic and opulent Baroque inspired moodboard. But how exactly would you take this inspiration through to your celebration. Is it just for the wild and fanciful, the rich and famous? Well I don't believe it is, I think whilst it's a rather extravagant style it's one that can be created with style and panache. Here's how I'd take Baroque inspiration and turn it into the most wonderful of celebrations….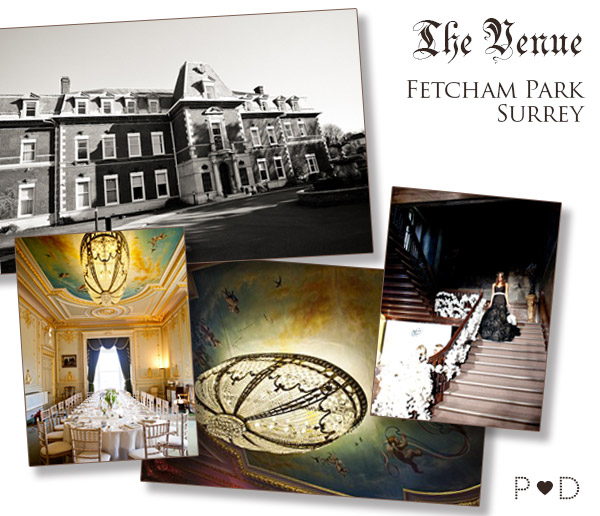 Image credits: 1.& 2. Photography Copyright (c) 2011 eddiejuddphotography.com 3. Photography Copyright (c) 2011, Juliet McKee lovemydress.net 4. Photography Copyright (c) 2011, Eddie Judd lovemydress.net 
There could really only be one choice when it comes to a wedding venue that fits the bill of  dramatic, extravagant and opulent and that's Fetcham Park in Surrey. A Grade II listed, Queen Anne mansion designed by the English architect William Talman with internal murals by the renowned artist Louis Laguerre and grounds originally landscaped by Capability Brown. Whilst not characteristically Baroque in it's architecture, it is one of the most stunning venues around, and is not just style over substance. I've watched with a keen eye as Laura Caudery, the venue's owner has launched Fetcham as a wedding venue. With an abundance of incredibly positive testimonials already flying around the web you can be sure of a five-star service from Laura and her team.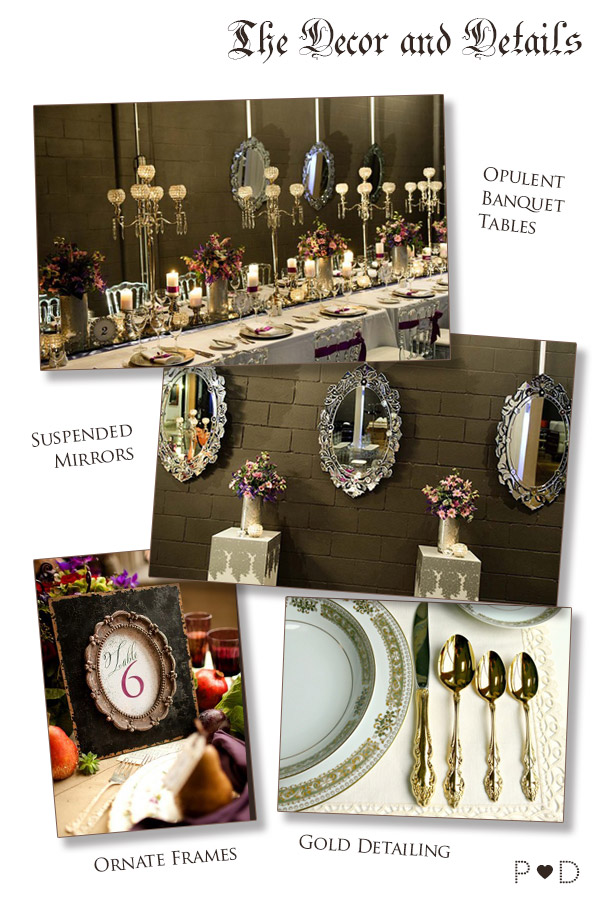 Image credits: 1. & 2. aminiconcepts.com 3. elizabethannedesigns.com 4. etsy.com 
With a venue such as Fetcham you get to take advantage of the ornate interior decoration of the building, from the elaborate gilded accents of Fetcham Park's Salon or the muted tones of the Oval Room at Cams Hall. And something I always, always advise my clients: work with your space! It's no good trying to fight with the existing decor. Such an elaborately decorated space needs very little in the way of adornment, so keep the focus on your dining tables. You want to create a rich feast with flowers, food and candles working collaboratively to provide the perfect ambiance. China with gold detailing, beautiful ornate cutlery and sumptuous tablecloths can all be hired in from companies such as Couvert Hire. Dramatic candelabras and gilded votives will bounce a little light around the room, allowing you to work with both natural light and create a moodier ambiance late into the evening. Make use of ornate frames to display table numbers, or names if you so wish.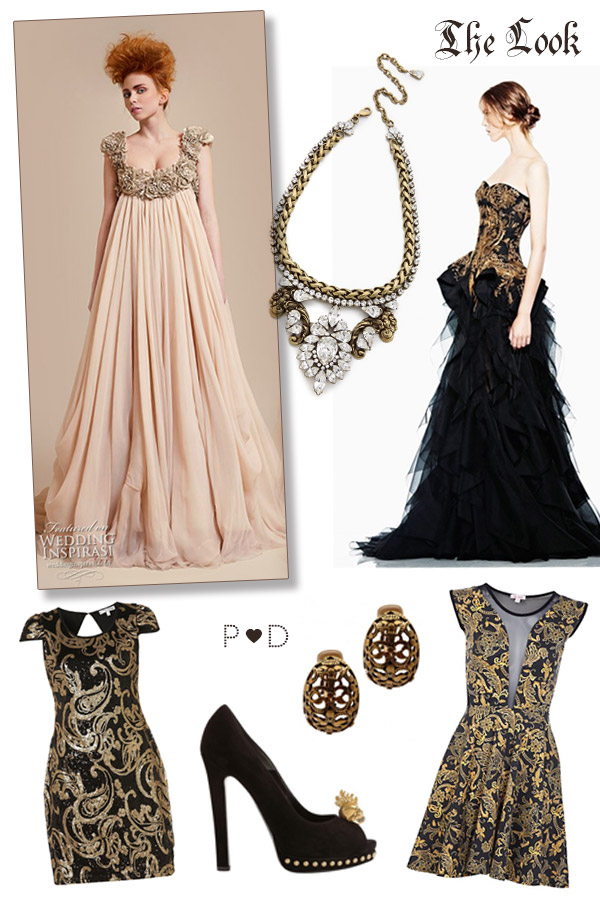 Image credits: 3. indulgy.com All others see below
Our bridal muse is certainly no shrinking violet. Almost theatrical in styling, taking the lead from haute couture designers such as Alexander McQueen, think bold brocades, deep dark colours or rich embellishment. The bridal gown (left) featured above is by Lebanese designer Krikor Jabotian, who has seriously one of the coolest websites I've seen in a long time. His collection of Couture gowns is full of voluminous clouds of diaphanous fabric, the above one being a billowing empire-line dress with flower-adorned bust in a pale and creamy champagne shade. I can see our bride rocking up the gown with those OSCAR DE LA RENTA Crescent Earrings and this stunning sculpted antique brass Auden Marseilles Necklace. You know this outfit just isn't complete without a pair of Alexander McQueen Black Sude Baroque Punk Skull peep-toe shoes. The pretty maids all in a row are shunning the pretty-factor for some serious vamp factor in these baroque inspired short dresses: Sequin Cap Sleeve Dress by Rare  and Red Label Gold Baroque Mesh Insert Dress. For the groom and groomsmen ~ well I think a velvet suit and bow tie would be perfectly fitting attire.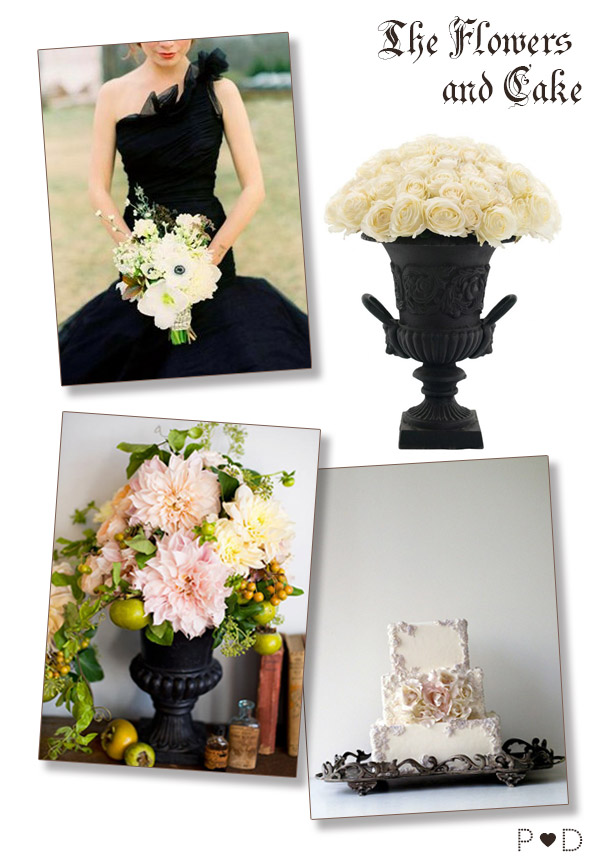 Image credits: 1.marilynskeepsakes.com 2. ndi.com 3. esignspongeonline.com 4. maggieaustincake.com 
As I said above you don't want to fight with the decadent adornment already in place at the venue, you must enhance it and also consider when dealing with such levels of refinery that you will need something equally dramatic for your floral displays. I've picked out a number of black urn displays here as I just love the juxtaposition of the dramatic ornate black against the romantic florals spilling over the brim. The addition of fruits add another clever twist and play to the concept of feasting. Smaller pedestal displays like these would make perfect centrepieces, but remember not to go too high with them as you still want your guests to be able to see each other. Keep the cake relatively simple and pick out some of the ornate detailing of your venue for embellishment, maybe even a little gilded gold would work here?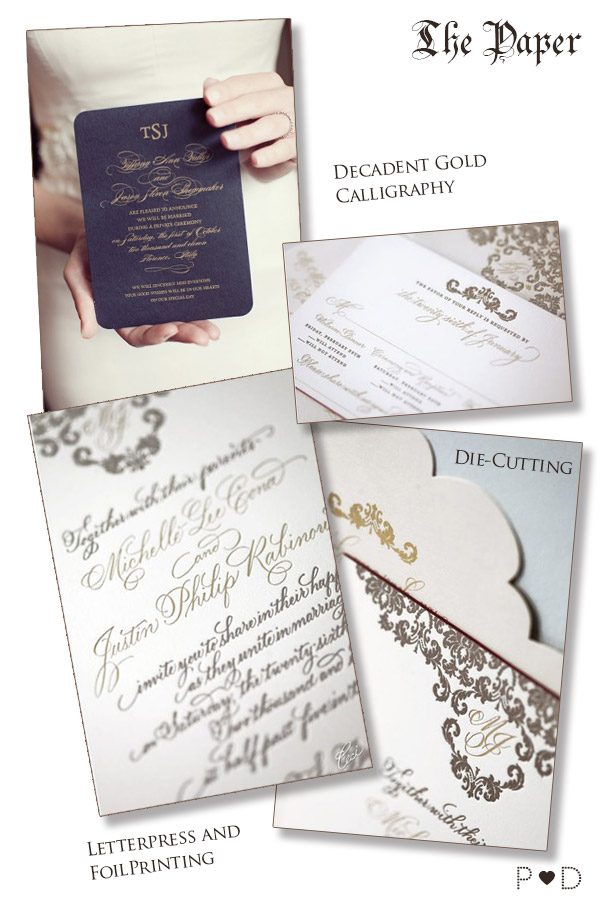 Image credits:  cecinewyork.com
I have one thing on my mind when it comes to the wedding stationery and that's luxe, luxe, luxe. Rich, textural stocks, letterpressed and foil printed with delicate ornate calligraphy and scrolly, swirly detailing. It's a classic style that would look oh so elegant, particularly if you tried gold foil printing on a black base.
So folks I hope you have enjoyed this new style of Monday mood board post, do drop us a comment if you're inspired by what you've seen. Later this week I have a new feature hitting the blog (well it's actually an old one resurrected) Shop The Style where I'll be sharing my top picks to show you how to add a little Baroque styling to your home or celebration.
Michelle xx
POSTED IN: Inspiration

TAGS: Baroque, Black, Bridal, Colours, Decadent, Event Design, Fashion Trend, Gold, Inspiration Board, Moodboard, Ornate, Pocketful of Dreams, Shop the Style, wedding design, wedding planning, Wedding Styling, Weddings