Halloween just wouldn't be Halloween without a pumpkin or three and whether you're planning on Trick or Treating with your children, throwing a Halloween party or just fancy introducing some fun and seasonal decor into your home, pumpkins are the perfect accessory!  As a child, I always looked forward to Mum buying and carving a pumpkin and it's something that I still do most years; in fact, I'm already planning the perfect pumpkin display!
However, if you don't fancy carving or are looking for a more innovative or chic pumpkin design, then read on for our ultimate guide to pumpkin decoration..
PAINTING PUMPKINS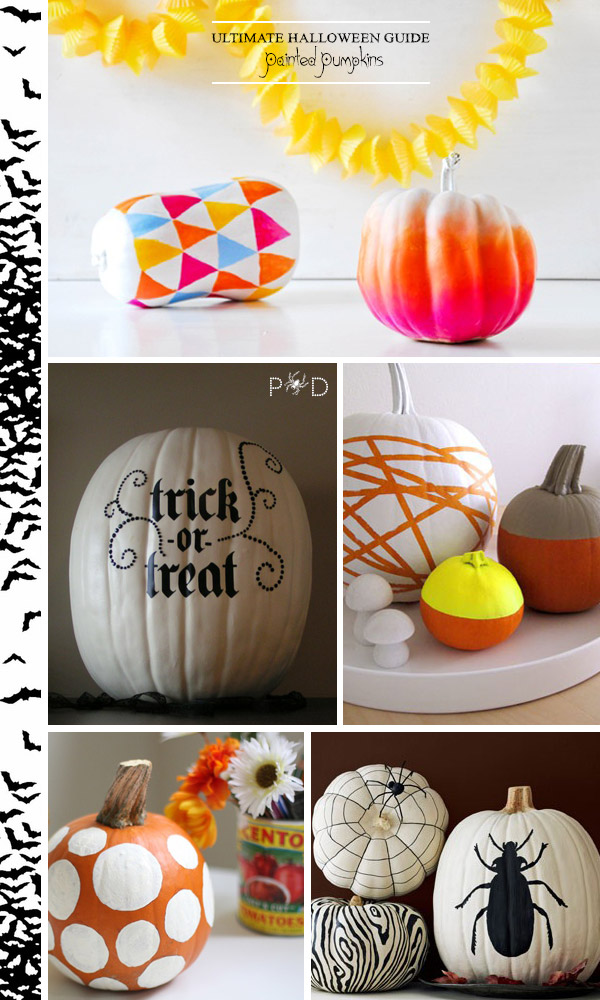 Image credits: 1.fun.kyti.me 2.LA Stamper 3.happymundane.com 4.momtastic.com 5.preppyandpinknc.blogspot.com 
Painting your pumpkin is an incredibly versatile way to spice up your pumpkin: from simple spray and go designs to intricate detailed effects. Personally, I love the look of gold sprayed pumpkins that perfectly reflect the Autumnal colour palette, or for ultimate Halloween chic a simple matt black looks fab. Why not try grouping together a few pumpkins in complementary hues to reflect your home decor?
If you're feeling a bit more adventurous, use masking tape to help you mark out abstract patterns from dip-dying to chevron before you paint your pumpkin or I adore this clever ombre styling above from Funkytime.
For those with a steady hand, then why not try painting more intricate patterns, images or even writing messages.  Alternatively, use masking tape to spell out a word before painting your pumpkin.
Puff paint is a great option for you to create more intricate designs with a textured finish.
Or if you're indecisive and don't want to commit to just the one design, why not opt for chalkboard paint and then you can happily chalk a variety of your own designs right up to October 31st!
DECOUPAGE A PUMPKIN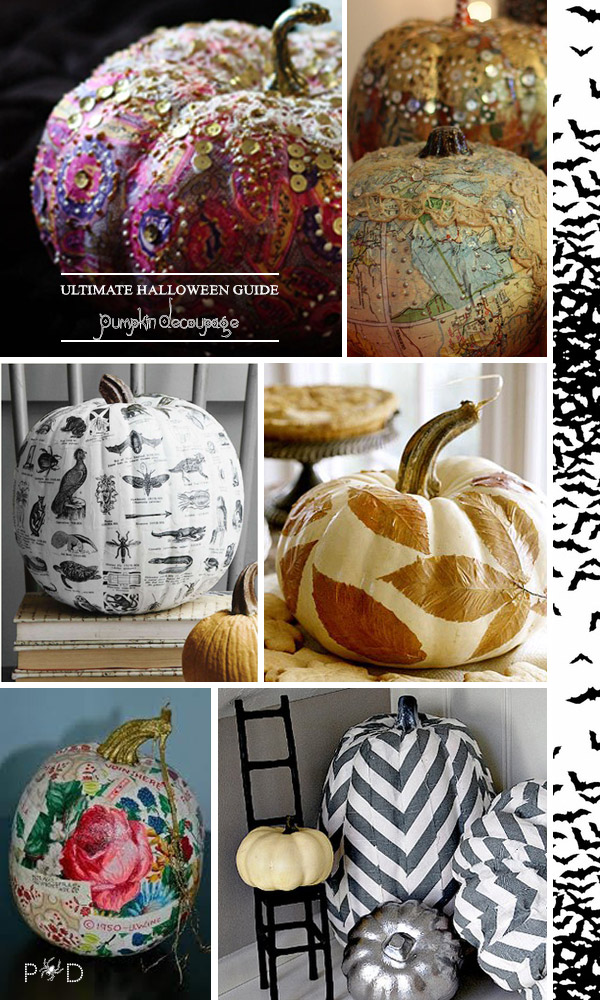 Image credits: 1 & 2.auntpeaches.com 3.poppytalk.blogspot.com 4.kindredspiritmommy.com 5. Pinterest 6.curbly.com 
For those of you with a little more craft savvy, why not try decoupaging your pumpkins?  You can use anything from linens to doilies to napkins – all you need is a healthy stash of mod podge.
If you're trying decoupage for the first time, then this DIY post from Country Living has simple step to step instructions and some great design ideas
I love the thought of embracing the season by decoupaging fallen leaves in various shades onto your pumpkin
If you're not going for a full pattern, then don't forget to paint your pumpkin before you start, allowing plenty of drying time before you break out the mod podge.
ALTERNATIVE PUMPKIN DRESSING IDEAS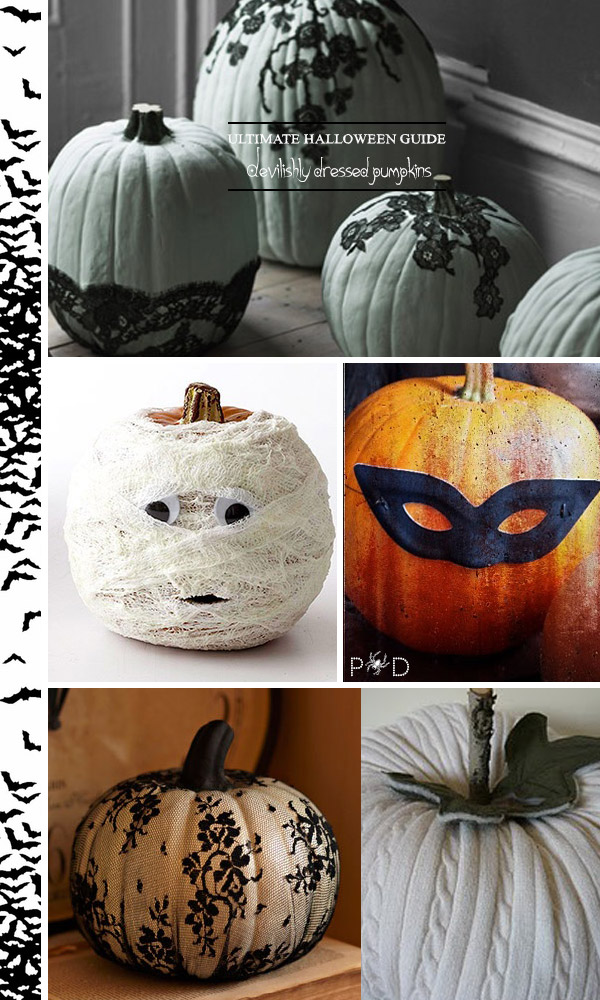 Image credits: 1.Country Living 2. Better Homes & Gardens 3. mysweetsavannah.blogspot.com 4.blissweddingblog.com 5. smallfryandco.blogspot.com
If painting or decoupaging isn't your thing, why not consider dressing your pumpkin for a cosy, quirky or sophisticated look.
For a macabre yet chic look, try dressing your pumpkins in black lace; cut out abstract or patterned sections and then adhere using mod podge. Alternatively, why not use an old pair of lacy tights or even fishnets…a perfect use for that favourite pair you accidentally laddered.  This would look truly stunning on white or blue pumpkins.
For a more fun and quirky look, why not add a mask to your pumpkin or wrap it in bandages for a spooky mummified effect.
These embroidered pumpkins from Greeneyed.com are a real labour of love with a requirement for both drilling and a willingness to get a bit mucky but I love the finished result and there is huge scope for creativity.
PUMPKIN EMBELLISHMENT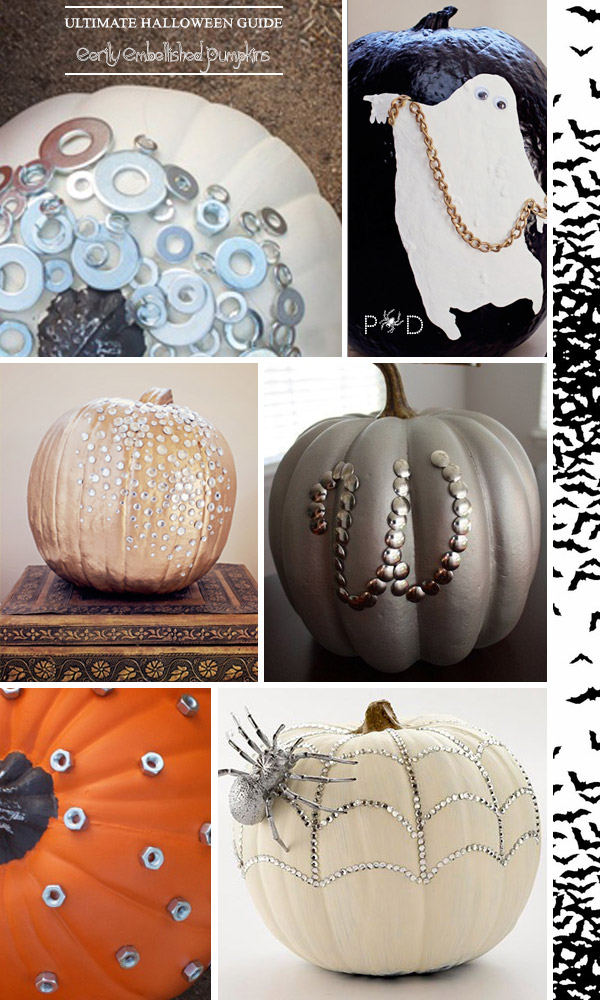 Image credits: 1 & 5.momtastic.com 2 & 3. Pinterest 4.allinadayblog.com 6.frugalflourish.blogspot.com 
Whether you are a glitz and glam kinda girl or industrial chic is more your style, then embellishment may be your pumpkin decoration style of choice.
For a feminine feel add rhinestones in abstract patterns or to create a spider's web effect.
Use thumbtacks in either gold or silver to create impactful designs – either an all over pattern for a gilded effect, like that created by Madigan Made or why not use the tacks to spell out an initial or short word, "eek" would be perfect!
For an edgier look, pick up various nuts, washers and chains from your local hardware store and attach them to your pumpkin using strong glue or sticky dots.  The perfect look for a steampunk inspired Halloween party!
COOL PUMPKIN DISPLAYS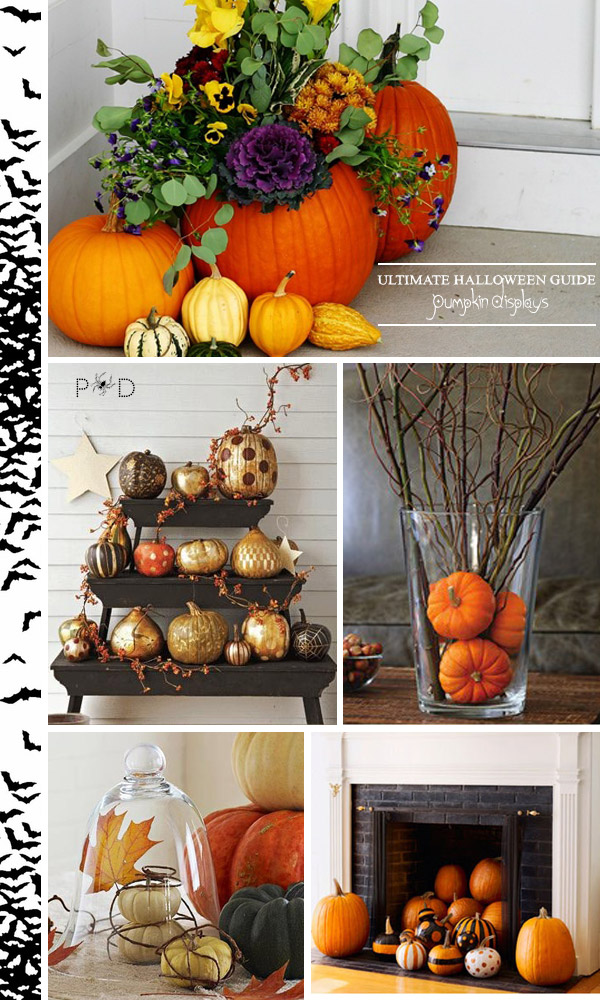 Image credits: 1.distractedhomemaker.com 2. 2.bp.blogspot.com 3. bios.weddingbee.com 4.youfiverr.com 5. thepartydress.net
Whether you've opted for quirky, chic or just the downright macabre for your pumpkin decorations, you then need to think about how you're going to display these beautiful decor pieces.
Grouping different sizes and shapes together in fireplaces, on side tables or bookshelves is a simple but effective way to showcase your pumpkins. Or use bell jars and candlesticks to add height and interest.
Alternatively, you may choose to keep your pumpkins au naturel and focus purely on the display; piling pumpkins into tall vases with gnarled branches or hollowing out your pumpkins and using them as a vase for seasonal flowers can be a great way to celebrate the season in a less overt way.
So, are you planning on enjoying a spot of pumpkin decorating this year?  We'd love to hear about your plans and see your efforts, just post a link in the comments box below!
Vicki xx
THE ULTIMATE HALLOWEEN GUIDE BY POCKETFUL OF DREAMS
Read more in this series….
POSTED IN: Inspiration

TAGS: All Hallows Eve, decorating pumpkins, dressed pumpkins, embellished pumpkins, Halloween, painting pumpkins, pumpkin, pumpkin decor, pumpkin decorating, pumpkin displays, pumpkin embellishment, pumpkins