As Tuesday rolls around again, that can only mean it's time for one thing…the perfect excuse for you to take a quick break!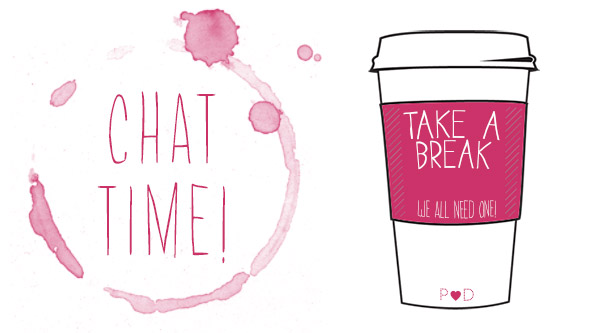 We are on a bit of a mission here at Pocketful of Dreams, to inject a bit of camaraderie into our working week – whether you work from home, in an office or a bit of  both – and we are loving how you are all getting involved!  Right now, it's that time again so grab yourself a coffee, maybe a biscuit or three and take five minutes out of your hectic day to join us for a little chat.
This week, we're talking about…tips for staying motivated.
HOW DO YOU STAY MOTIVATED?
Without a shadow of a doubt, there is nothing that I like more than a deadline.  It may be a bit of a strange confession but I really do love a healthy dose of pressure and the feeling of adrenalin coursing through my veins!  For me, it is the ultimate motivator.  However, what about when there isn't anything imminently looming or the day after that big event or deadline; how do you keep yourself motivated then?
For me it's all about goals; even if there isn't a client deadline on the immediate horizon, I need to feel like I'm working towards something in order to stay motivated.  And that doesn't have to be a huge and impressive goal; in fact I think it is just as important to set yourself short term targets, even if it just that little thing you need to get done before lunchtime.  I know I work best with a deadline, so setting timescales – even artificial ones – helps keep me focused and driven.
Reminding yourself of what you love and find inspiring is also really helpful.  If you have a huge dream that you're aiming for, people who you admire, or designs or photographs that fire you up, surround yourself with those things.  At the minute, I do this in a very messy and ad hoc fashion with post it notes and notebooks covered in words and messages.  But one of my goals for 2013 is to re-work my study so that I have a more considered and inspiring space to work in.
Another thing I have also found really helpful is knowing when to get away from my computer screen, have a cup of tea, go for a walk and clear my mind.  Because no matter how passionate you are about something, slogging away constantly without let up can be draining.  Sometimes a break, oxygen and a fresh perspective is all you need to kickstart that motivation.
OVER TO YOU:

  What are your top tips for staying motivated?
We'd love to hear your secrets for staying motivated.  How do you keep yourself fired up when things are a little quiet or times are a bit tough?  We'd love to hear from you so do please leave a comment and let's get some discussion going!
Vicki xx