It is my great pleasure this afternoon to introduce you to The Tiny Card Company, a fantastic independent design company specialising in bespoke and handmade wedding stationery…and our newest Dream Team member.  Here to tell us a little a little bit more about The Tiny Card Company, is the creative force behind the business, Rosie Barrett…
Tell us a bit about you and your business
I'm not really one for blowing my own trumpet, so I find this bit quite tricky.  I love playing with colour, pattern and texture and I'm lucky enough to be able to spend my time doing just that.  As The Tiny Card Company, I create bespoke wedding stationery.  Everything is handmade to order, giving couples the chance to have input into their own stationery and make it just that little bit more personal.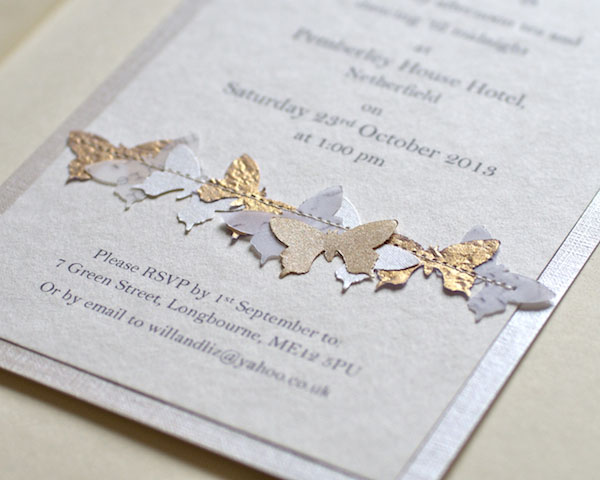 How did you get into this type of work?
I sort of fell into wedding stationery really!  I originally trained in textile design but after making the invitations and place settings for my own wedding, I started receiving requests from friends and family and it sort of snowballed from there.  I've always had a bit of a fascination with paper and I do love a good wedding.  In a way I think it was always going to happen!
How would you describe your signature style?
The Tiny Card Company house style is simple, pretty and elegant.  I try to work with a palette of beautiful quality materials, using clean lines and carefully considered details.  It's a little bit like cooking – great quality ingredients don't need anything fussy, just space to shine.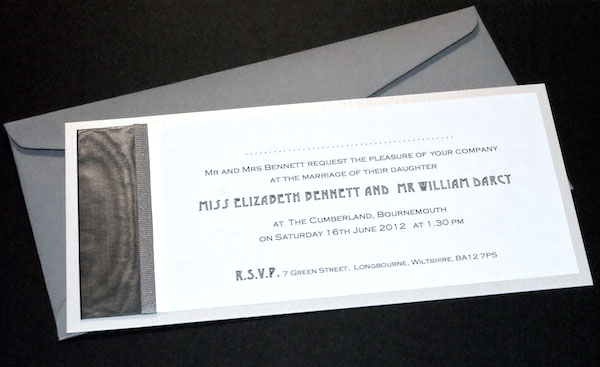 What or who inspires your designs?
Inspiration can come from so many sources. It might sound a bit cheesy, but I find flowers fascinating – when you look closely, there's so much exquisite detail.  I'm always on the lookout for colour inspiration: gorgeous combinations can pop up in the most unlikely places!  Beautiful materials are often inspiration themselves – I'll come across a new paper and immediately know I need to do something with it. (I know, I'm a sad paper geek!)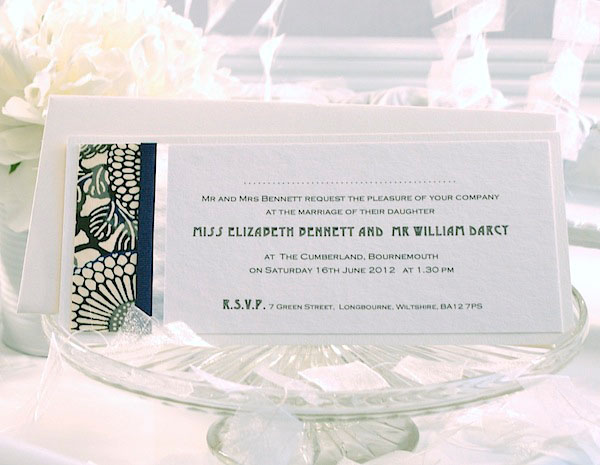 What makes your products unique?
My guiding principle is that every wedding should be as unique as the couple getting married.  Although there is a 'house style', I'm always happy to adapt my designs to suit each couple.  Because everything is made to order, changing colours or incorporating a different font is no problem. Often this is the part of the process I enjoy most as it gets the creative juices flowing!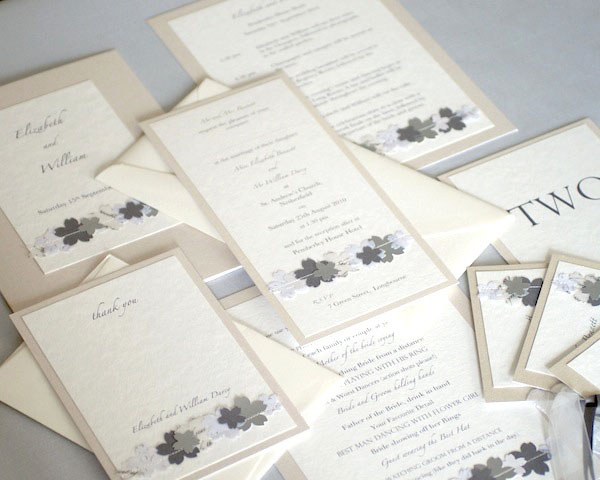 What is currently hot in the world of wedding stationery?
Vintage is still a big trend, it's soft, pretty and lends itself perfectly to weddings.  Our Isabella design is incredibly popular at the moment. It features a garland of flowers and works beautifully with a vintage theme.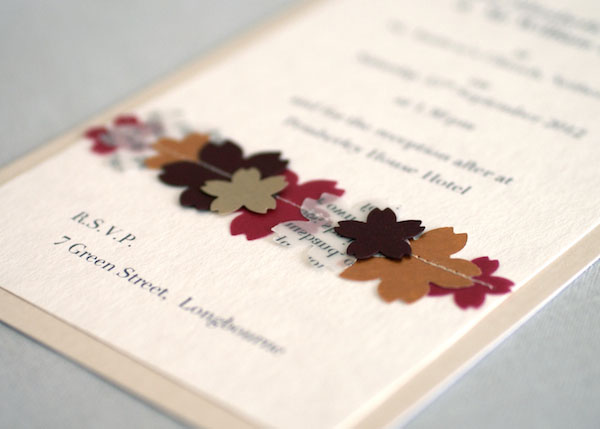 At the moment I'm seeing a real move away from straightforward table numbers to something a little more personal. Whether it's tables named after childhood pets, or quotes to fit the theme added to a table number, couples are definitely putting their own stamp on things.
What about future trends; what is going to be popular in the future?
I'm planning to introduce escort cards in the New Year.  We've seen lots of variations on the table plan recently, and they look set to be the next big thing.  Traditionally used at weddings in the US, escort cards can be displayed in any number of ways.  The great bonus is they avoid the need to re-do the entire table plan if there's any last minute changes – people inconveniently changing boyfriends and the like!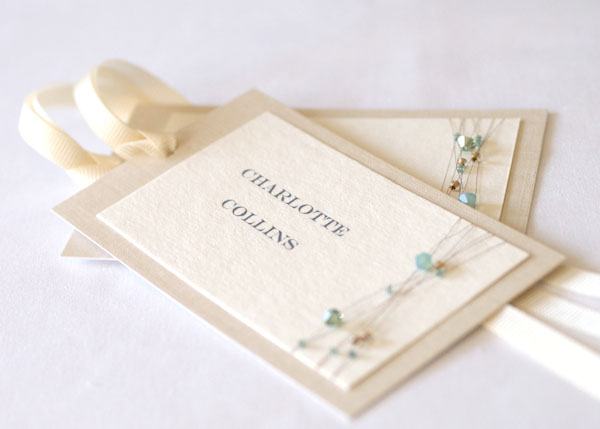 Alongside the rising popularity of Autumn and Winter weddings, Autumnal shades will be a real colour trend. Rich purples, blues and burgundy with highlights of copper and gold. Dreamy…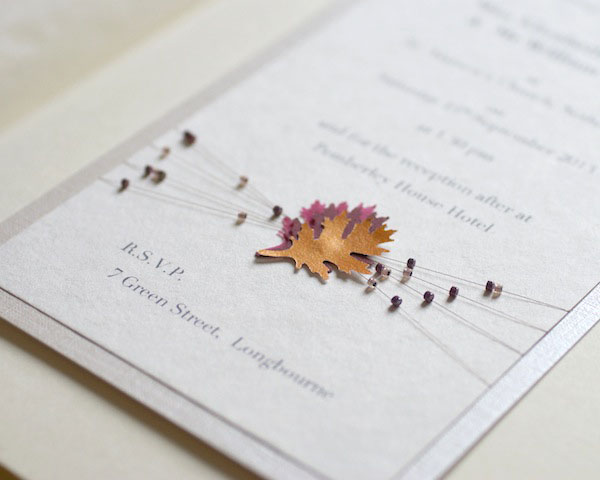 Who would be your dream couple to design for?
One of the brilliant things about this job is that every couple is different: I love that no two weddings are the same.  My favorite clients to work with love The Tiny Card Company style, but have their own little twist to add to the mix.  If I have to name names, Audrey Hepburn would have been amazing to work with – such a style icon!
Who would you love to collaborate with and why? 
There is a collaboration in the pipeline with an artist who creates fantastic marbled papers. I don't want to say too much just yet as it's very early days (we had our very first meeting this morning) and I don't want to jinx it! Needless to say I'm very excited about the whole project and you'll be the first to know when there's something to see.  It may not be quite what you think… Ooh – we can't wait to hear more about this!

When you are not designing beautiful creations what are you doing?
I always wanted to be a ballerina as a kid.  About a year ago I found an adult ballet class and it's so much fun. (No, before you ask, we don't wear tutus!)  
I love pottering about in the garden and try to grow a lot of my own vegetables.  At this time of year though, it's a real treat to spend an afternoon in the kitchen, usually assisted by my husband and supervised by Morris, our grumpy old cat.
What is your ultimate dream in life?
Ooh, that's a biggie!  Becoming a professional ballerina is probably out of the question now.  I would love to travel more.  There's quite a list of places I'd love to see, but I think Japan in cherry blossom season has to be top of it.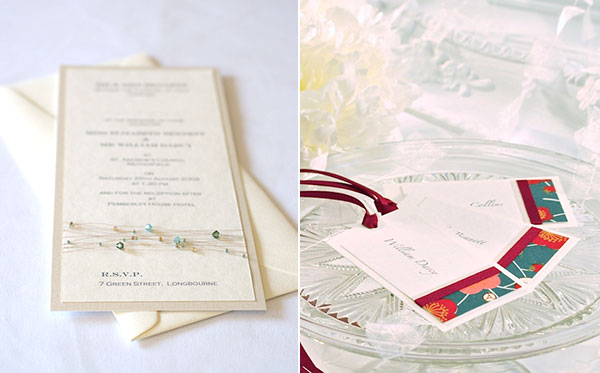 Image credits: The Tiny Card Company
We are thrilled to welcome Rosie and her beautiful creations to our Dream Team.  And we promise to bring you more details of that very exciting future collaboration as soon as we have them!
Vicki xx
ALL THE DETAILS
Email: info@thetinycardcompany.co.uk
Phone: 07834015847
Twitter: @tinycardcompany