We continue our love for this season this morning, with our guide to the ultimate party tipples and treats to serve this Autumn.   Mouthwatering guaranteed….
AUTUMNAL PARTY FOOD
Image credits: 1. The Cake Blog 2. 3. Scaling Back  4. Fig + Kindle 5.  Rare Bird Finds
The end of summer harvest brings an array of delicious produce and with it a whole host of mouthwatering flavours which your guests will adore.  Serving seasonal fruit and vegetables such as apples, blackberries, pumpkins, squash and root vegetables will not only prove economical but will also ensure taste satisfaction with full and wholesome flavours.
If you are throwing a dinner party, then opt for comforting and bold flavours such as home made pumpkin soup with a hint of chilli; you could even serve the soup up in small hollowed out blue pumpkins to add colour and interest to your table.  And I love the sound of this blackberry fennel pizza; it looks so enticing and the unusual flavour combination just screams Autumn.
For treats or wedding favours, toffee apples look and taste great, making them a guaranteed crowd pleaser.  Alternatively, you could make your own Autumn brittle with cashews, almonds, pumpkin seeds and cranberries.  And for a late evening snack, your guests will love mini pie pops, full of spiced stewed apple and served on sticks or grouped together in big bowls ready for people to dig in.
No party would be complete without a centrepiece cake and there are endless possibilities here, from pumpkin muffins to sticky toffee flavours.  My favourite however is this gorgeous six layered naked apple cake from Half Baked – brimming with apples and raisins and filled with cream cheese icing.   The naked finish is perfect for a more rustic affair and would look perfect displayed on a wooden platter and decorated with fallen leaves and red apples.
AUTUMNAL PARTY DRINKS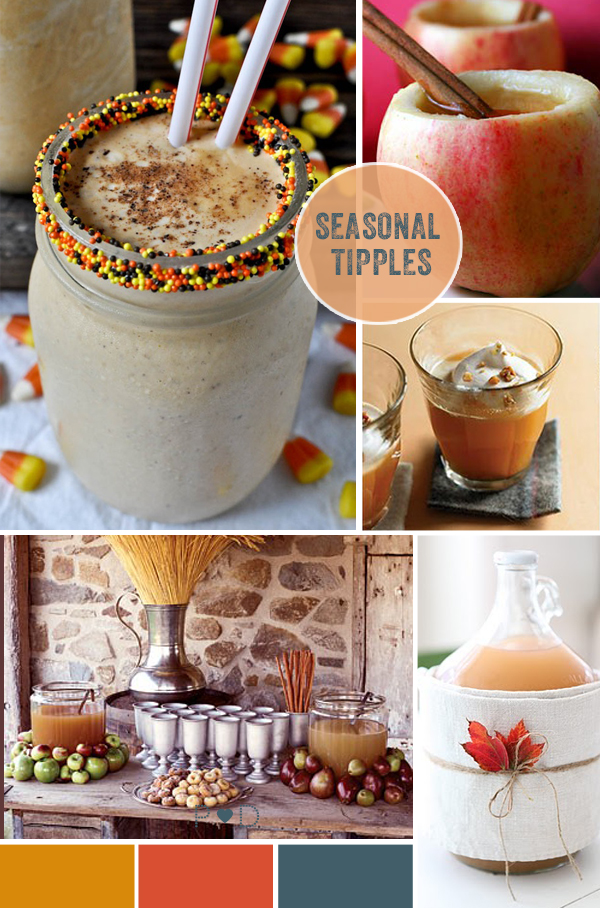 Image credits: 1.How Sweet Eats 2. Busy Mommy 3. Martha Stewart 4. 5. Dreamy Whites
When it comes to Autumnal tipples, you want something warming and comforting to fight off the chill; think bourbon, rum or warm cider.
For children or drivers, consider hot chocolate spiced with cinnamon or a pumpkin latte.  This warm vanilla cider recipe from Martha Stewart is served with whipped cream and honeyed walnuts for a truly decadent experience and could be turned into an alcohol free variant by removing the bourbon and swapping the cider for apple juice.
When presenting your drinks, again look to Mother Nature for inspiration.  Serve warmed cider in hollowed out apples with a stick of cinnamon for decoration and seasonal flavouring.  A drinks station can be dressed with fallen leaves, twine, apples and wheat; opt for large glass jars and ladles for a rustic feel.
What's tickling your tastebuds people?  Personally, I'm drooling over that delicious looking rustic apple cake…
Vicki xx
FALLING INTO AUTUMN BY POCKETFUL OF DREAMS
Read more in this series….
POSTED IN: Inspiration, Living

TAGS: Apples, Autumn, autumnal, Drink, Fall, Falling for Autumn, Food, harvest, Organic, Party Drinks, Party Food, Party Inspiration, pumpkin, rustic wedding, seasonal produce, tipples, Wedding Inspiration