Following on from yesterday's introduction to the Global Nomad look, our Styling Guide returns return this afternoon, showing you how to transform inspiration into celebration.  Next, we look at the all important decor and details, including our round up of the best suppliers and items to buy.
DECOR & DETAILS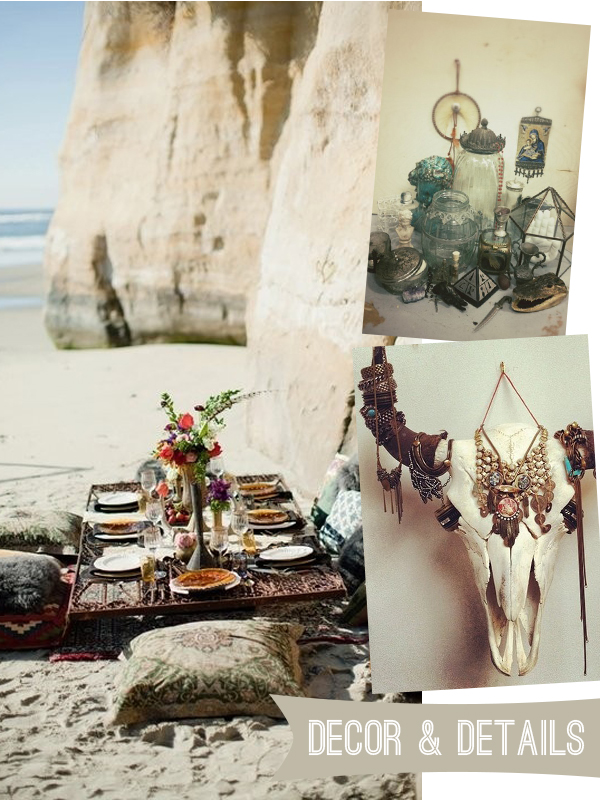 Image Credits: 1. Green Wedding Shoes 2. What Makes Me Happy 3. L'atelier 
This look is free-spirited and all embracing, celebrating different cultures and countries from across the globe.  Your decor therefore should be a veritable trove of treasures; an eclectic combination of artefacts and unusual finds collected from a lifetime of travels and adventures.  If you don't possess such items already, scour the homes of friends, families and charity shops.  Your focus here isn't on restoring and upcrafting but rather on celebrating items in their natural state – you are interested in authenticity rather than perfection.
Seek out hand made and unique items or pieces which are easily identified with specific tribes or cultures, for example ikat fabrics from Indonesia or dream catchers from Native American culture.  Throw into the mix natural elements such as feathers, antlers and animal skulls.  Pile your treasures high and create interest points of overflowing displays.
For your wedding reception, draw inspiration from street markets with bench style seating – maybe dressed with animal skins and throws – and serve a myriad of flavours and foods from around the globe.  Create relaxed chill out areas with bean bags and giant cushions, where guests can embrace their free spirited side.
PAPER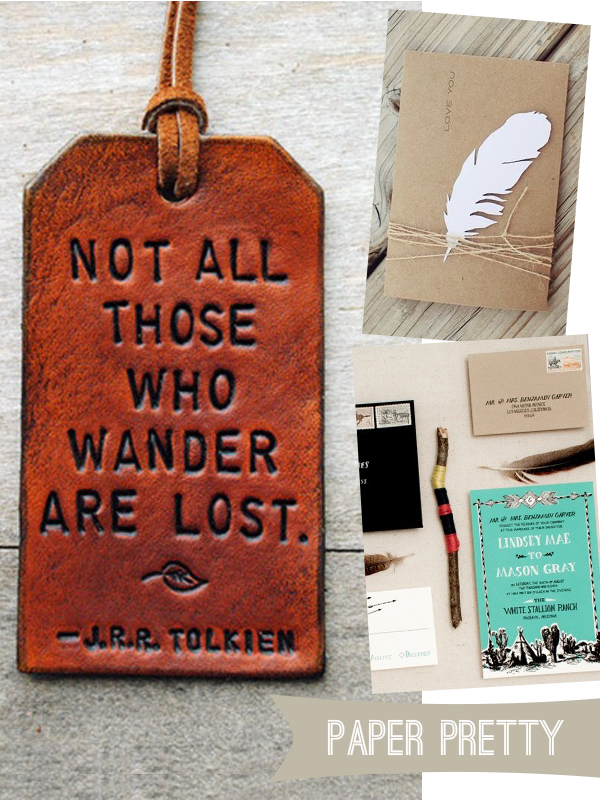 Image Credits: 1. Etsy 2. The Knotty Bride 3. Martha Stewart Weddings
Reflect the Bohemian vibe of this styling through your stationery; use off-beat typography and perhaps incorporate quirky hand drawn illustrations to reflect travel adventures.  The key here is to avoid anything too polished or precise; you are aiming for beautiful stationery that appears effortless in design.
Use colour sparingly for maximum impact with a focus on natural and recycled materials such as grained stock and kraft paper.  And look at how you can introduce other natural elements like feathers – real or laser cut – and leather.
FLOWERS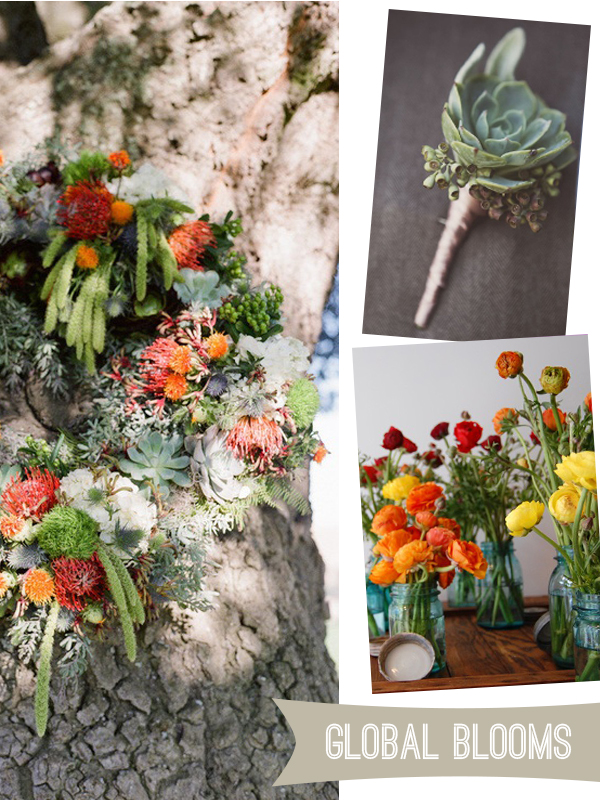 Image Credits: 1. Style Me Pretty 2. Wedding Chicks 3. Design*Sponge
Drawing inspiration from their travels, the Global Nomad couple would seek out exotic blooms for their wedding day florals from across the globe.  Pair English country blooms with tropical flowers like Birds of Paradise as you showcase the world's most beautiful flowers in dramatic displays.  Use succulents, thistles, ferns and long grasses to add different textures and interest – the more eclectic the better.   This look is all about mixing things up so don't be afraid to experiment with your displays and incorporate non floral elements like feathers and vegetables.
In terms of colours, think busy displays of bright oranges, corals and yellows in clashing shades for a riot of unabashed colour and exuberance.  Add pops of turquoise through a collection of mismatched glasses and vases to display your blooms in, interspersed with handmade wooden planters overflowing with flowers.  The Global Nomad couple are at one with the Earth; reflect this by creating floral displays integrated into the natural environment, such as the wreath above which appears to be literally growing out of the gnarled bark of the tree.
WHERE TO BUY YOUR GLOBAL NOMAD DECOR AND DETAILS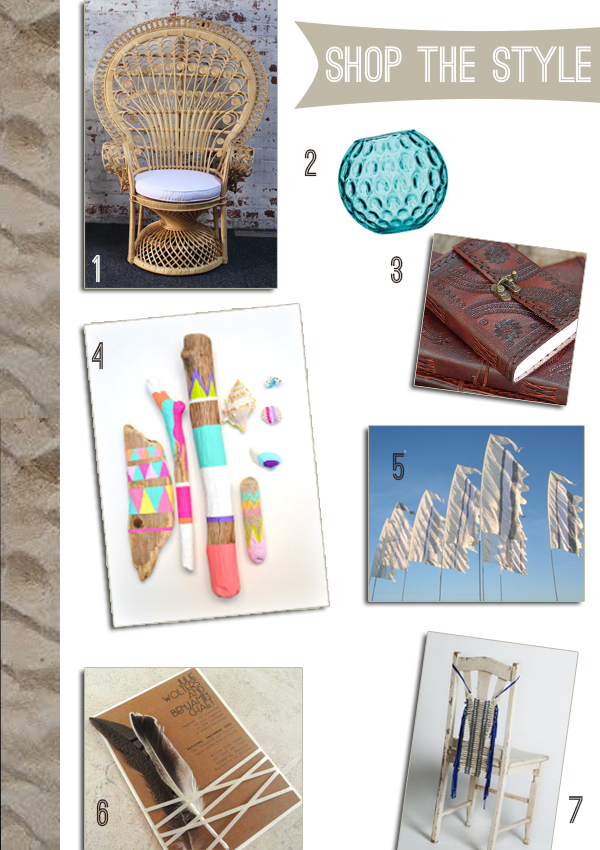 1. A peacock chair is an absolute must for this look; position it in a snug corner in your teepee, surrounded by Reindeer Skin Rugs and Feather Print Cushions for the ultimate hippy chill out zone.  Hire the chairs from Prop Shop UK.
2. For stunning turquoise glassware to present your vibrant blooms in, this LSA Odile Turquoise Glass Vase would be perfect or for larger displays, try this Villeroy & Boch Vase, handcrafted for an organic look.
3. Every traveller needs a journal to capture thoughts and observations and this Indra XL Embossed Leather Journal would make for the perfect guest book.  For other leather items such as custom stamped luggage labels which would make the ideal favour at this wedding, try Of The Fountain at Etsy.
4. For eclectic treasures with a colour punch, try Bonjour Frenchie Art who turn everyday natural finds into magical keepsakes.  I love this sticks and shells driftwood art collection featuring tribal style patterns; scatter pieces across tables or group together for a neon pop.
5. I love these handmade festival style flags available from Big Wave Flags.  Eight metres tall and available in a range of colours they would create a huge visual impact.
6. These black feather and rustic kraft invitations from ChampagnePress would be the perfect way to set the scene for your day.  Or for bespoke invitations with beautiful hand drawn illustration, try Charlie Scribble.
7. A Xanadu Warrior Chestplate would look fabulous hung on the back of the bride and groom's chairs, or why not try a Dream Catcher?
I love the free spirited vibe of this Global Nomad style and the possibilities are endless for decor and details.  Is anything here catching your eye?
Vicki xx
GLOBAL NOMAD BY POCKETFUL OF DREAMS
Read more in this series….
POSTED IN: Inspiration

TAGS: Bohemian, bohemian luxe, Decor, Details, flowers, Global Nomad, gypset, multi-cultural, paper, Shop the Style, Stationery, Vibrant COlours