Hot on the heels of our Global Nomad Decor and Details post, we bring you the final instalment in our Global Nomad Styling Guide now with a look at what to wear if you're a bride looking for a day where wanderlust meets luxe.
A BOHEMIAN LUXE BRIDAL LOOK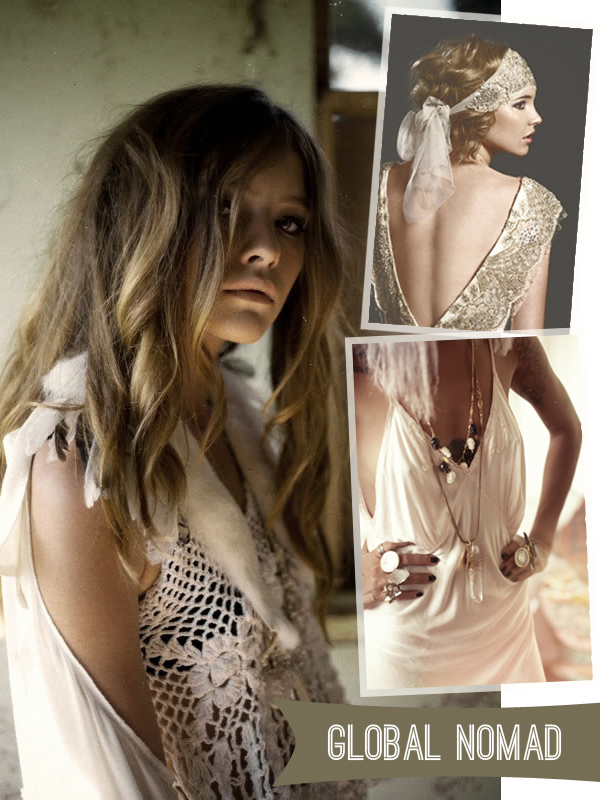 Image credits: 1 & 3. Spell and the Gypsy Collective 2. Johanna Johnson 
The secret to nailing this look is to find a dress which combines unconventional and laid-back bohemia with a hint of jet-setting luxe.  So look for a simple, understated and flowing gown where luxurious materials and textures add a subtle but glamorous edge.  Be brave in your combinations; a glamorous silk satin dress partnered with a tassel vest or kimono will give the perfect unexpected look.
This style is all about the coming together of multiple ideas and influences, gathered from our bride's travels around the globe so don't hold back when it comes to accessories.  Mix and match rings and necklaces of different sizes and lengths – layers of semi precious gems and metallics will create the perfect look.  And if you can introduce symbols or motifs into your jewellery which characterise a specific culture or country, even better.   Make up should be simple with kohled eyes and hair loose and flowing – perhaps with a hint of wave – with a tied back scarf or headpiece to finish off the look.  And of course, our Global Nomad bride will ooze laid-back confidence in bare feet or simple metallic sandals.
SHOP THE STYLE
Image credits: 1 & 3. Johanna Johnson 2, 4 & 6. Spell and the Gypsy Collective  5. Amazon 
 1. The Violet dress by Johanna Johnson would be the perfect gown for this wedding style; made of heavy silk satin with the tiniest of Swarovski crystal detailing, it adds just the right element of sophistication whilst the simplicity of the cut and flow of the gown is perfect for a laidback affair.
2. If you're looking for accessories to complement this look, then you can't go far wrong with the fabulous Spell & The Gypsy Collective, an Australian based boutique specialising in gypsy inspired clothing and jewellery.  And they ship worldwide!  This Crystal Visions Feather Ring is beautifully chunky and ideal for layering.
3. This Wheat Headband made with ivory tulle epitomises our Bohemian Luxe look – the glamour of Swarovski crystals with the nonconformist hand tied headband…nothing too predictable or dainty for our Global Nomad bride.
4. Embrace Cherokee culture with these Petite Feather Earrings - simple yet surprising with their little pop of faceted turquoise.
5. The Dream Catcher on this necklace is the ideal motif for this style and the turquoise matches our colour palette to perfection.  Team this short chain with longer necklaces, taking care not to obscure the design detail on our gown.
6. I adore this champagne fringed kimono; drape it over your gown for a Boho twist on your bridal look and then take it with you on your honeymoon!
So are any of you tempted to try the "Gypset" look for your wedding day?
Vicki xx
GLOBAL NOMAD BY POCKETFUL OF DREAMS
Read more in this series….