I do hope you liked this morning's Global Nomad inspiration board, we just can't get enough of this Bohemian Luxe look.  Here at Pocketful of Dreams we want to not only inspire you but also show you how to take that inspiration right the way through to celebration.  So look out for various posts across this week as we bring you our Global Nomad Styling Guide.
First up, that all important venue and for this look, you want somewhere laidback, where you can be at one with nature and yet still have plenty of space to present all those eclectic treasure.  Somewhere perhaps with an international feel, to play back to the wandering traveller at the heart of this style.
And we have the perfect solution….
PapaKåta Tents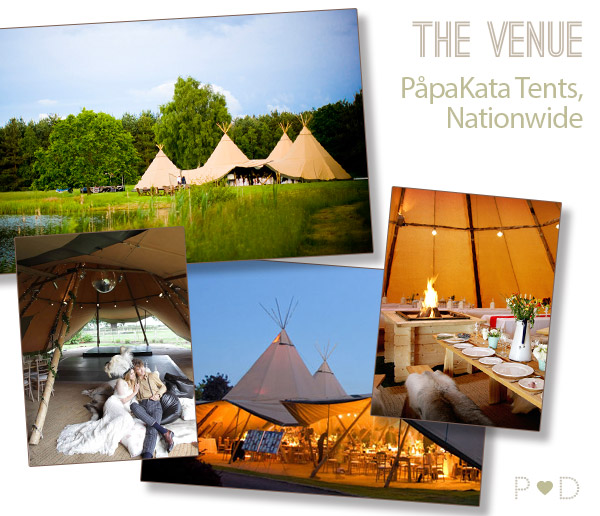 Image credits: 1, 3 & 4. PapaKåta 2. You & Your Wedding  
PapaKåta specialise in the hire of Kåta tents – traditional teepees made almost entirely of natural materials and inspired by those used by the Sami people of Lapland.  They are absolutely perfect for our Global Nomad style with their reference to other countries and cultures; not to mention their stunning appearance, perfect for creating a Bohemian and relaxed vibe.
With the ability to have the sides open or closed, the teepees are cosy and warm in the Winter and cool and breezy in the Summer and  with the ability to join Kåtas together, they can cater for bridal parties from 70 up to 320 guests!
The team at PapaKåta have a fantastic reputation and are also able to provide various finishing touches to help you style your Kåta.  From their vast selection, the real reindeer hides and open wood-burning fire would be great additions for our look.
Full details of the various offerings available can be found on the PapaKåta website but for more information, give them a ring on 0800 612 9692
or email them at tellmemore@papakata.co.uk.
Have you attended an event at a PapaKåta tent or maybe you're considering one for your own wedding day?  We'd love to hear about your own experiences so please do leave us a comment!
Vicki xx
GLOBAL NOMAD BY POCKETFUL OF DREAMS
Read more in this series….