This morning we brought you our guide to real Christmas trees – from deciding on a type of tree to picking the perfect tree for you and taking care of it.  But of course, not everybody wants the hassle of having to go out and pick a tree every year, remember to water it every day and sweep up dropped needles.
And so this afternoon we are bringing you our guide to artificial and alternative Christmas trees.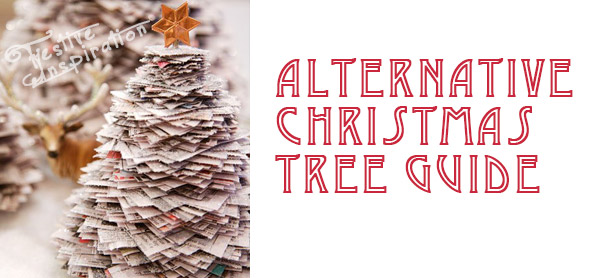 ARTIFICIAL CHRISTMAS TREES
There are endless types of artificial Christmas trees available in a wide variety of colours, shapes, sizes and price points, from lifelike firs to those which appear to be dusted with snow to white and even black trees.  Too lazy to decorate the tree yourself?  Well don't despair because you can even buy pre-lit trees such as this Kurt Adler Christmas Tree from Macys UK complete with flocked branches and white lights or even totally pre-decorated trees like this one from B&Q!
The great thing about going artificial is that you guarantee that you end up with a tree that exactly suits the size and style of your home.  Make sure you measure up the space you want to display the tree in before you hits the shops and opt for one that is several inches lower than your ceiling to leave space for a fabulous tree topper!
If you are short of space, artificial trees can be a good alternative as you can now buy ingenious space-saving options, such as this 6ft Corner Tree from Marks and Spencer.  These are a wedge shape and at a quarter of the size of a standard tree of equivalent height, they can be a great option for smaller rooms.
ALTERNATIVE CHRISTMAS TREE IDEAS
Christmas is a fantastic time to get your craft on and so if you don't fancy a real Christmas tree, why not consider how you can get creative and try something different from the standard artificial tree.  Here are some of our favourite ideas for wacky Christmas tree ideas: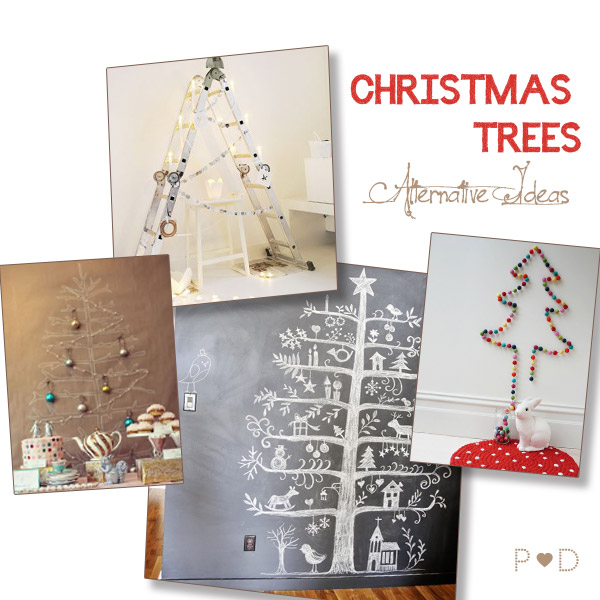 Image Credits: 1. Design for Mankind 2. Design Rulz 3. Down To The Woods 4. A Legg Up
If space is at a premium or – like me – you have pets and are worried about how well a tree may survive in your home, why not go for something 2D like this fabulous chalk drawn tree on a blackboard wall.  OK, so drawing it out may take some patience but think how much money you would save on baubles!
If you don't fancy something as permanent as painting a wall with chalkboard paint, then why not consider attaching a roll of kraft paper from floor to ceiling in one room and drawing a tree on.  You can even glue decorations to the paper to create a 3D effect.
Fabrics can also be a great option for creating tree designs attached to a wall; the pom pom idea above is perfectly quirky or you could use different coloured and textured fabrics to create decorative garlands for a hand drawn tree outline.
If you want a physical tree of some description why not make your own out of reclaimed wood or branches?  A simple wooden crafted tree would look fabulous adorned with some pine cuttings perhaps or just a string of industrial style lights.  Look out for details on the blog next week of our very own wooden hand-crafted tree!
If you are after something a little different but don't have the time or inclination to craft it yourself, this fabulous Driftwood Christmas Tree from Not On The High Street would look perfect in a light and bright room; no decoration required apart from perhaps a gold star to top it off.
Alternatively, look about your home for ready made triangle shaped objects which could be decorated as a truly alternative take on a tree – a decorated ladder anyone?!
Or for something a little smaller in scale why not consider making paper trees out of old books or newspaper?  This fabulous DIY post from Handmadeology shows you how.
I am just loving these quirky and alternative Christmas tree ideas – which is your favourite?
Vicki xx
POSTED IN: Inspiration, Living

TAGS: alternative christmas tree ideas, artificial tree, Christmas, Christmas Tree, eclectic christmas, fabric christmas tree, festive, festive inspiration, hand drawn christmas tree, noel, quirky christmas