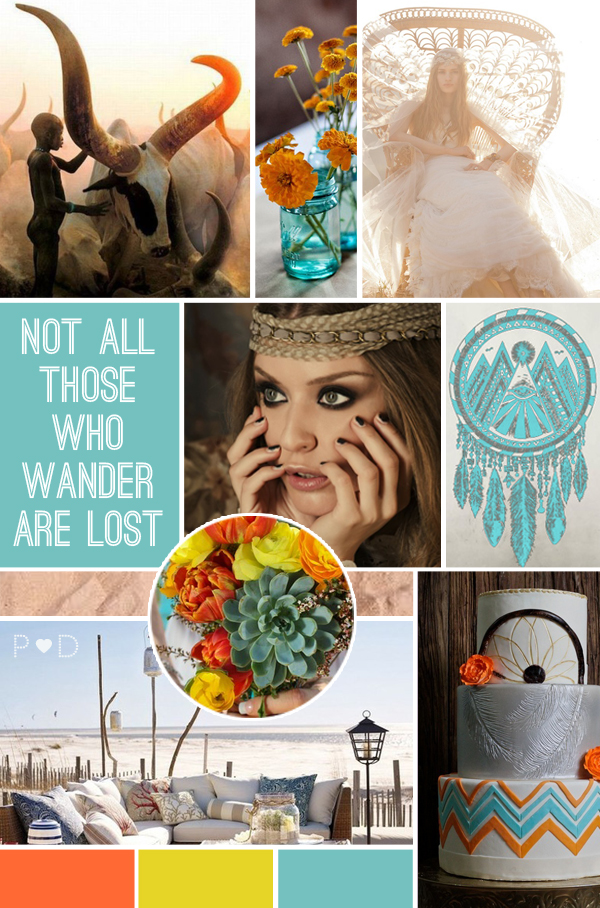 Image Credits: 1. African Love Songs 2. Anda Marie 3. 100 Layer Cake 4. Quote from J.R.R. Tolkien, design by Pocketful of Dreams 5. Fashion Nectar 6. We Heart It 7 & 10. Mama Wolf Photography  8. Colour Burned 9. Pottery Barn
Today's Global Nomad mood board draws inspiration from the world around us and would be perfect for a couple with a passion for travel and adventure.  This style is bright and eclectic; a dramatic absorption of varied cultures and countries experienced through the eyes of the laidback traveller.  With an echo to the 1970s, a strong Bohemian vibe sets the tone for your event which should be a relaxed celebration with a hint of luxe; think  "Gypset" in your styling – the marriage of the unconventional and wild ethos of a nomadic traveller with the sophistication and class of the jet set.
Natural materials like wood, sand, feathers, leather and (faux) fur will help to set the tone for this all-encompassing look where more really is more. Imagine displaying an eclectic range of treasures collected from your wanderings across the globe, celebrating cultural icons and traditions.
This vibrant celebration pulls bright colours together in an unexpected palette of turquoise, mustard yellow and a rich orange with neutral undertones.
Created by event designers Pocketful of Dreams, to provide a little inspiration for your party or event.
So what do you think, do we have any Bohemian souls out there who would love to try this style?
For more Global Nomad inspiration follow our Global Nomad Pinterest board here.
Michelle xx
POSTED IN: Inspiration, Mood Boards

TAGS: Blue, Bohemian, Boho Luxe, Boho wedding, Bridal Inspiration Board, colour inspiration, dreamcatcher, Event Design, Event Planning and Design, Event Styling, Feathers, Global Nomad, Inspiration Board, mood board, Orange, PArty Mood Board, Pocketful of Dreams, Traveller, wedding ideas, Wedding Inspiration, wedding mood board, Wedding Styling, Yellow