I do hope you liked this morning's Modernistic inspiration board, here at Pocketful of Dreams we are loving the bold, brave nature of this style.  But as creative event designers, what we really love is turning inspiration into reality so over the course of this week, we'll be looking at how we would take this modern vision and turn it into a fantastic celebration.  First up, the all important venue…
Without question the venue is the single biggest decision you will make for your wedding.  It determines your wedding date, the number of guests you can have and really defines the style of your day as it's important that your decor complements rather than fights with your venue.  The ideal venue for this style of wedding therefore would be something fresh and quirky; no stately homes for this one.  Having said that, you don't necessarily need an ultra modern building, this style is all about challenging tradition and the expected so a centuries old building with a modern or blank canvas interior, could be just perfect.
Ideally, pick something of architectural interest with minimal internal decoration, to give you true carte blanche for your decor.  Remember, you want something minimal in style rather than industrial – think plain white walls rather than exposed red brick.  So look at venues like art galleries or studio spaces.
UP NORTH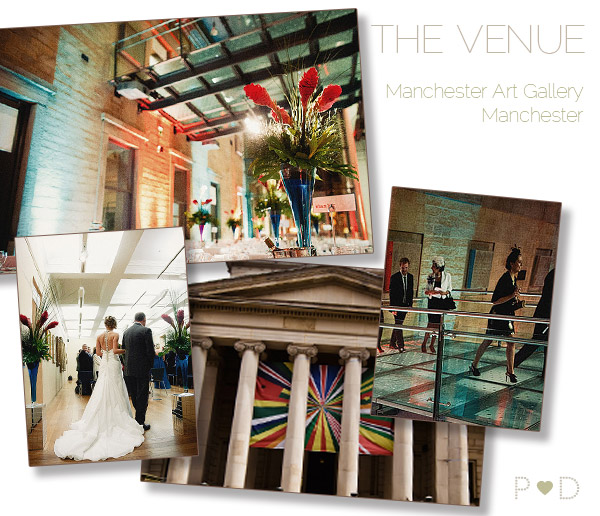 Image Credits: 1, 2, 3. Lawson Photography 4. Wedding Day Photos
The Manchester Art Gallery is one of the region's most popular cultural destinations and this towering Victorian structure of a building may not immediately spring to mind when you are thinking of a Modernistic wedding.  Remember what we said about mixing it up though? Well this venue is a great example of where this has been done amazingly well, with a fresh and contemporary interior.
Ceremonies are held amongst the paintings in the Lowry and Valette gallery, for a unique setting and backdrop but where this venue really comes into its own for us is the glass Atrium where guests can enjoy your wedding reception.  The floor to ceiling glass and whitewashed walls would create a fantastic backdrop for a modern and edgy reception.
You can even arrange private tours of the gallery for your guests, with artwork including a range of photography, design and contemporary artwork to perfectly complement your wedding styling.
To find out more, contact the Events Team at Manchester Art Gallery on +44 (0)161 235 8866/62 or email them at eventsteam@manchester.gov.uk.
DOWN SOUTH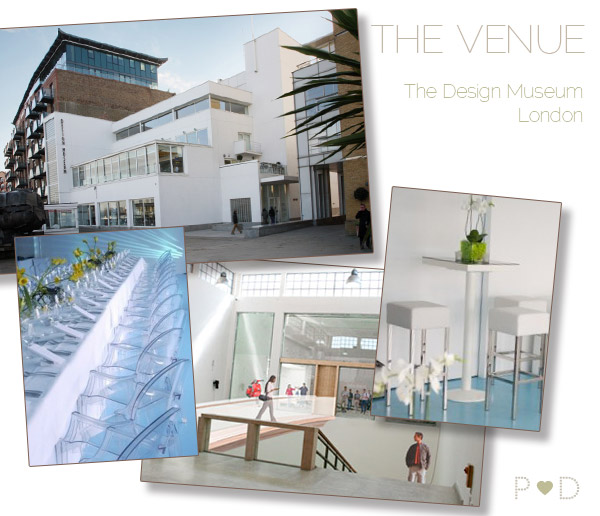 Image Credits: 1. Angelic Wendy Liu 2 & 3. Unique Venues of London 4. Skyscraper City 
The Design Museum on London's South Bank is the perfect setting for our bold and striking wedding.  One of London's most sought-after locations for entertaining, the Design Museum is the first museum in the world to be dedicated to modern and contemporary design.  Located in an elegant modernist building right by Tower Bridge, the Design Museum offers unrivalled views of the City of London and Canary Wharf through huge panoramic windows and a large balcony area.
Inside, this large white space is a total blank canvas and ideal for the creative bride with a modern aesthetic.  The perfect venue for your very own attention grabbing design installations, set against breathtaking views of the capital.
For more information, contact the event department on 0207 940 8262/8766 or send them an email at events@designmuseum.org.
IN THE MIDDLE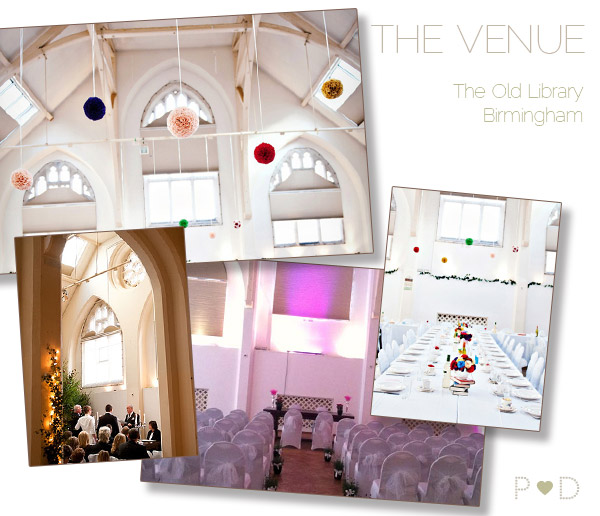 Image Credits: 1 & 2. Steve Gerard Photography 3. Stuart James Photography 4. Custard Factory Spaces
Another great example of where you don't need a modern building to host your Modernist wedding, the Old Library at the Custard Factory, Birmingham, would make for the ideal venue for this style of wedding.
This architecturally stunning building dates back to the nineteenth century and inside boasts huge vaulted ceilings, large windows and beautiful bare white walls.  This venue looks beautiful without any decor at all so a few well chosen pieces hanging from the ceiling or popping from the pillars in this space will create a true modernistic wow factor.
Located in the heart of Birmingham's creative quarter, this venue also provides the perfect backdrop for some fantastically edgy portrait shots.
For more information, call Custard Factory Spaces on 0121 224 8486.
So there you have it, our pick of the best venues throughout the country for your Modernistic wedding.  And don't forget, just because a venue may be set up in a very traditional fashion when you go to view it, doesn't mean that is the only styling option available.  In many ways this is similar to buying a house, you have to be able to look past various aspects that can be easily changed to see the true potential!
Have you attended a wedding at one of these venues or maybe you're considering these for your own wedding day?  We'd love to hear about your own experiences so please do leave us a comment!
Vicki xx
MODERNISTIC BY POCKETFUL OF DREAMS
Read more in this series….
POSTED IN: Inspiration

TAGS: Birmingham wedding venue, Futuristic, London wedding venue, Manchester Art Gallery, Manchester wedding venue, Modern, modern wedding style, modernist, Modernistic, modernistic venues, Shop the Style, The Custard Factory, The Design Museum, The Old Library, venues for a modern wedding, Wedding Decor, wedding ideas, Wedding Inspiration, Wedding Styling, wedding venues