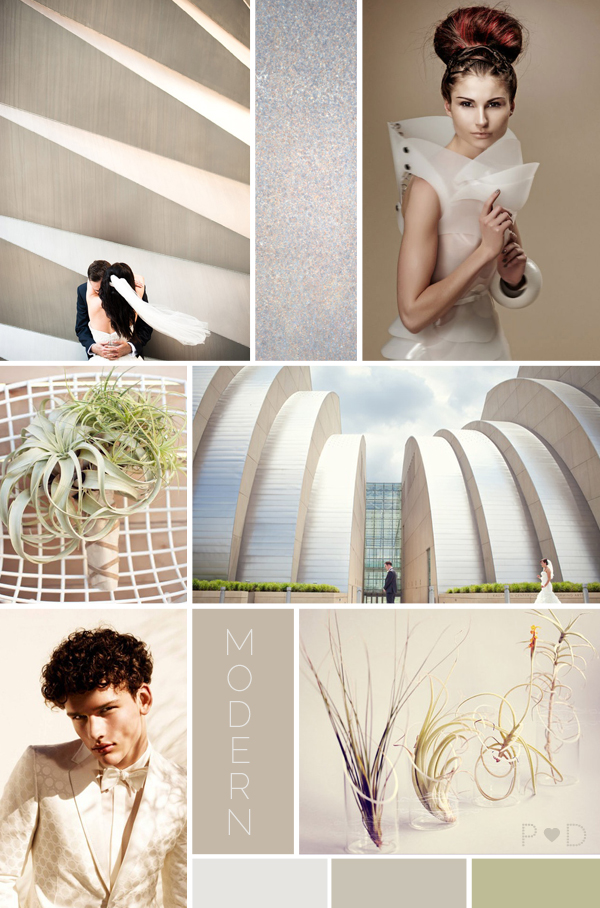 Image Credits:1. Anushe Low 2. Texturepup  3. Modern Salon 4. jldesigns 5. the rasers blog 6. stylingmen 7. Etsy
Today's Modernistic mood board is strong and striking, perfect for the bride or party host who wants to make an impression!  Classic shapes and styles are twisted, rewritten and reinvented in this futuristic design full of strong, exaggerated and structural shapes.
Less is more with this design so focus on a few stand-out elements and complement with airplants, rusted metals and startling presentation to help you create a bold but beautiful setting for a fabulous event.
To avoid your modernist affair feeling stark, opt for a colour palette with an array of rich neutrals such as light grey, fawn and taupe with a hint of gold to provide some futuristic luxe to the proceedings.
Created by event designers Pocketful of Dreams, to provide a little inspiration for your party or event.
So what do you think, are you bold enough to embrace this look?
For more Modernist inspiration follow our Modernistic Pinterest board here.
Michelle xx
POSTED IN: Inspiration, Mood Boards

TAGS: Bridal Inspiration Board, colour inspiration, Event Design, Event Planning and Design, Event Styling, Futuristic, Inspiration Board, Modern Style, Modernistic, mood board, PArty Mood Board, Pocketful of Dreams, wedding ideas, Wedding Inspiration, wedding mood board, Wedding Styling