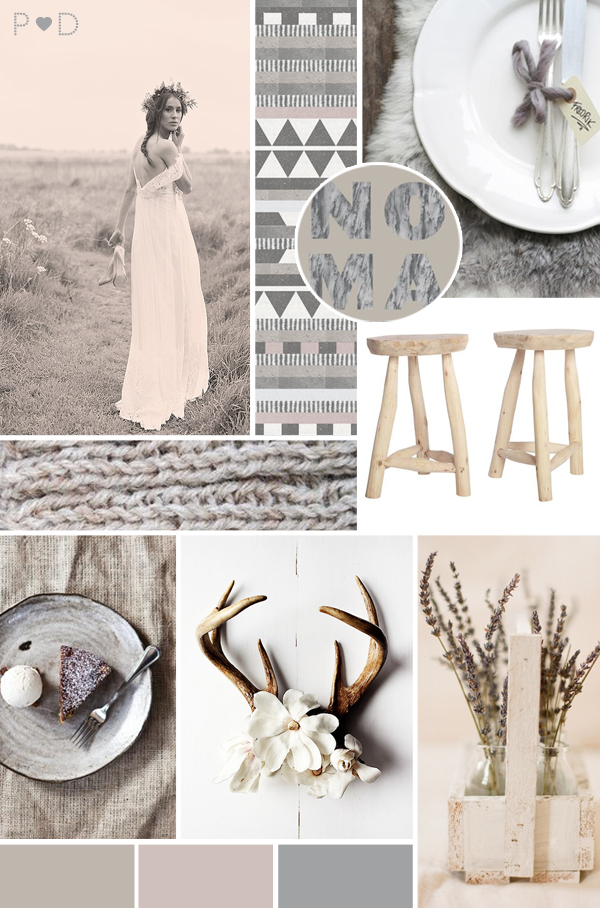 Image credits: 1. Sarah Gawler 2. Society 6 3. Precious Sister 4. Fooderati 5. Cool Nordic 6. STIL Inspiration 7. 7×7 8. Etsy 9. Inspired By This 
Today's mood board takes its inspiration from the dropping of temperature and the drawing in of evenings.  Yes, that's right, Winter is coming and we are embracing it full on with a healthy dose of Nordic styling.
Taking inspiration from Scandinavia, this look is pure and pared-back; decor items have a focus on simple functionalism but are used to create light and bright environments and spaces.  A neutral colour palette of taupes, fawn and soft grey stops the look from becoming too cold; you are aiming for warm and welcoming rather than stark.
Create inviting spaces and set ups which invite the outside in by introducing natural and rustic materials; unvarnished beach woods, thick, chunky yarns, reindeer skins and earthenware crockery would all be perfect.  What I love most about this look is that whilst it's a fabulous alternative for a Winter wedding, it would also work just perfectly for a cosy dinner party or even just for your home decor styling.  It really is incredibly versatile.
Created by event designers Pocketful of Dreams, to provide a little inspiration for your party or event.
Are you a fan of the Nordic look?
For more Nordic Winter inspiration follow our Nordic Pinterest board here.
Michelle xx
POSTED IN: Inspiration, Mood Boards

TAGS: Bridal Inspiration Board, colour inspiration, Event Design, Event Planning and Design, Event Styling, Inspiration Board, mood board, muted colour, nordic, Nordic-Winter, PArty Mood Board, Pocketful of Dreams, scandi, soft palette, wedding ideas, Wedding Inspiration, wedding mood board, Wedding Styling, Winter Wedding, wood