We are returning to our Modernistic inspired celebration this afternoon to look at how you can perfectly set the scene with your decor and to provide you with our suggestions for the best suppliers and those must buy items.
DECOR & DETAILS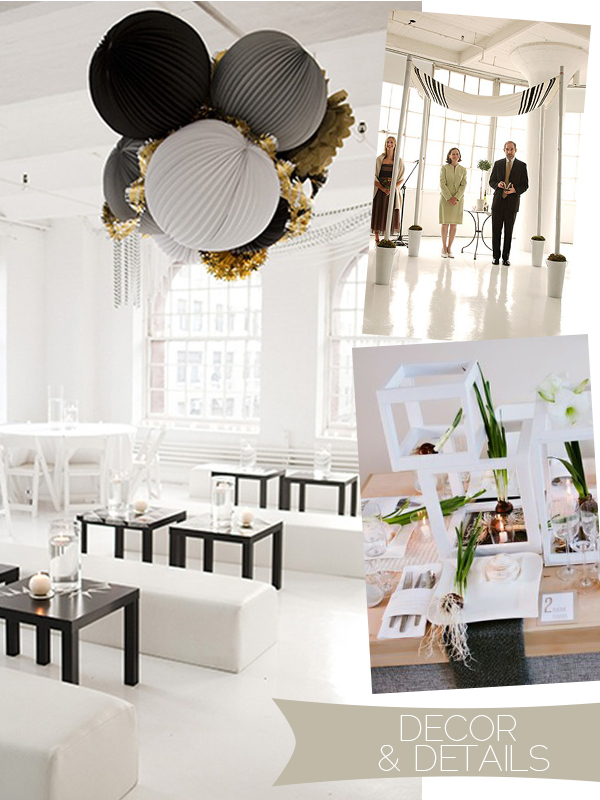 Image credits: 1. 100 Layer Cake 2. Martha Stewart Weddings 3. Elizabeth Ann Designs 
This look works best with simple decor complemented with a few stand out items to act as focal points in your blank canvas space so think about sculptures, mobiles and backdrops to wow your guests, interspersed with low key touches like simple glass votives.  There are no rules here so this style of wedding is great for the creative soul; consider creating exaggerated and asymmetrical displays with 3D geometric shapes; giant shapes all in neutral shades would look amazing hanging from the ceiling or popping out the wall in a dramatic backdrop.  Alternatively, I love the stacked squares on the table display above; their stark white allows the green of the floral elements to really pop, creating a high impact scene.
Focus on strong, solid textures like acrylic, rusted metal and twisted wire to create a striking yet beautiful look.   This modern look can take an almost futuristic stance by challenging expectation and utilising unusual shapes for everyday objects so be brave!
PAPER PRETTY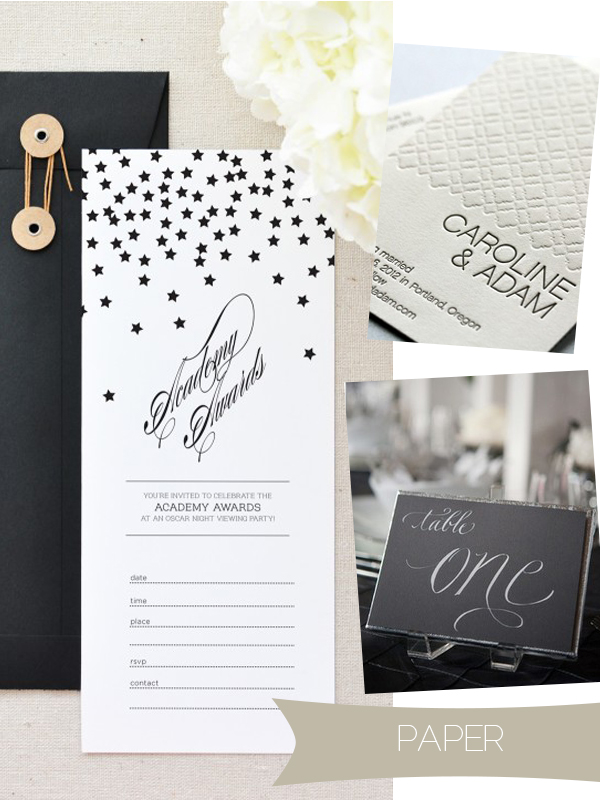 Image credits: 1. Twig & Thistle 2. Design Cookies 3. Grey Likes Weddings 
Paper items should be simple and stylish in design, focusing on luxurious materials.  I'm thinking letterpress invitations with a strong focus on typography and maybe some subtle geometric shapes.  Embossing can also be highly impactful for a raw but beautiful look.
A scrolling yet modern calligraphy would also work well here and don't limit your imagination just to paper pretty.  If your venue permits, opt for a personalised wall decal or why not consider using vinyls instead of more traditional place names, as we did at the LoveLuxe launch event this Summer.
STRUCTURAL FLORAL DESIGN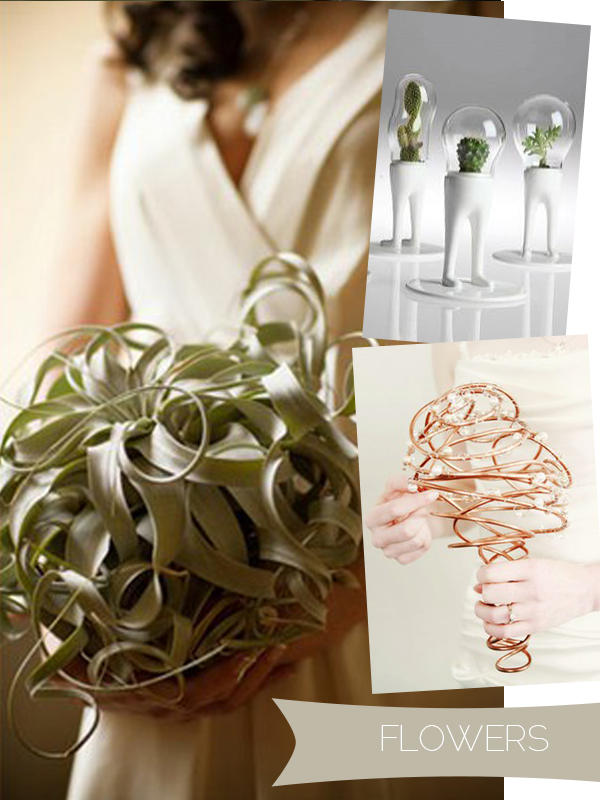 Image credits: 1. Green Wedding Shoes 2. Houzz 3.  OMG I'm Getting Married
The key to your floral design is sculpture; opting for a muted palette but interesting shapes will complement your styling perfectly.  Consider air plants, succulents, tillandsia and cacti and present them in quirky vessels ranging from unusually shaped vases to the wildly unconventional such as a white stiletto!
Or for the ultimate in modern statements, you could always opt for a metal bouquet with a few sparkling crystals to add a little luxe to the affair.
WHERE TO BUY YOUR MODERNISTIC DECOR & DETAILS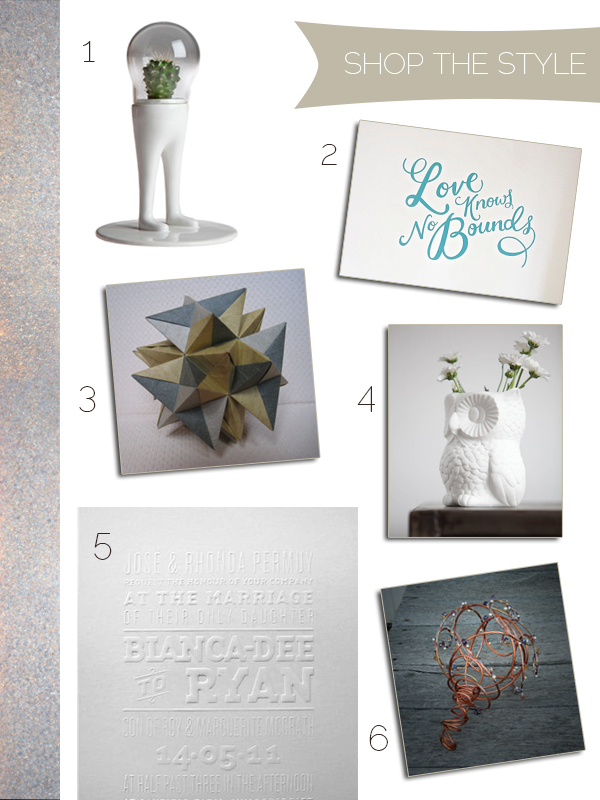 1. Hand crafted in Italy by designer Matteo Cibic, these
gorgeous planters
would make quirky space-age homes for your wedding blooms.  Group different styles together for a fun and futuristic display.
2. The signature hand illustrated calligraphy style of 
BerinMade 
would add a beautiful and contemporary touch to your day – opt for paper pieces, wall decals, vinyl or a combination of them all.
3. The 
Oriworks store on Etsy
 create amazing sculptures designed to your colour preference which you could use to make stunning mobiles or centrepieces.
4.  This fabulous 
owl vase
 would make a great centrepiece or maybe an abstract shaped vase like this one
 from Etsy
 is more your style.
5. Stationery boutiques like 
Canvas
 perfectly embody this modern style and although they are based in South Africa, take commissions from brides the world over.  Or for someone closer to home, try up-and-coming design studio 
Baker & Broome
 whose bold designs and use of mixed fonts would suit this style of wedding perfectly.
I do hope you've been inspired by today's styling guide, we have had a ball putting it together and would love to design a wedding like this.  Any of you out there considering this bold a look?  Leave us a comment and let us know your thoughts!
Vicki xx
MODERNISTIC BY POCKETFUL OF DREAMS
Read more in this series….
POSTED IN: Inspiration

TAGS: event styling guide, Futuristic, geometric decor, Modern, modern stationery, modern wedding style, Modernistic, Shop the Style, structural blooms, structural decor, Wedding Decor, Wedding Inspiration, Wedding Stationery, where to buy