It's Friday and that only means one thing: it's time to talk about food!  Have you been following our Modernistic Styling Guide this week?  We've been having a ball pulling this one together and this morning we are going to show you that you don't the styling opportunities can also extend into the food and drinks you serve.
MODERNISTIC FOOD & DRINK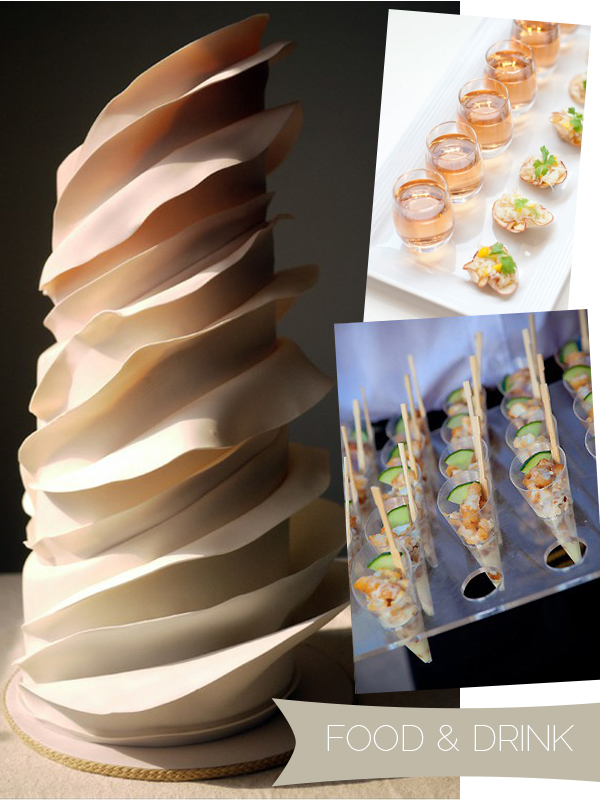 Image credits: 1. 100 Layer Cake 2. Wedluxe 3. The Pretty Blog
Every wedding deserves delicious food so aim for modern fusion flavours or quirky twists on old classics.  Presentation is paramount here, canapes presented in transparent acrylic cones or signature cocktails in ice glasses are guaranteed to wow your guests.  Work with your caterer to ensure food is imaginatively served with a sense of theatre.  For example, does your starter include a small salad?  Instead of serving it on the plates, plant lettuce, basil and other greens into your centrepiece and invite your guests to cut to taste!
For your wedding cake, again look to interesting and bold shapes to provide a sculptural feel.  A classic tiered cake can be turned on its head by stacking the tiers in an asymmetric fashion (don't try this yourself kids!) or with a typographic cake topper such as those made by Miss Sarah Cake.
We've loved pulling together this week's Modernistic Styling Guide and we'd really like to know what you think.   Is this a wedding style that you would consider?  And do you like this more in-depth styling guide?  Please do leave us a comment as we would love your feedback on this one.
Vicki xx
MODERNISTIC BY POCKETFUL OF DREAMS
Read more in this series….