Love the modernistic wedding style but not sure what to wear?  Well help is at hand this afternoon with our Modernistic Styling Guide Look Book…
A MODERN BRIDAL LOOK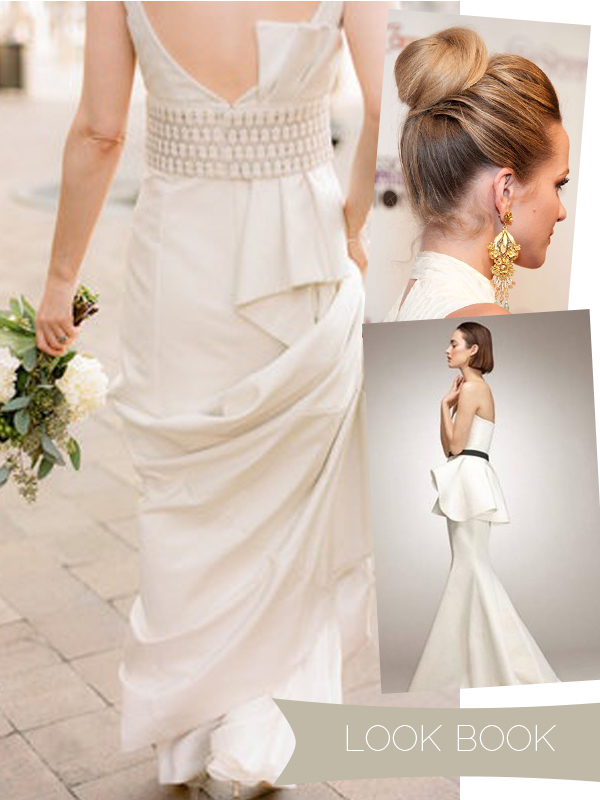 Image credits: 1. Project Wedding 2. Glamour 3. Gowns for Weddings 
Our bride is certainly no shrinking violet; she's gutsy, bold and knows her own mind.  The perfect dress therefore has to be something with wow factor that will guarantee our bride is the star of the show; think strong and structural shapes.  If you want something a little softer, then look for dresses with interesting details and cuts which ooze confidence.  Make sure you focus the interest on the shape of the dress by opting for a style with minimal embellishment.
Let the statement dress do all the talking and keep accessories to a minimum.  Sweep hair up into a high bun so that your dress can be admired in all its glory and for jewellery, opt either for a chunky bracelet or a pair of statement earrings.
SHOP THE STYLE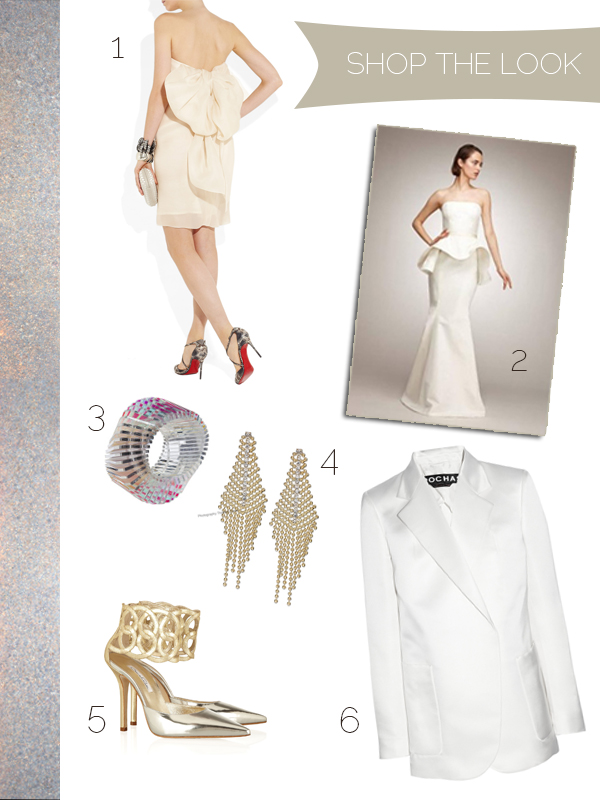 1. Shorter wedding dresses always create a stir so would work perfectly for this high impact style.  I love this Lanvin dress with oversized bow detail; it manages to deliver bucketfuls of attitude but still remain soft and feminine.
2. This Isaac Mizrahi peplum gown ticks all the right boxes with all the attention focused on the structural cut of the dress.
3. For a bold jewellery piece with a hint of colour, this Sarah Angold acrylic Grad cuff , inspired by the geometry in London architecture, would be just perfect.
4. These Gold-Tone Glass Drop Alfani Earrings will perfectly complement a swept up 'do and have the added benefit of looking far more expensive than they really are.
5. For the modern bride a pair of killer heels are a must, especially if you're going for a short dress.  These Oscar de la Renta beauties are a contemporary twist on metallics with the most fantastic looped detail.
6. For the ultra confident and modern bride, how about rocking this silk satin white blazer from Rochas?  Wear it over your dress or team with white cigarette trousers for a bold variation on the traditional bridal look.
Any of you out there considering this bold a look for your bridal get up?  We'd love to hear what you make of this striking style.
Vicki xx
MODERNISTIC BY POCKETFUL OF DREAMS
Read more in this series….
POSTED IN: Inspiration

TAGS: bridal Fashion, bridal look, Fashion, Futuristic, Lanvin, Modern, modern bridal look, Modern Bride, Modernistic, modernistic shop the style, Oscar de la Renta, Sarah Angold, Shop the Style