I do hope you've been enjoying this week's Nordic Winter Styling Guide; the textures and warmth of this style are the perfect antidote to this colder weather.  This afternoon, we bring you the final instalment, as we turn to look at the all important bridal look for a Scandinavian inspired wedding.
NORDIC WINTER BRIDAL LOOK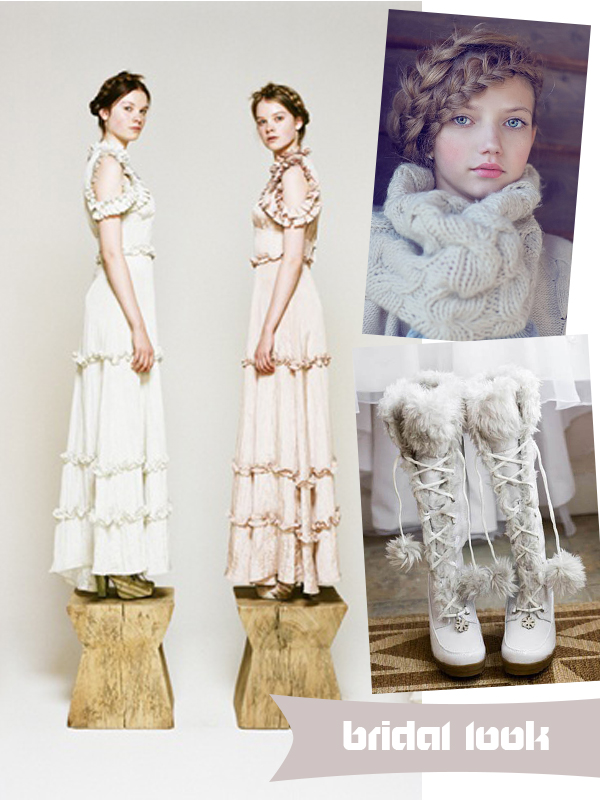 Image credits: 1. Hitchcock Blonde 2. Nataly Frigo 3. Charlotte Geary 
The Nordic Bride dreams of a pure and natural look.  In keeping with the Scandinavian aesthetic, your dress should have an effortless style to it; think soft, natural and romantic.  Look for slim, simple cut dresses made from light, fluid materials like pure silk, chiffon and light taffeta for a soft and feminine fit.
Combat the cold by adding layers of chunky knits and yarns in the form of covers ups and scarves; look for neutral tones in a range of textures for warmth and comfort.  It's important you don't overwhelm the fluidity of your dress, so focus on throws and wrap arounds rather than structured cardigans.  And keep those toes warm with fur trimmed snow boots, perhaps with a delicate shoe clip added for a little bridal twist.
The purity of this style calls for a natural, bare faced look so focus on achieving a flawless complexion and a pale lip.  Hair can be left loose and textured or for a true Nordic inspired look, go for plaits, twisted up and pinned.
SHOPPING GUIDE FOR A NORDIC WINTER BRIDAL LOOK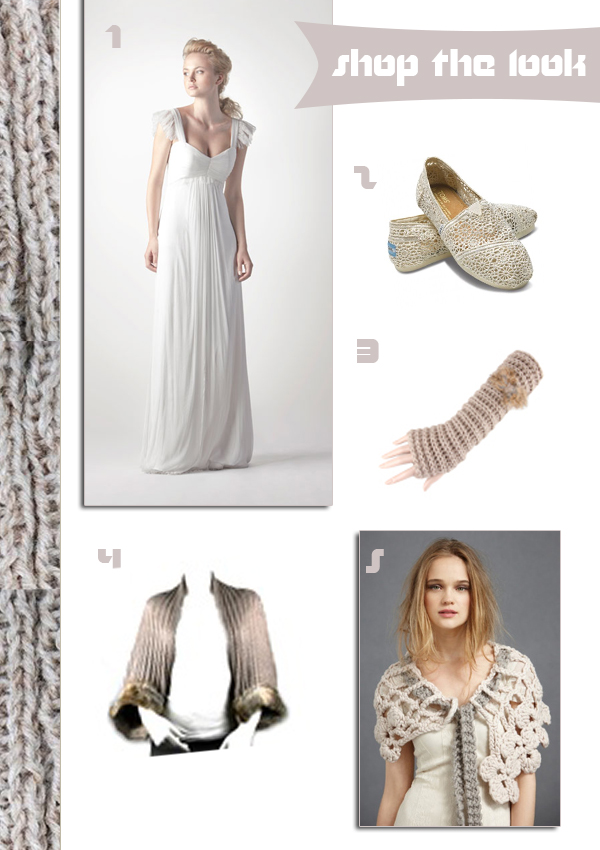 1. The perfect dress for this look has to be the Italia, designed by Sadoni, a husband and wife Norwegian team offering romantic and understated bridal couture.  Their full Nordic Fusion collection is available exclusively in the UK from Clifford-Burr in Hertfordshire.
2.  Fur trimmed snow boots would be the perfect footwear for a snowy celebration but if you are hoping to avoid the harsh elements, then why not support the fantastic TOMS One for One initiative with these natural crochet shoes; their understated cuteness is just perfect for this look.
3. Want to protect yourself against the elements without sacrificing on style?  These long Cappuccino Alpaca Wrist Warmers with Caramel Rabbit Fur Bow are the perfect accessory for our Nordic Winter bride: practical, cosy and in the perfect neutral shade.  Or this Chunky Knit Scarf would be guaranteed to keep you snug.
4. The perfect partner to your wrist warmers, this Cappuccino Alpaca Shrug with Caramel Rabbit Fur Trim will fit effortlessly over your dress, adding warmth and a hint of luxury.
5. Or if you would prefer something with a chunky knit for your cover up, then why not opt for this fabulous Stitched Labyrinth Collar from BHLDN?  The colours perfectly complement our palette and I love the quirky asymmetry of the collar.
What do you think of the ethereal nature of this look?  I adore the different layers and textures; a twist on classic bridal styling.
Vicki xx
NORDIC WINTER BY POCKETFUL OF DREAMS
Read more in this series….