Following on from this morning's Nordic Winter mood board, we turn this afternoon to look at decor options for bringing this inspiration to life; whether you are considering it as a design concept for your celebration or just fancy bringing a little bit of Scandinavia into your home this Winter…
NORDIC WINTER INSPIRED DECOR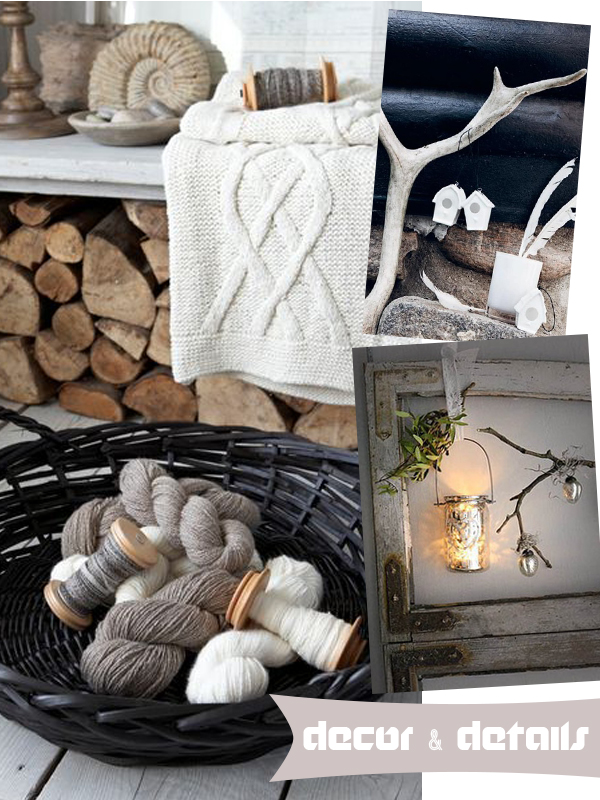 Image Credits: 1. Nordic House  2. Kaiku 3. Viola
When choosing decor items for this look, remember the Scandinavian influence is about simplicity and functionality.  Natural materials like wool, furs, rough textured hessian and beach wood are perfect for this style, all in light neutral colours.  Look to bring the outside in with reclaimed wood, naturally shed antlers and gathered foliage to simply decorate your home or event space.  Display decor and little details in simple collections which look naturally and effortlessly compiled; nothing too structured or over worked for this look.
To combat the bitter Nordic winters inspiring this look, seek out thick and chunky materials to provide warmth and comfort; thick knits and animal skins will work perfectly, perhaps interspersed with some graphical patterns.  Faux furs, blankets and cushions add an air of cosiness to functional wooden stools and benches.  Look for wooden spindles wrapped in fawn and grey yawn which can be displayed in willow baskets and bathe your space in candle light by placing simple tea lights in a range of small and simple glass votives.
SHOP THE STYLE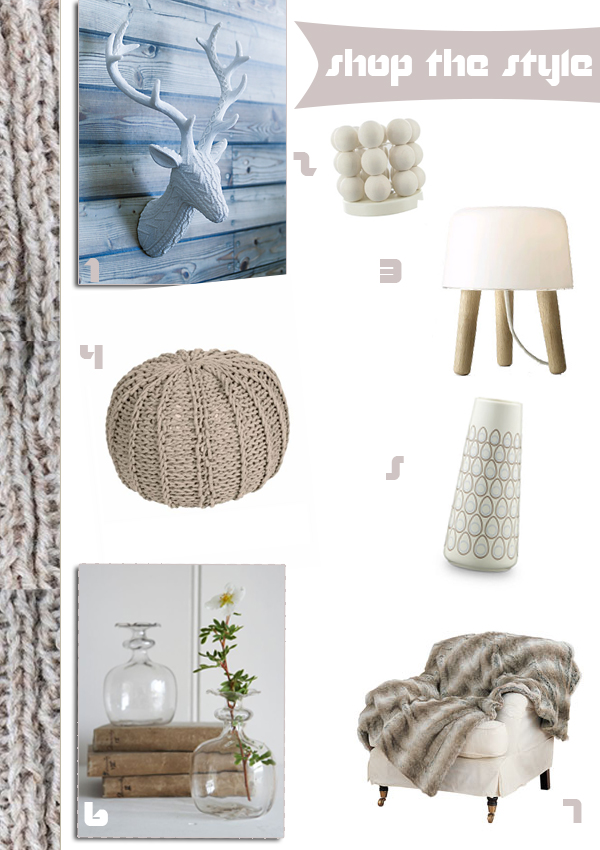 1. I adore this knitted stag head from John Lewis; it perfectly embodies the natural influences of this look whilst the quirky knitted finish adds warmth and comforting in a surprising twist.  Position above the fireplace in your home or hang it with pride in your reception venue to perfectly set the scene.
2. This cute Lumilyhty Lantern perfectly captures the simplicity and style of Nordic decor.  Perfect for creating atmospheric lighting or even adding a touch of festive chic to proceedings.  And it's now half price at Heal's!
3. Designed by Denmark architects, this &Tradition Milk White Glass & Oak Table Lamp works with the Nordic traditions of wood and glass and is perfect for adding warm light to a space.
4. This Natural Stone knitted pouf from Nordic House will fit perfectly in your Nordic Winter scene; the texture adds interest whilst the hand crafted style adds just a hint of nostalgia and a simpler way of living.
5. This porcelain Egg Dot Vase combines an elegant shape with interesting graphical pattern.  Beautiful with scavenged foliage, Nordic Poppies or just on its own.
6. These pale grey tinted glass vases from Nordic House are made from hand-blown glass and feature a rustic swirly edge.  Perfect for displaying small stems.
7. This Arctic Fox Soft Faux-Fur Throw from OKA Direct is incredibly realistic and will add warmth and luxury to a wooden seating area.
I adore the simplicity and warmth of this look, what about you?  Anything here catching your eye either for your wedding or home?
Vicki xx
NORDIC WINTER BY POCKETFUL OF DREAMS
Read more in this series….