Loving the Nordic Winter style but not quite sure how to introduce it into your wedding or next dinner party?  Well don't despair because this afternoon we return to our Styling Guide, to bring you inspiration, ideas and that all-important shopping guide for a Nordic Winter tablescape.
NORDIC WINTER INSPIRED TABLESCAPE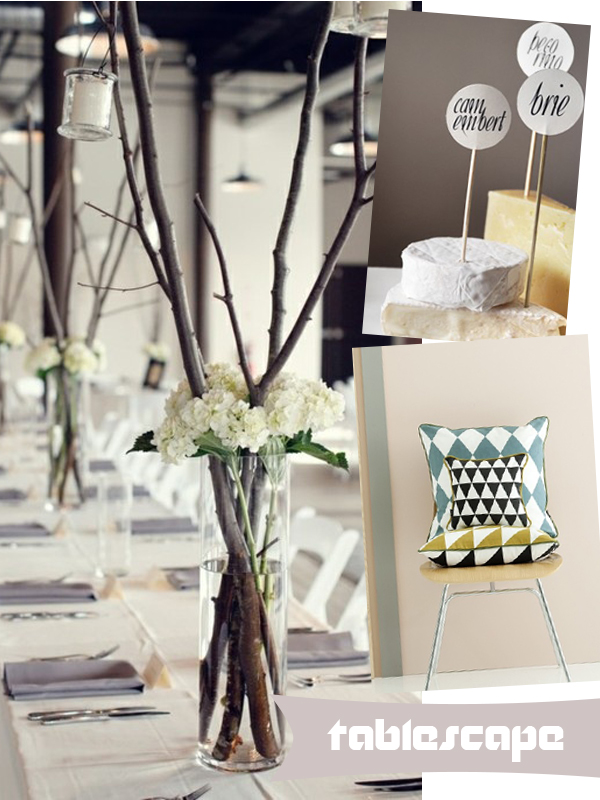 Image credits: 1. Rue 2. The Pretty Blog 3. Ferm Living 
The Nordic aesthetic may be traditionally focused around functionality but that doesn't mean that you can't create a visually stunning tablescape for your guests.  Long wooden tables will work best for this look and avoid tablecloths opting instead for a neutral toned table runner; the natural grain of the wood will perfectly complement your styling.  Set each place with simple earthenware crockery and no fuss cutlery, perhaps tied together with a simple piece of chunky yarn.
There are a few options when it comes to chairs; you could opt for simple wooden stools or benches but if you want a slightly less rustic look, consider all white or Philippe Starck ghost chairs which would look fabulous.  Dress each chair with geometric or knitted cushions or even better, luxurious faux fur throws.
Serve food family style wherever possible and opt for natural and artisan products like cheeses and breads, using understated handwritten flags to identify the different flavours available to your guests.  Decor items can be as simple or grand as you like but remember to stick to neutral colours and natural materials.  I love the floral displays in the image above; the combination of big white blooms with strong, tall sticks works perfectly for this look.  And don't forget to intersperse with lots of candlelight, either displayed in white candlesticks or in small lanterns and votives.
SHOP THE STYLE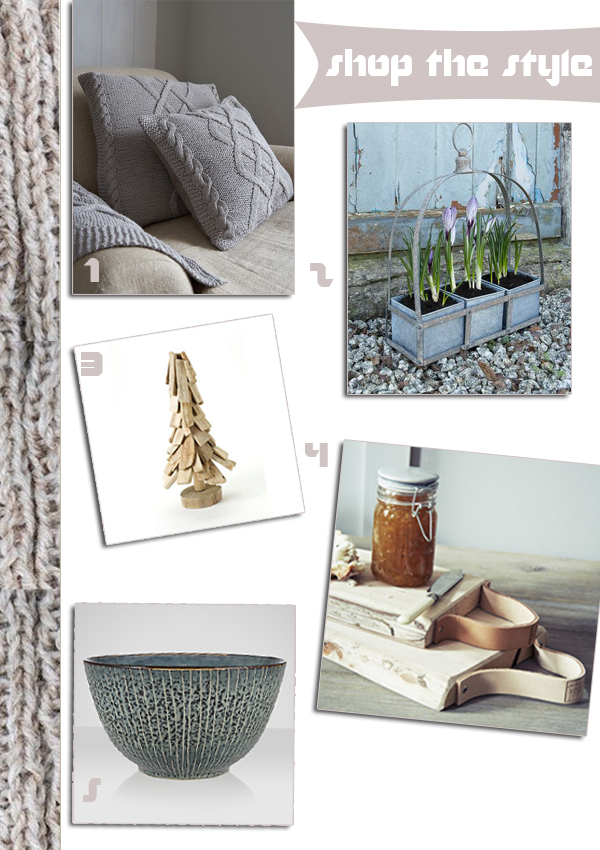 1. Wooden stools or benches may look the part but you want your guests to be comfortable as well; these Scandinavian Grey Cable Knit Cushions and Throw from Nordic House would ensure that your guests can enjoy a leisurely, long meal in comfort whilst still looking the part.
2. If you don't fancy simple glass vases for your floral display, then this planter would make a great alternative.  Made from zinc giving it a natural toned, understated finish, they are perfect for displaying flowers or herbs for a more natural look.
3. I love this Nordic Wooden Tree Decoration – several of these nestling between your floral displays would look incredibly cute, not to mention the perfect festive decoration for those contemplating a Nordic Christmas Dinner.
4. Delight your guests by serving an array of cheeses and artisan breads on these beautifully handcrafted leather strapped boards from Rowen & Wren. Their natural finish and raw edges will bring a touch of nature to your table.
5. These stoneware Broste Nordic Bowls from John Lewis feature rustic, mottled finishes and are the perfect crockery to present your feast in; simple, understated yet stunning in design.  Pair them with this Raised Stitch Line Table Runner.
This styling would work perfectly for everything from an intimate dinner party to a 200 person celebration with options to introduce elements of luxe according to your own personal aesthetic.  Is this a look you would consider?
Vicki xx
NORDIC WINTER BY POCKETFUL OF DREAMS
Read more in this series….
POSTED IN: Inspiration

TAGS: dinner party inspiration, nordic, Nordic-Winter, scandinavia, Scandinavian, Tablescape, tablescape design, wedding breakfast, Wedding Decor, Wedding Inspiration, Wedding Styling, wedding table