More consideration is being given than ever before to what you serve at wedding drinks receptions, directly after the ceremony.  Traditionally all about champagne, couples are becoming increasingly creative about the drinks they serve, searching for ways to personalise and inject some fun.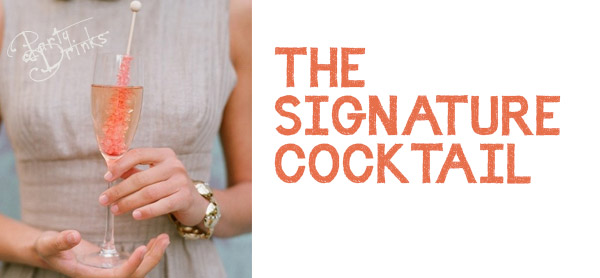 And so the signature cocktail was born.  Not restricted just to weddings, serving one or two signature drinks can be a great touch for any celebration and a far more economical option than a free bar.  So today we are looking at the signature cocktail and asking, what should you serve and how should you serve it?
CHOOSING A SIGNATURE COCKTAIL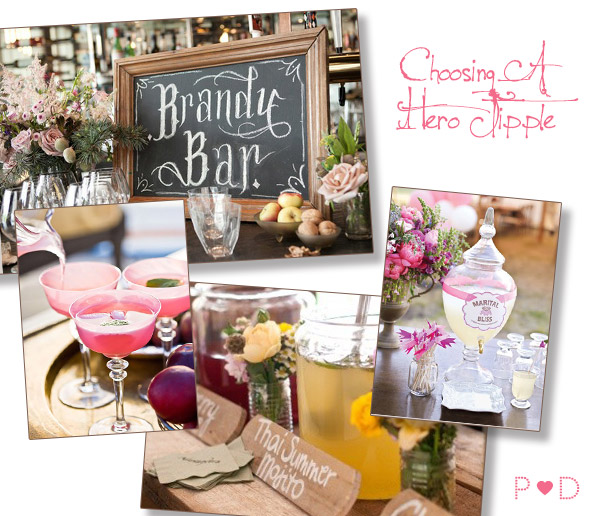 Image credits: 1. Grey Likes Weddings 2 & 4.  Martha Stewart Weddings 3. Traditional Home 
There are a number of factors which can influence your choice of signature cocktail.  First up, do you and your groom have a definitive favourite drink?  Something that you will always order and that your friends and family will know as "your" drink.  It doesn't have to be super unusual or elaborate, just your own personal tipple.  Love drinking Cosmos – then serve them up.  Your man is more a brandy kinda guy, then why not set up a brandy bar?
If you don't already have a signature drink then consider how you can give standard cocktails a meaningful twist.  For instance, if you got engaged whilst on holiday in Cuba, you may wish to serve mojitos, perhaps even renaming them the Diamond Mojito.  Been a tad diva-ish whilst planning your wedding?  The Bridezilla would make the perfect drink.  Got cute and suitably embarrassing pet names for each other?  You know where this is heading….the scope for names here is endless: look to your first date, first holiday together, location of your engagement and your wedding for inspiration.
Quirky and cute cocktail names act as a great conversation opener; and if you have chosen particularly cryptic names, perhaps you could even ask guests to guess the inspiration for the name with the best suggestion winning a prize!
Alternatively, take inspiration from the marital proceedings themselves for your cocktail naming.  Classic cocktail combinations can rise to the occasion when renamed "Marital Bliss" or I love the idea of serving two signature tipples: "Something Old" and 'Something New".
Your wedding day styling and colours can also help to shape your signature cocktail suggestion.  For a soft and delicate pastel coloured day, Spiked Pink Lemonade would be perfect.  Or perhaps you're getting married by the sea, in which case only the Blue Lagoon will do!
Remember, serving a signature cocktail is a great way to add some personality and style into your drinks reception but some people may not be drinking and men in particular may not want to drink a cosmopolitan!  So work with your caterers or venue in advance and make sure you have a beer, wine and soft drink alternative.
SERVING YOUR SIGNATURE COCKTAIL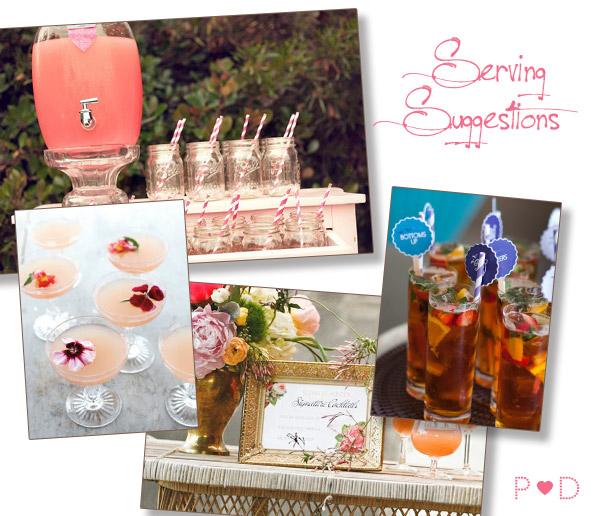 Image credits: 1. Columbia Gorge Weddings 2. Green Photographic 3. Reasons To Breathe 4. 100 Layer Cake
Once you've decided on your signature cocktail, the next decision is how to serve it; these little touches are a fabulous way to carry through your design and add some extra stylistic elements to your day.
First of all, think about what you serve your drinks in.  The key is to ensure that you carry your wedding design through in a way that is consistent.  If you are planning a glamorous Vintage inspired affair, serve up your drinks in champagne saucers, distributed by black tie adorned waiters.  Alternatively if Rustic or English Country is more your style, then consider serving up your drinks in jam jars, displayed in wooden crates or an old dresser.  Try Vintage Style Hire for beautiful reclaimed and vintage furniture to create drinks reception displays to really showcase your signature cocktails.
Little touches like edible flowers and fruit or flowers frozen into ice cubes can elevate a humble cocktail into something really quite special, ensuring your guests really do feel well taken care of.
Straws and drink stirrers add a hint of fun to your beverages; stripy straws are a popular choice available in a myriad of colours but why not consider spots, a multi coloured confetti pattern, block colours or even love hearts   Try Pipii for a wide range of options.
Stirrers are a great way to add little messages and a pop of colour; work with your stationer to create bespoke designs to complement your other stationery or alternatively you could easily craft your own, just buy some wooden drinks stirrers and let your creativity loose!
And don't forget, if you are going for an unusually named or even a totally bespoke cocktail, make sure you display a sign to let your guests know what you're serving, what each drink contains and maybe even the background inspiration!
Are you planning on serving a signature cocktail at your wedding or event?  How did you decide which drink to serve?
Vicki xx