Today's real wedding is a delicate, vintage inspired affair, celebrating the love of two childheart sweethearts.  The warm and candid photographs, captured by Nigel Edgecombe, and the sweet nature of this couple just melted my heart and I just know you are all going to love this wedding too.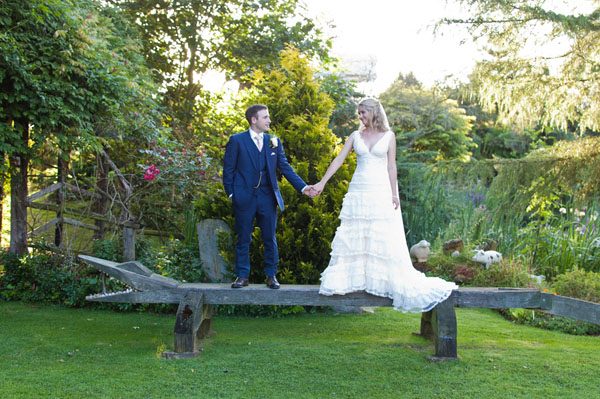 Zoe and James both hail from Bedfordshire and first met back at school when they were in their teens.  They have now been together for over ten years and got married in a beautiful church wedding, this August.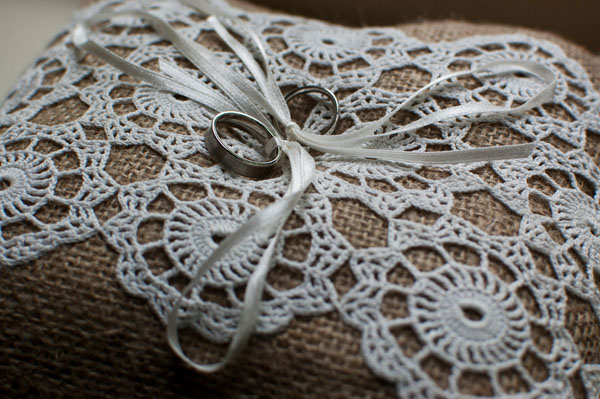 STYLING THEIR DAY
The couple opted for a soft and pretty design of "Grace and Lace" and their photographer, Nigel told me a bit about this couple and how the styling was a perfect match for their personalities.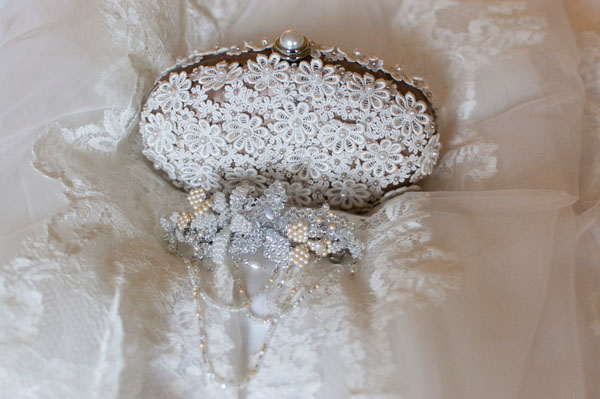 "Both Zoe and James are shy, quiet and understated, but very intelligent, so their detailed, laced theme worked well for them".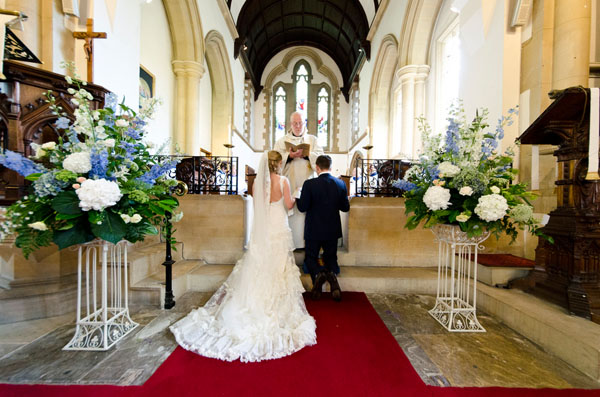 Having both been raised in Bedfordshire, the couple chose to exchange their vows in a local church and then moved to the stunning Flaxbourne Gardens just outside of Milton Keynes for their reception.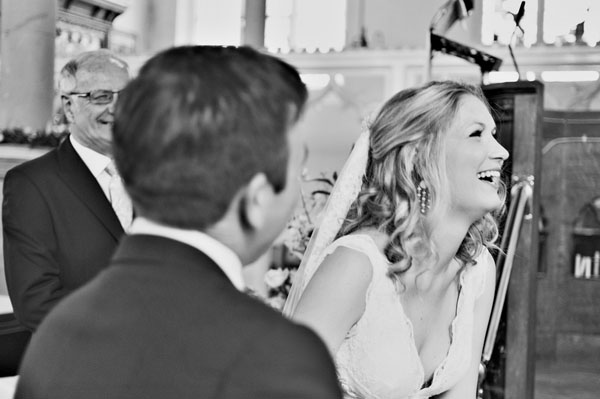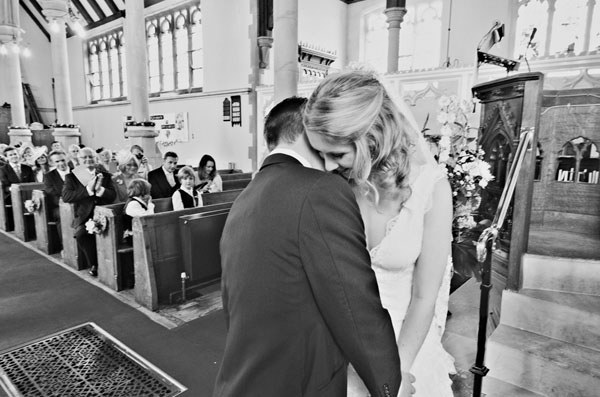 The three acres of garden in which they placed their marquee made for a beautiful backdrop for their graceful celebration but also had personal significance, being just a short walk down the road from the homes that Zoe and James grew up in.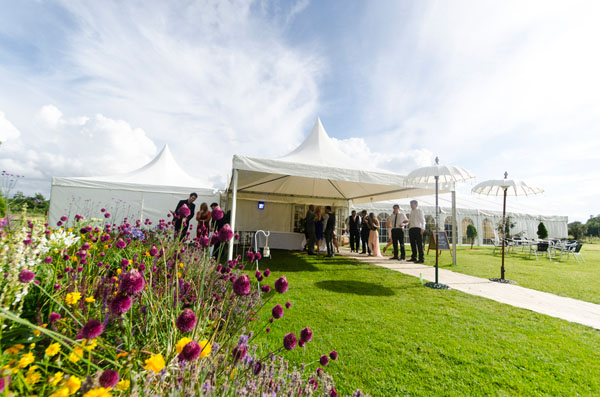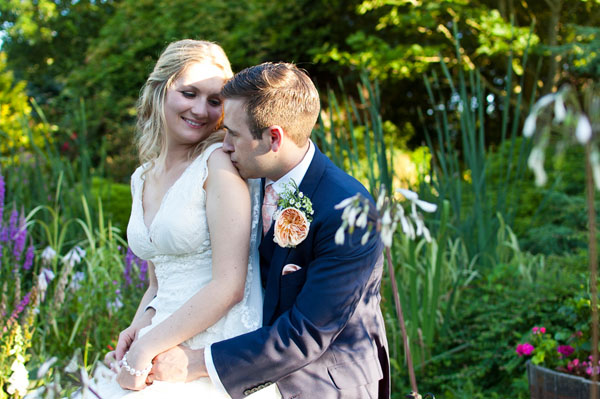 In fact, this whole day was very much a local affair with all the suppliers being local and recommended through either close friends or family.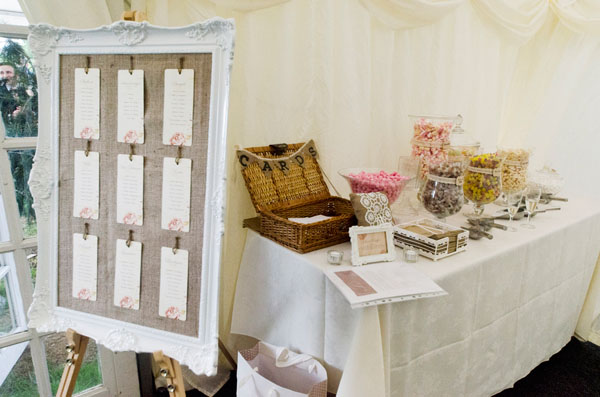 Their own choice of outfits for the day perfectly complemented their decor and details with a hint of vintage influence.  James knew he wanted a smart, classic look but an alternative to the more traditional wedding suit and so opted for a navy wool suit with a vintage pocket watch.  His groomsmen wore matching suits.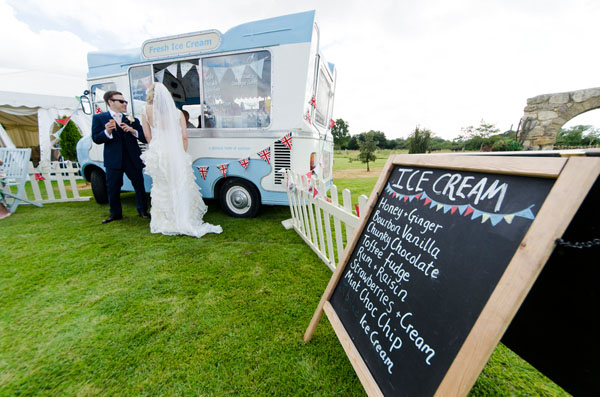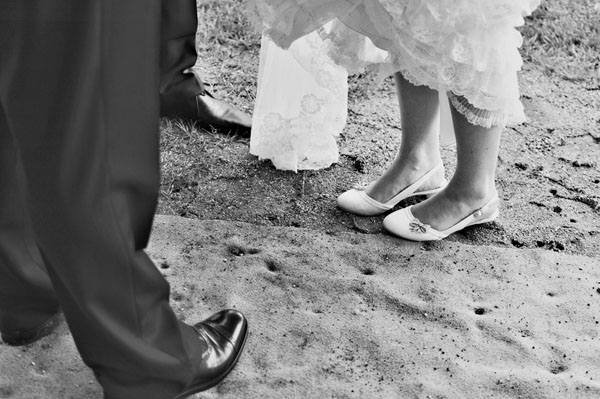 Zoe wore the most beautiful, ethereal dress on the day with delicate lace detailing.  And the story of her wedding dress hunt is a little unconventional…"Zoe looked locally for her dress but in the end decided upon a creation from Yolan Cris (who were based in Ibiza at the time but have since moved to Barcelona)"  Nigel told me.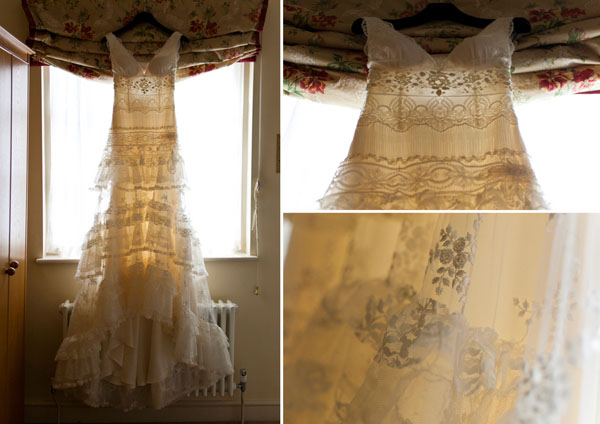 "So she sent off her measurements and the dress was made to her specifications, but even when the dress arrived well in advance of the wedding day, she did not try it on!  In fact, she first stepped into the dress on the wedding day itself and it was a perfect fit when her mum zipped her up".  What a fantastic story, although I have to say I feel nervous just thinking about not trying my dress on in advance!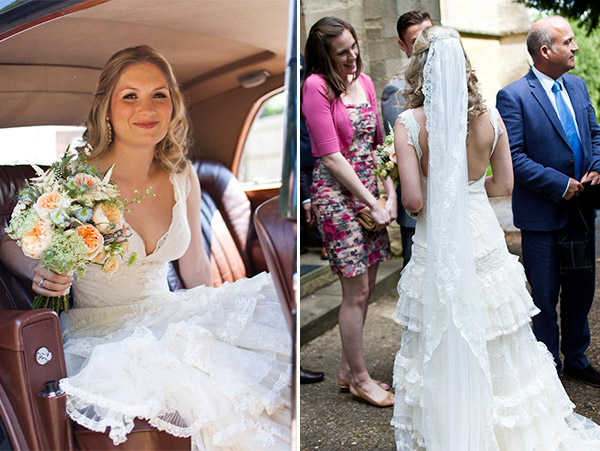 A HEARTFELT DAY BRIMMING WITH DELICATE DETAILS
Everything about this wedding was soft, pretty and carefully thought through.  For their stationery, they had bespoke invitations created by the fabulous illustrator Ally Hay, giving their guests an insight into the beautiful vintage detailing they could expect on the day.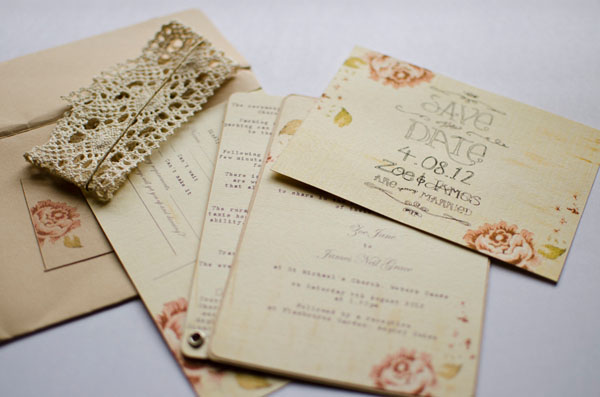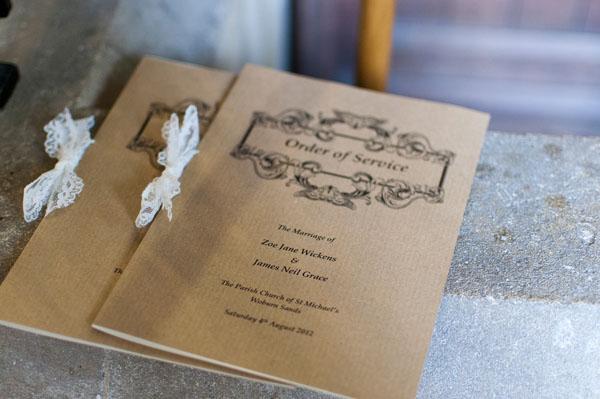 The peaches, creams and hint of blue in their blousy blooms perfectly complemented their garden setting and really helped to sculpt the overall look.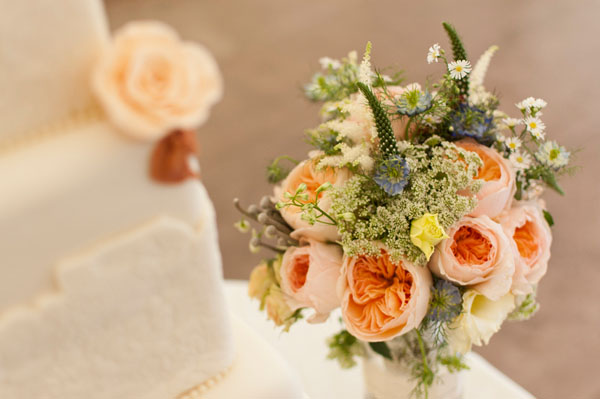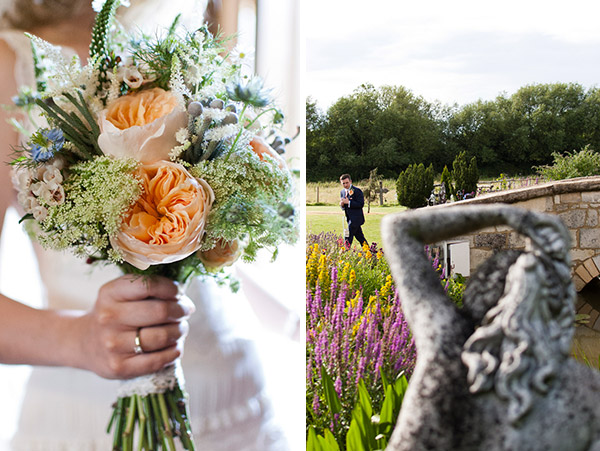 Little touches were all carefully thought through and made reference to the couple's evolving relationship.  For example, they chose to have a sweetie table set up for the reception which they stocked with nostalgic sweets and had traditional brown paper bags set out as favours at each place setting.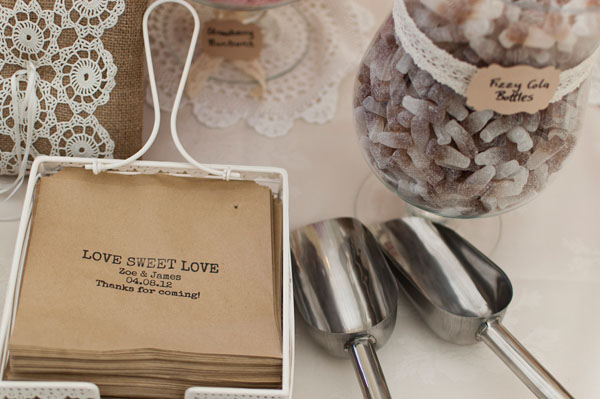 These details not only looked great and were well received by all the guests but acted as a nod back to their school days where they first met.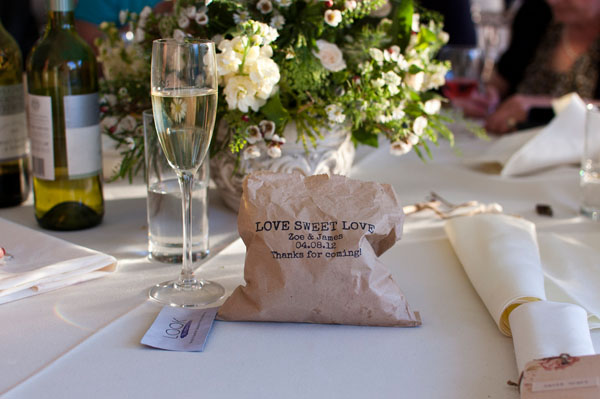 Friends and family also got involved in the design effort with a group of Zoe and James's friends making oodles of bunting which they hung the day before the wedding as a final decorative touch.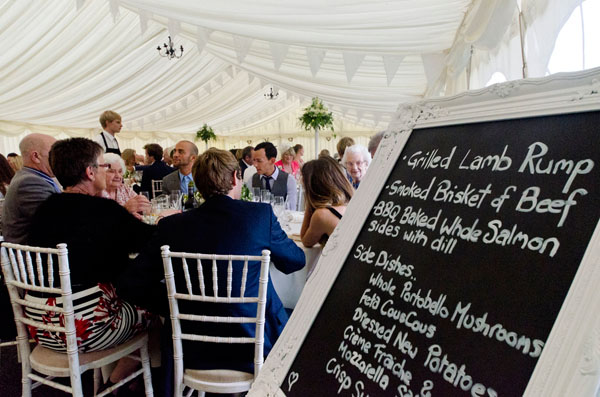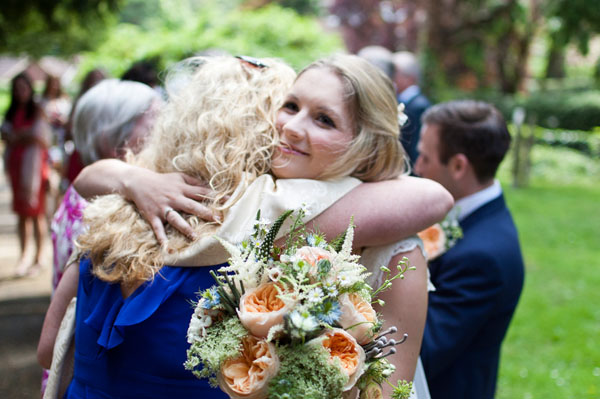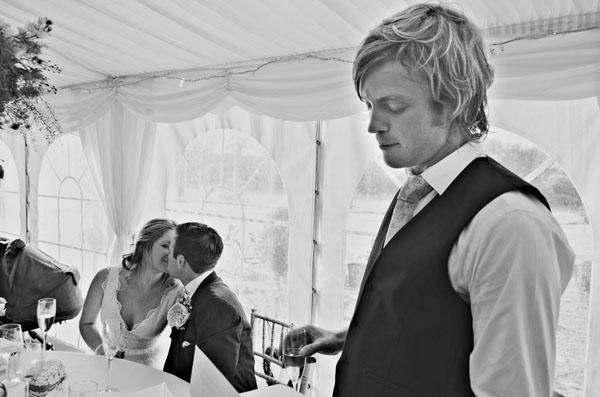 This wedding really was the most beautiful labour of love.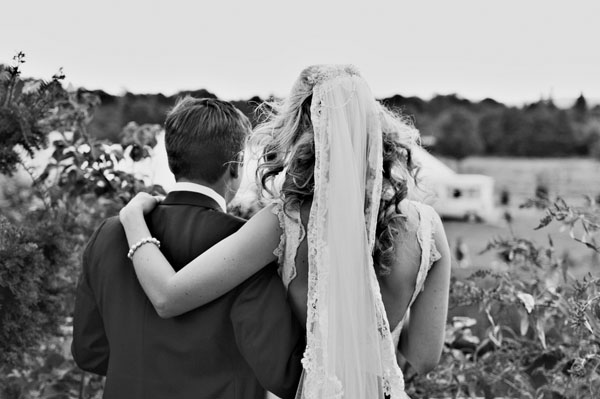 I'm sure you'll agree, this wedding is such a pretty affair and I am dying for Zoe's beautiful bouquet.  Huge thanks to Nigel Edgecombe for allowing us to share these photographs.
Vicki xx
ALL THE DETAILS
Venue: Flaxbourne Gardens
Photographer: Nigel Edgecombe
Zoe's Dress: Yolan Cris
Stationer: Ally Hay Design & Illustration
Floral Designer: Gingerlily Flowers