Ever dreamed of getting married against a backdrop of fog covered mountains?  Well you just might be after you've seen today's stunning real wedding, set in the mountains of North Carolina and captured in all its glory by Whitmeyer Photography.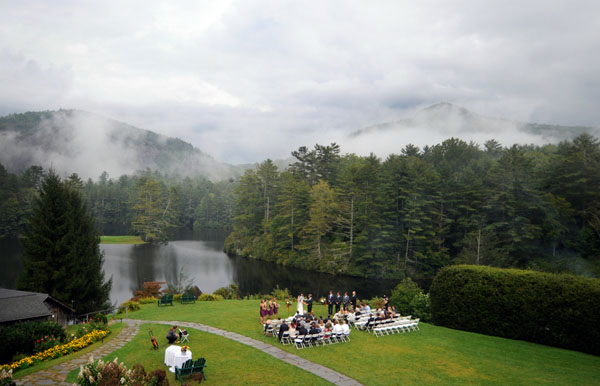 Elizabeth and Brewster both grew up in Louisville, America and have known of each other since they were young, with Elizabeth having played soccer with Brewster's little sister as a child.  Some years later, having both recently returned from living in Mountain towns west of Louisville, they ran into each other at a mutual friend's party and shortly after that starting dating.  They are both big fans of outdoor life, sharing a passion for activities like snow sports, hiking, camping, and kayaking.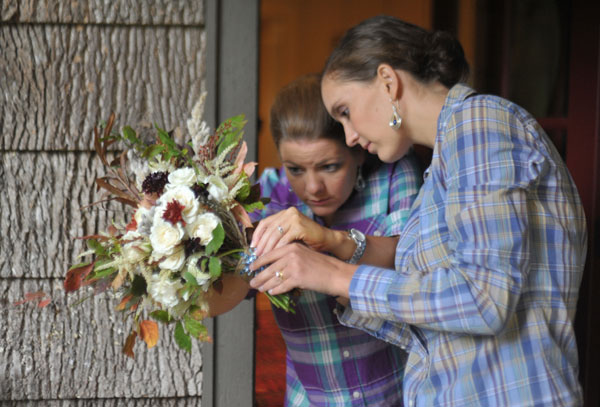 STYLING THEIR DAY
The couple chose to marry at High Hampton Inn, a historic estate in the Blue Ridge Mountains of North Carolina, deliberating choosing not to have the wedding in their hometown so that they could keep it a small and intimate affair.  "We wanted our wedding to emphasise bringing together good friends and family for a weekend getaway.  The weekend included group hikes, a boat day on Glenville Lake and lots of informal parties, as well as the wedding itself!"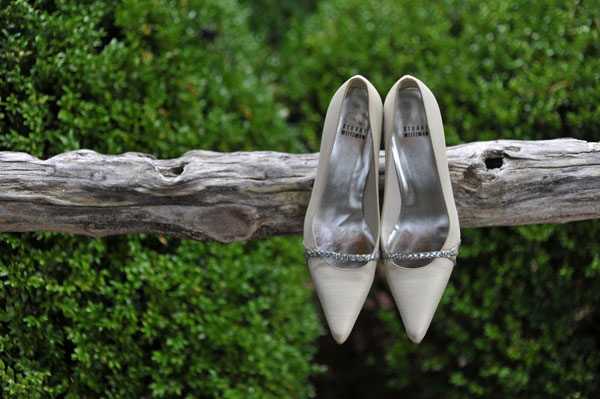 Their love of the outdoors and their surroundings had a large influence over this couple's styling of their wedding.  "We wanted a classy style that was warm, relaxed and inviting just like the mentality of a Colorado mountain town.  The southern mountains of Cashiers are so beautiful that the surroundings served as all the décor we needed for the ceremony.  We incorporated foliage into the floral arrangements to reflect the environment for a deconstructed appearance and I loved some of the state symbols of North Carolina so we incorporated them into our theme.  We ended up with a Rustic Mountain Southern Chic styled day".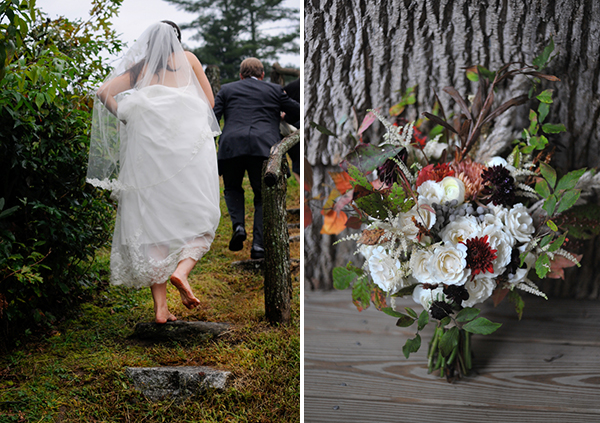 Like many brides, Elizabeth saw some evolution to her design styling along the way after she decided to take a less stringent approach to the details.  "The more I tried to control details the more stressed I became so eventually I allowed other people's ideas and unexpected occurrences to influence the evolution of my vision. For example, I struggled with Brewster's insistence on wearing a blue tie that did not match my colour scheme.  So to incorporate the blue, I had the groomsmen wear a blue tie of their choice and as this resulted in varying shades of blue ties, I then let the bridemaids pick whatever shade and dress they preferred".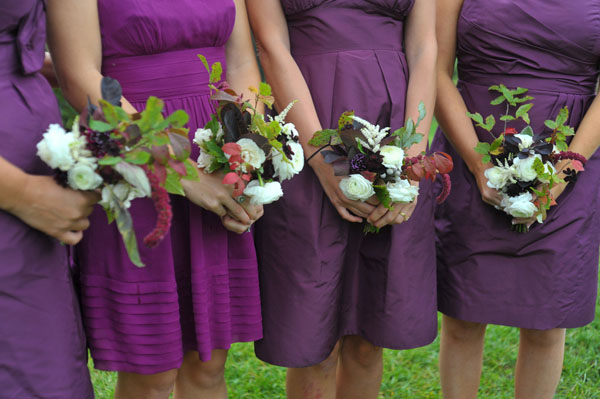 Elizabeth told me that once she'd taken this slightly more relaxed approach to the day, things seemed to run much more smoothly.  "The blue colour ended up working perfectly with the 90 year old brooch given to me by my grandmother that I pinned to my bouquet. The colours and patterns in the natural environment are unexpected so I decided that I did not want the wedding design to look overly contrived and uniform".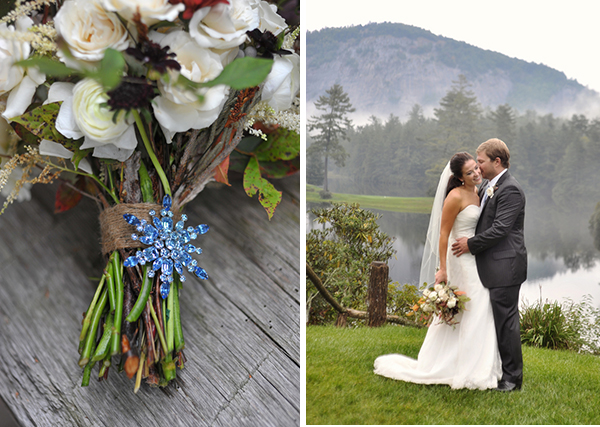 The creation and implementation of their design was a real joint effort, as Elizabeth told me.  "I saved money by designing and creating my own invitations with the help of Paper Source.  Our wedding programs, menus, and gift basket labels were all designed and created by close friend Beverly Cote.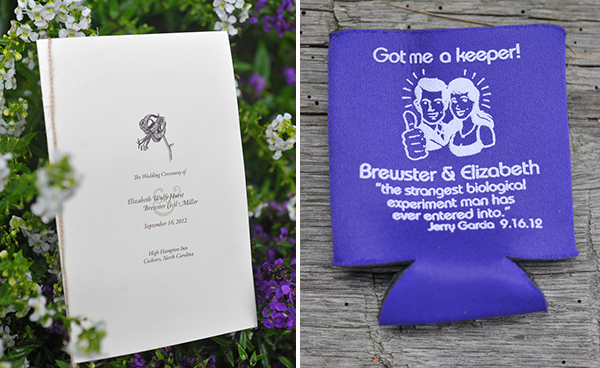 We made various signs for the day our of antique picture frames, which we adhered chalkboards to.  A good friend, Jon Capps, a talented glassblower, made us a glass piece for our table. The table centerpieces were random antique vases accumulated by our talented floral designer, Jaclyn Journey.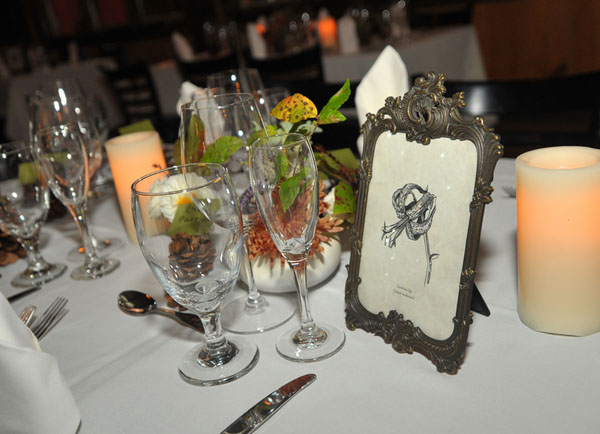 Instead of table numbers, each table was labelled a different state symbol like the "Grey Squirrel Table."  A friend and talented artist, Katie Cote, drew the image of each symbol, which I then framed in antique picture frames acquired at estate sales.  Pinecones at each table setting served as place cards holders to reflect the Fall season".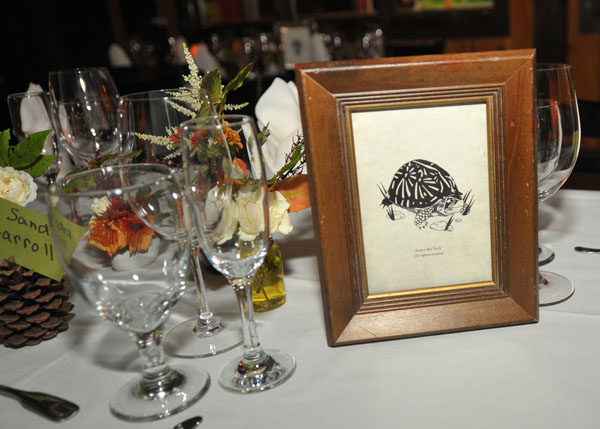 My absolute favourite decor element from this wedding however has to be their innovative and highly personal guest book idea.  "During the pre-ceremony cocktail hour we asked everyone to sign planks of reclaimed barn wood that we are going to make into a table for our living room".  What a fabulous idea eh?  I just adore the thought of all their guests and this momento from their wedding day being such an intrinsic part of their everyday lives.
Their environment also influenced Elizabeth's decisions regarding her outfit on the day.  She told me that she had never envisioning her wedding day until she met Brewster so never really had a "perfect look" in mind for her dress.  Instead, she opted for a dress which reflected her personal style.  "My dress was classic, simple with a touch of glam, but most importantly comfortable.  It was important to me that my look reflected the historic and antique feel of the High Hampton Inn".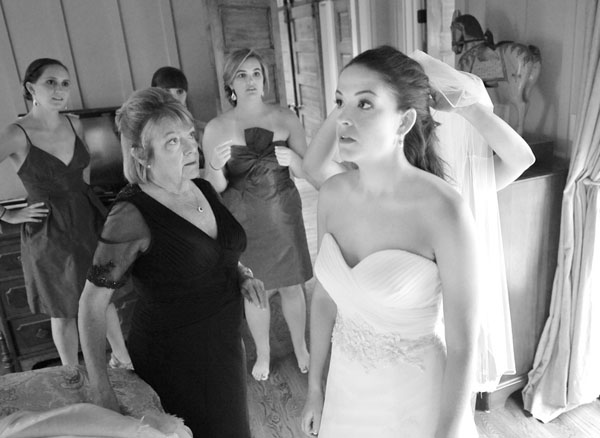 A  BEAUTIFUL DAY BRIMMING WITH HAPPINESS…AND UNEXPECTED WEATHER
The couple had planned a clear itinerary for their day, all planned around their outdoor ceremony.  Unfortunately, Mother Nature threw a bit of a spanner in the works…"rain was our big surprise" said Elizabeth. "Our wedding pictures were scheduled at 3:20pm followed by our pre-ceremony cocktail on the patio, then the ceremony.  However, at 3:15pm the skies opened up right as we started our first photos.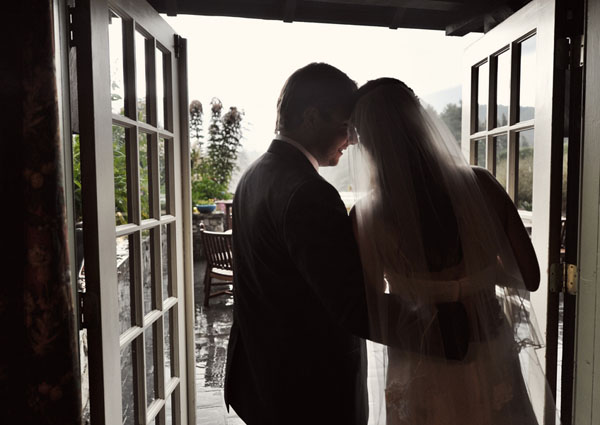 As were waiting for it to clear for pictures, the wedding party took shelter in the tavern overlooking the lake.  Despite my intention of not being seen before the wedding ceremony, guests began arriving in the tavern for the cocktail hour.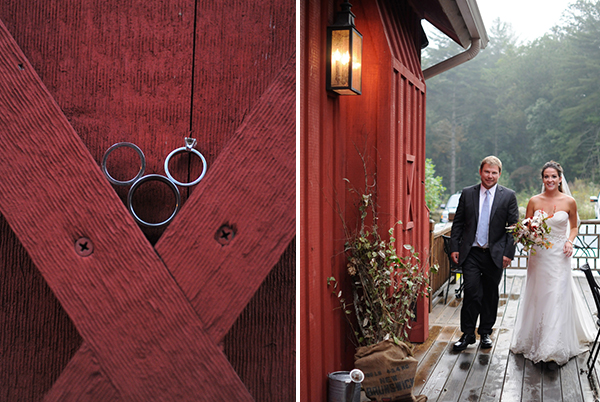 Instead of retreating to wait out the rain by myself, I stayed with my guests and wedding party through the cocktail hour as the rain fell outside.  My brother in law is an acclaimed mixologist and he made us a signature cocktail that was served prior to the ceremony.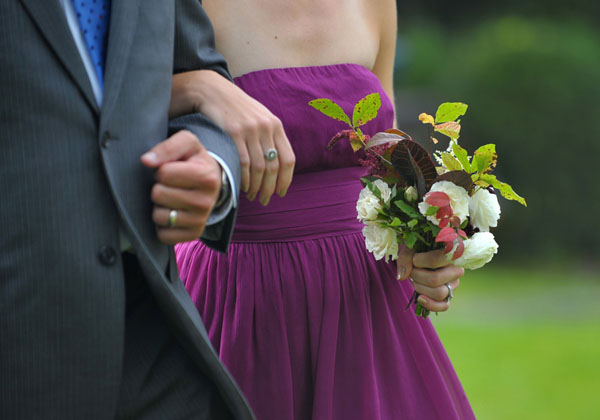 I decided I could freak out and lament the rain alone or enjoy the unexpected turn of events and hang out with everyone".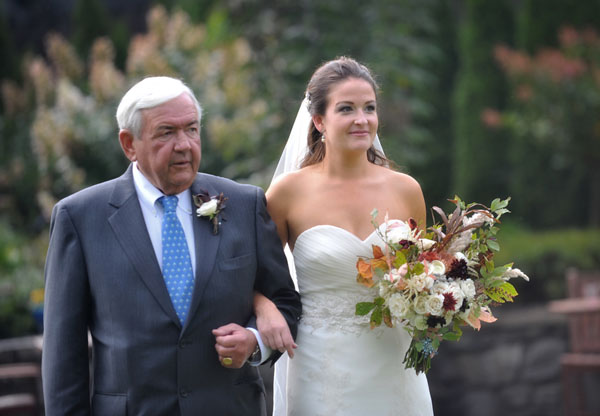 In the end however, it all worked out as just as they were about to start moving their guests to an alternative location, the skies began to clear.  "The downpour left a light fog resting on the mountaintops with a soft lighting on the lake in the background.  Our wedding backdrop turned out to be far more beautiful and surreal then we could have imagined".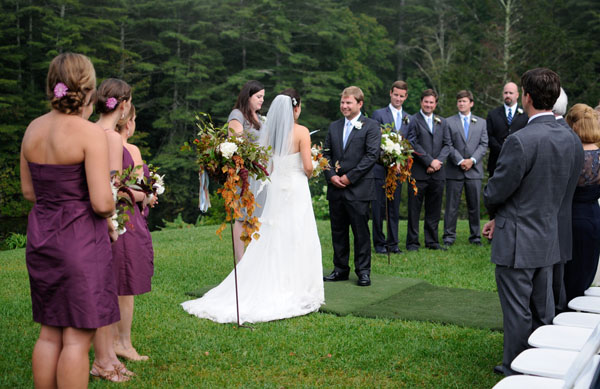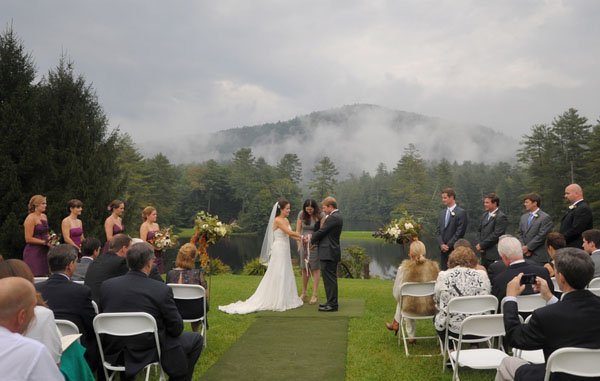 So this cute couple got their outside wedding in the end, officiated by a long time close friend.  The ceremony included an Irish hand fasting to reflect Elizabeth's heritage and they included a Pueblo Indian wedding reading, to reflect their connection with Nature.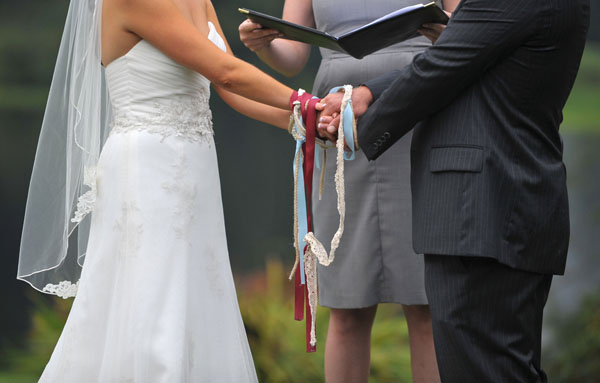 After the ceremony, the party moved to Gamekeeper's Tavern, an upscale yet casual mountain restaurant in nearby Sapphire.  Here, Elizabeth's uncle, a Jesuit priest from Lima, said a prayer before guests were able to choose from an array of dishes including: Sautéed Mountain Trout, Sliced Beef Chateaubriand, Fall Harvest Chicken Breast, and Farfalle alla Panna con Piselli e Prosciutto.  Instead of a traditional wedding cake they then served Brewster's favourite baklava and Elizabeth's favourite carrot cake.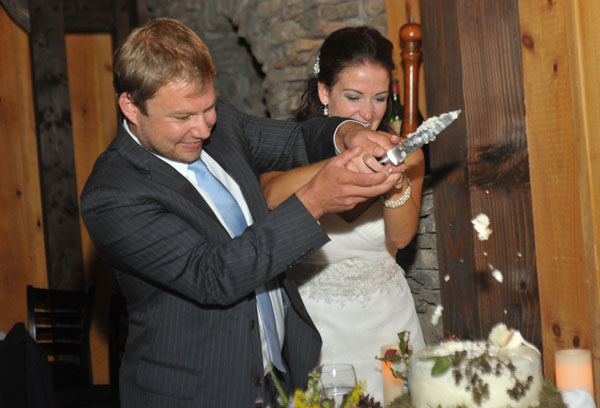 Their guests were further spoilt with little gift baskets prepared by Elizabeth and Brewster.  "Our gift baskets had touches of us, including Brewster's homemade BBQ sauce, homemade bourbon balls and cheese crackers, and wine all with personalised labels created by a good friend".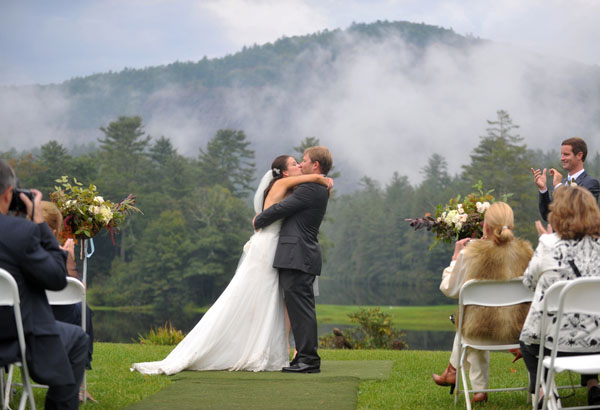 What a fabulous sounding weekend – this is certainly one wedding I would have loved to have been invited to!
TOP TIPS FOR A TIP TOP DAY
Elizabeth shared these words of advice for others out there currently planning their wedding:
Details and a vision are important but do not let them consume you.  If something goes wrong or you weren't able to accomplish something you may know but your guests will never notice. 

Ask for help and delegate elements of the planning.  

Tradition is important but only if it fits you as a couple.  

On the day, take a deep breath and just enjoy being with your husband, friends and family. If you are relaxed and having a good time your guests will as well, no matter what happens.  It's an important day but it won't change the world so relax!

My hair looked like a rat's nest in the reception photos! Obviously I was having too much fun dancing and enjoying myself to think twice about what I looked like anymore.  Relax and have a good time at your wedding, you earned it after all the hard work!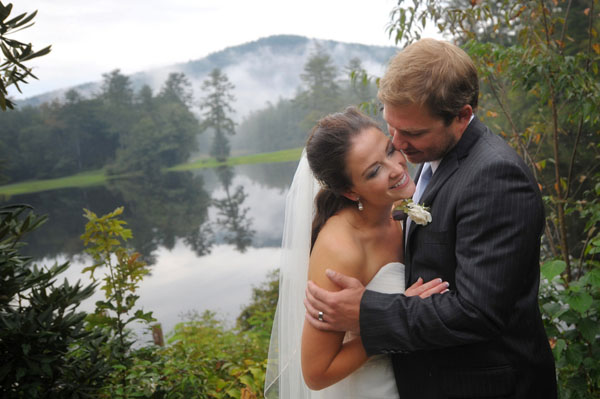 What a truly beautiful setting for a wedding and I just love the way this couple didn't let the unexpected stress them out…but most of all I love the fact this story has a happy ending!  We wish Brewster and Elizabeth all the very best for their future together.
Vicki xx